Funeral of Late Madhavan Pillai from Kent to be held on 5th Feb: Viewings arranged on 29th Jan and 2nd Feb
Sunday 24 January 2021 10:04 PM UTC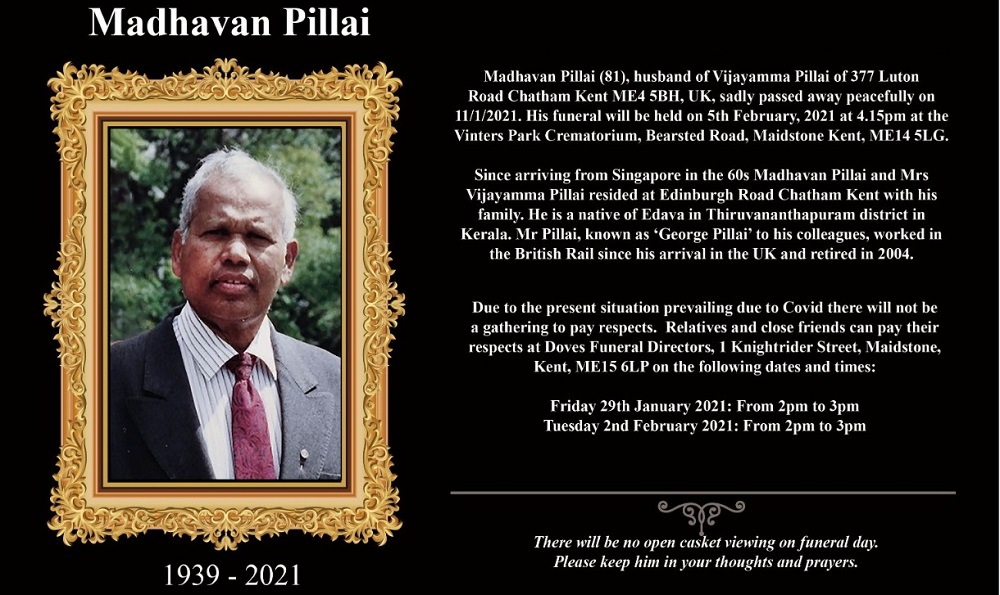 KENT Jan 24: The funeral and cremation of Late Madhavan Pillai (81), husband of Vijayamma Pillai of Luton Road Chatham Kent ME4 5BH, who passed away on 11th January 2021 will be held on 5th February, 2021 at 4.15pm at the Vinters Park Crematorium, Bearsted Road, Maidstone Kent, ME14 5LG.

Since arriving from Singapore in the 60s Madhavan Pillai and Mrs Vijayamma Pillai resided at Edinburgh Road Chatham Kent with his family. He is a native of Edava in Thiruvananthapuram district in Kerala. Mr Pillai, known as 'George Pillai' to his colleagues, worked in the British Rail since his arrival in the UK and retired in 2004.
Due to the present situation prevailing there will not be a public gathering to pay respects. The family is not able to accommodate everyone at the funeral due to government guidelines of having only 30 persons attending. Therefore, private viewing has been arranged at the funeral parlour on two days. Those who wish to pay respects can visit the parlour on the dates and times mentioned below.
Funeral Parlour: Doves Funeral Directors, 1 Knightrider Street, Maidstone, Kent, ME15 6LP
Friday 29th January 2021: From 2pm to 3pm
Tuesday 2nd February 2021: From 2pm to 3pm
Due to present situation with Covid it will be difficult to visit us in person. Funeral is kept only for close family members and friends. Therefore, please keep Madhavan Pillai in your prayers.
CLICK TO FOLLOW UKMALAYALEE.COM