Keralite who arrived in UK during lockdown turns hero with British PM's honour: Kerala governor invites mother to Raj Bhavan
Saturday 29 May 2021 7:12 AM UTC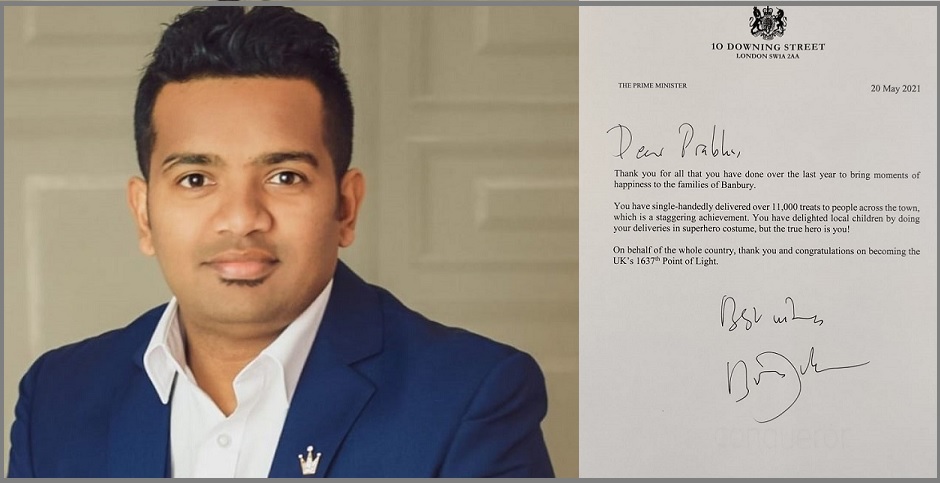 By A Staff Reporter
LONDON May 29: Prabhu Natarajan moved to Banbury from India with his wife, Shilpa and their son in March 2020 just as the Coronavirus outbreak started. Though job prospects waned, Prabhu Natarajan did not give up his efforts as he continued his pursuits of keeping him busy. However, things changed on this couple's seventh wedding anniversary on 14th November 2020.

How things changed
Just as an act of kindness on the anniversary day, Prabhu bought 15 packets of food even though he had no friends or family to celebrate their special occasion. The plan was to give it to someone in distress during the Covid period. He posted on social media that he would provide food if needed. He received hundreds of calls in an hour and a half. This is where Prabhu began his services during the time of Covid.
Realizing that there were many people in need of food, groceries and other services, he set out to organize it by himself. He took to the streets in various guises, including Santa Claus, Ironman, Batman, Mr Incredible, Leopard and Superman. Even his wife Shilpa too dressed as Bumblebee along with their son.
Knowing Prabhu's goal, many of the local people and businesses helped. He was able to raise a fair amount of money. Food and groceries were delivered to the homes of those who deserved it as necessary. By the end of 2020 alone Prabhu delivered 11,000 food packets items. Prabhu's contributions were not just food but also toys, clothes and chocolates for children. The service still continues.
In total till now, Prabhu and his wife Shilpa Balachandran have raised staggering £18,500 for different charity organizations in last 6 six months.
Awards and recognitions
Prabhu has already won and shortlisted for many awards for the selfless services he rendered to the community during the time of Covid. He has now been invited for ceremony where Prime Minister Boris Johnson is attending and also awarded the Points of Light award. The Prime Minister's UK daily Points of Light award was first launched in April 2014 to recognise outstanding individuals making a difference where they live. Prabhu is the 1637th person to be recognised. As the UK unites to fight the spread of coronavirus, the award is focusing particularly on people serving their community through the pandemic.
In a personal letter to Prabhu, Prime Minister Boris Johnson said: "Thank you for all that you have done over the last year to bring moments of happiness to the families of Banbury.You have single-handedly delivered over 11,000 treats to people across the town, which is a staggering achievement. You have delighted local children by doing your deliveries in superhero costume, but the true hero is you!"
Victoria Prentis, MP for Banbury, who also recognised Prabhu as an Unsung Hero in North Oxfordshire in December 2020, said: "Prabhu is a true unsung hero and a credit to the Banbury community. His selflessness and generosity has given residents a real boost during such a difficult year. He is very deserving of this Point of Light Award. I look forward to meeting him in the coming weeks to thank him personally for his efforts."
Family and work
The sole strength behind Prabhu's success is the support provided by his wife Shilpa and their son Advaith Prabhu (Addhu). Prabhu works as a carer at Glebefields Care Home where Shilpa is the deputy manager.
Kindness reciprocated
There has been several acts from the community who have reciprocated with kindness for Prabhu's selfless acts. These acts came in return from people those who knew and read about Prabhu's charity works. After hearing about Prabhu delivering food packets using his car to the needy a retired mechanic named Damian Leaver messaged Prabhu and offered to change the oil for his car free of cost.
Damian arrived and changed the car engine oil and then gave him spare extra engine oil, new air filter, new car break pads, refilled car air, rain repellent lotion and cleaned the car. Prabhu offered Damian the cost for rest of the works and to this Damian replied: "You don't have to pay anything for me and its a gift for you. I know that you are helping few struggling families. Prabhu was shocked to see the kindness returned.
Before leaving from his workplace, Prabhu was reversing the car. Damian suddenly noticed that the car wiper blades are broken and he asked Prabhu to stop and he ran towards his car and removed the damaged wiper blades from his car and fixed those new wiper blades to their car. Banbury Morrison's have offered 15 per cent discount for their family for all purchases. Tony & Guy has offered lifetime free haircuts for this family.
More responsibilities
With the overwhelming support Prabhu received for his efforts to help the needy with food and toys for kids, he began helping out those helpless people looking to raise funds for certain causes. Prabhu waded in and joined those helpless people and started to raise funds for them through charity acts for various helpless people's causes. Prabhu came across the news of 9 struggling genuine families and he was able to raise funds and contribute generously to these families. In total till now, Prabhu and Shilpa have raised staggering £18,500 for different charity organizations in last 6 six months.
Inaugurating stores
With being noted by people across UK, Prabhu has also been chief guests and opening stores. Retail giant group Dunelm and Dunelm Banbury Community Support gave him a chance to inaugurate their new showroom. Prabhu was the first buyer of another grocery shop named Banbury Cross Convenience Store in Banbury. He has yet another two more shops to be inaugurated.
Kerala governor's call
Prabhu received a call from the Kerala Governor Arif Mohammad Khan and Prabhu's mother was invited to Raj Bhavan by the Kerala Governor. He even received calls from ASI, Palakkad and few people from the Kerala film fraternity. Few among them were director Jude Anthony Joseph and actor Shaju Sreedhar. Prabhu and his family are eagerly waiting to meet MP Victoria Prentis on June 11th as MP is visiting their home.
Roots
Prabhu is from Olavakkode in Palakkad and Shilpa is a native of Alappuzha in Kerala. Addhu, the only son, is six years old. Shilpa is the daughter of Balachandran Nair and Shakuntla. Prabhu is the son of Late Natarajan and Vijayalakshmi. His father died at a very young age. Prabhu was brought up and educated by his mother who raised money by selling clothes door-to-door.
Prabhu and Shilpa with Prabhu's mother and on right Shilpa's parents and sister.
The story is that Prabhu always lived a life caring others from early years. To sum it up let us hear what his uncle Mohandas Velayudhan wrote on Facebook: "He is doing a great job. Though he used to do it in Palakkad nobody noticed him. When he went to UK he did the same thing there. People started appreciating there. They started to recognize. Thanks. That is the difference of places. Well done boy get going. Don't expect anything but render your relentless gesture to the needy. Whether it is India or London people need humanitarian services. I think you are capable. All the best Prabhu keep it up"
CLICK TO FOLLOW UKMALAYALEE.COM