UK universities expecting high number of students for Jan 2023 intake: British High Commission in India asks students to apply soon
Wednesday 14 December 2022 9:20 AM UTC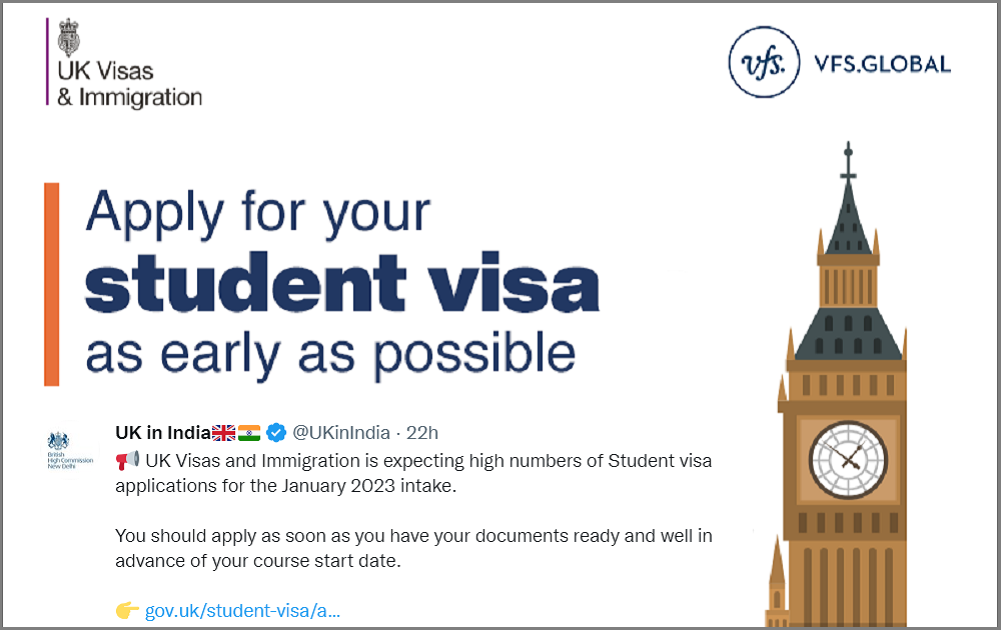 By A Staff Reporter
LONDON Dec 13: Although the present UK government is considering curbs on foreign students to UK universities, there are no signs to show that any restrictions or tightenting of rules are put in place for the new entrants as we do this report.

A message tweeted by the British High Commission in India reads: "The UK Visas and Immigration is expecting high numbers of Student visa applications for the January 2023 intake. You should apply as soon as you have your documents ready and well in advance of your course start date".
The tweet diverts the reader with a link provided to the official UK goverrnment guidance website for "Study in the UK on a Student visa". The rules remain as the same before and there hasnt been any changes made yet as of today.
Reports say that the January entry at UK universities is the second largest academic intake for international students in the UK after September. Over 100 UK universities are open for a January 2023 entry with over 6,000 foundation, undergraduate and postgraduate courses on offer.
It is interesting to see this tweet by the British High Commission in India done on the same day when UK's Trade Secretary Kemi Badenoch arrived in India for rebooting stalled Free Trade Agreement negotiations with Delhi in an attempt to seal the UK's largest post-Brexit agreement.
Prior to her travel to India, Trade Secretary Kemi Badenochwill had made it clear that she will not discuss student visas in Indian trade deal talks. 'Student visas are a separate Home Office responsibility, so they wouldn't come into a free trade agreement,' she told the Telegraph
The issue of visas has been at the centre of a row between Rishi Sunak's government and that of Narendra Modi that saw a deadline over a free trade deal set for Diwali in October missed.
India government was infuriated by comments by Home Secretary Suella Braverman, when she said the largest group of people who overstay visa requirements in the UK are Indian migrants.
CLICK TO FOLLOW UKMALAYALEE.COM