Keralite couple in UK put up their house as raffle prize costing just £5 a ticket ending on 25th December
Wednesday 18 November 2020 9:40 PM UTC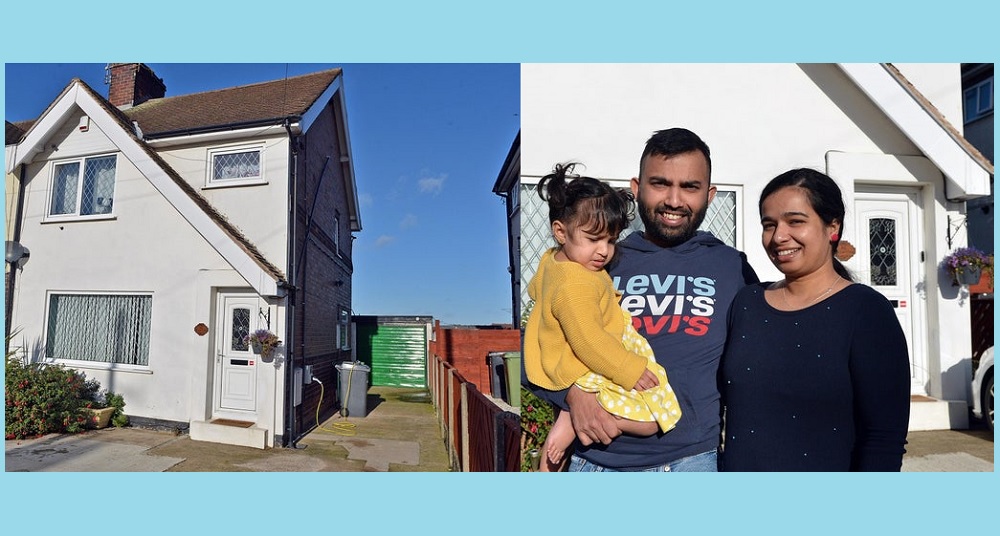 By A Staff Reporter
LONDON Nov 18: A Keralite couple based in north Derbyshire in the UK has put up their three bed house as a raffle prize which costs just £5 per ticket.

Sreekanth Balachandran, 37, and his wife Surya, 28, who have lived at the home on Houfton Road for five years, have been trying to sell up since June so they can move to Staveley where two-year-old daughter Malavika will attend a nursery. However, despite multiple viewings and plenty of interest in their home, the couple have become disillusioned with the sale process during the pandemic.
It was at this time Sreekanth, from Alappuzha in Kerala, thought about this novel idea of putting up his house on a raffle draw.
Sreekanth, who works as a senior manager at the Post Office, told this website: ""l saw a similar house raffle on ITV and thought I would try it. I also like the idea of giving someone an opportunity to get a mortgage-free house for just a fiver. And it is 1 in 60,000 chance to get one compared to millions with the National Lottery. We will also get a better price for the house and give us that extra deposit for the new mortgage. Where else can you get a house for a fiver? It is an opportunity for someone's dream to come true."
His impressive and beautifully proportioned three bedroom semi-detached property offers open plan living, a gas central heating system, and double glazing throughout. The spacious home has been recently refurbished and modernised. House is 6 miles from Chesterfield station and is in a quiet residential area.
According to the news report, a growing number of people are trying to sell their homes through raffles and 'win a house' schemes, where tickets are sold at a low cost and the sellers hope they can make up the sale price and pick one winner. The lucky winner will snap up the 'amazing opportunity' of owning a £170,000 recently refurbished three-bedroomed house in Bolsover completely mortgage-free.
According to Sreekanth: "The house is recently decorated to an extremely high standard and is in a good neighbourhood. The only sad part for us is we will miss the neighbours who are like family. They love my daughter and she was born in this house. However, if we sell, we can buy a house closer to my daughter's school and are also looking for somewhere not so close to a road with such a young daughter."
The family are also throwing in £15,000 spending money and the raffle comes to an end on Christmas Day. If all tickets are sold Sree will also donate £5,000 to Chesterfield homelessness charity, Pathways.
This Raffle is for the house and 15K spending money and all the equipment currently inside the house. This includes a Bosch Dish Washer, American Style Fridge Freezer, An Electric Cooker, 55Inch Sony 4K TV, 43 Inch 4K Philips TV.
If all 60,000 tickets are sold, the owner will provide a second prize of 10K to a lucky winner to hopefully use it as a deposit for their next house.
Raffle ends on Friday, 25th December 2020 at 10:00
Click here for more information and to buy one of the 60,000 tickets.
CLICK TO FOLLOW UKMALAYALEE.COM