Kerala Chief Minister Pinarayi Vijayan addresses UK Malayalee community as part of KSFE Chit launch (Pictures)
Saturday 18 May 2019 7:55 AM UTC
Pictures By Sudhin Bhaskar and Deepak Dominic
By A Staff Reporter
LONDON May 18: Kerala Chief Minister Pinarayi Vijayan addressed the invited UK Malayalee community as part of the KSFE Chit launch at the The Montcalm Royal London House Hotel in Liverpool Street in London yesterday (May 17, 2019).
The meeting which was organised, by Loka Kerala Sabha (World Kerala Assembly), saw a packed hall with limited spaces.
Kerala Infrastructure Investment Fund Board (KIIFB) CEO Dr KM Abraham made an introductory speech where he detailed the purpose of the meeting and visit of the Kerala delegation to Europe and the United Kingdom.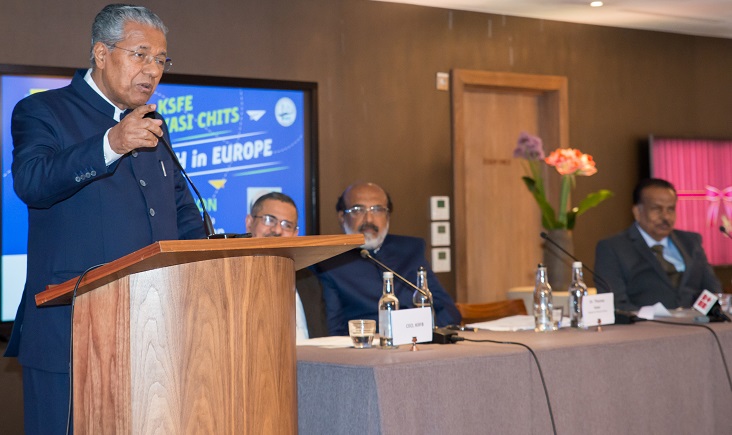 Following this Kerala Finance Minister Thomas Isaac welcomed the audience and invited Kerala Chief Minister to address the audience. The chief minister spoke to the attendees by detailing the various successful schemes the Kerala government had launched during his tenure.
He spoke about his government's aims in rebuilding Kerala after the floods that wiped off parts of Kerala in August 2018. He shared his experiences of his visit to Netherlands and other European countries where he is learning and experiencing ways on how we can carry out similar successful technological advancements in Kerala.
He invited NRIs to join the KSFE Pravasi Chit fund which are the latest in a series of measures taken by his government to attract funds, working the market for capital expenditure back home.
KSFE Pravasi Chitty is a chit scheme tailor-made for non-resident Keralites. The scheme is being propelled by the Kerala State Financial Enterprises Limited in conjunction with KIIFB and NORKA.
Through the scheme, Malayalees across the world can join chits, pay installments and take part in chitty auction from anywhere, all of which can be done online. The government claims it's a transparent process through which non-resident Keralites can boost their savings and at the same time, take part in the state's infrastructure development.
The government is looking to raise capital of Rs 10,000 crore through the scheme to fund its infrastructure projects and social-welfare programmes in the fields of health and education.
Everything from registration to submission of security documents and chit selection and prize money collection can be done online. An online call-center has been established to answer queries and grievances.
Click to View More About Pravasi Chit Funds
CLICK TO FOLLOW UKMALAYALEE.COM