Fraud 'estate agent' cheat recently arrived Keralite of £250: Our efforts help Rajitha get her money back
Wednesday 1 June 2022 6:28 AM UTC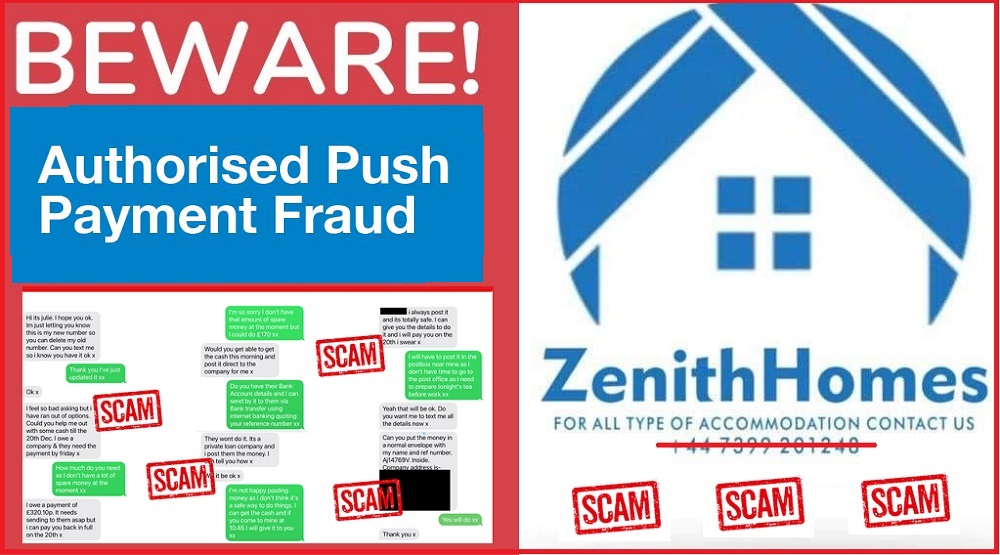 By A Staff Reporter
BOURNEMOUTH May 31: A recently arrived senior carer was cheated of £250 by a person impersonating as a so-called property agent using the name "Zenith Homes". Although it begets the question why Keralites still fall to such silly frauds by paying money before carrying out checks it is to be blamed on the sheer desperation for securing a roof above their head.

To make matters worse fraudsters keep changing the modus operandi of the process of fraud they carry out. Here we have an incident where the advertisement of the property starts on Facebook and ends with further communication on Whatsapp which then leads onto bank transfer and other.
We are publishing in detail so that it will help another person not to fall victim to such fraudsters. Interestingly, the fraudster is still continuing to dupe some others as we write this because some preventive actions are slow or difficult for authorities to take.
The story goes as below:
Rajitha Chandran just arrived as a Senior Carer and has been working in Bournemouth. Prior to arrival she manages to secure an accommodation for herself and decides to look for a more suitable accommodation so that her husband and child can join. This is the normal practice with several of the Keralite migrant community arriving in the UK.
Rajitha sees a Facebook advert with a picture saying "Zenith Homes: for all types of accommodation contact us" and has a EE mobile number which is 07399201248. Rajitha Chandran rang the number and the person who picked up said that he is at work and therefore asked her to send the message by Whatsapp.
Thus Rajitha sends him a message requesting for a property for her and her family. Rajitha received an automatic reply as below.
After several messages to and fro about the rent, property details etc, the fraudster gets to a point where he says: "You can make a deposit of £250 then after viewing and confirm the house, if you love it, you can complete your deposit and arrange to move in". On further queries, he assures Rejitha that as there is so much demand and due to 'timewasters', the deposit has to be transferred before the viewing and if Rajitha didn't like the property then she can have the full refund.
Thus Rajitha is sent a bank account number for the deposit money to be paid. Account number: 77724281, Sort code: 04-11-75 , Beneficiary: L Lusale, Bank: Revolut. The payment gets aborted for some reasons and in reply the fraudster sends Rajitha another account number stating that she can send the amount to his secretary's number which is Account name: L Mitchell cook Account number: 79456546 Sort code: 04-11-75 Bank: Revolut.
Rajitha makes the payment of £250 and all contacts from the fraudster stops immediately and Rajitha is blocked by the fraudster. Rajitha makes her husband in India to send him a message querying but apart from receiving the auto reply there isn't any further replies from him.
A desperate Rajitha, who has just spend a huge amount to come to the UK, couldn't bear such a loss. She approached this website for help. It is a fact that Rajitha should have acted wisely here.
On querying her why she fell for this, her reply was it was all sheer desperation and also being duped with the communication, pictures of the flat and also having to go to work and juggling all things in a world which is new to her.
Our first effort was to make contacts on the Whatsapp number. But the phone doesnt get picked up but the auto responder sends us a message asking if we are interested in their property.
We drafted a proper statement for Rajitha detailing the fraud.
As Rajitha's phone was blocked she made her husband to send the message to the fraudster. It was obvious that the fraudster saw it but he was ignoring all messages from Rajitha's husband.
The next is for us to find out more about the bank where the money was transferred to. The complaint was sent to Revolut Bank where Rajitha transferred the money to.
We alerted the bank that the fraudster would be using the money for serious offences which would involve crime and therefore we wanted the bank to investigate this. Revolut responded to Rajitha promptly stating that the money is still sitting in the beneficiary's account and that Rajitha has to contact her bank from where the money was transferred.
Thus, we asked Rajitha to walk straight into her HSBC Bank office and ask to speak to the manager. Rajitha met with a manager there and also showed the letter from Revolut Bank where she transferred the money to.
HSBC was very proactive and they took the complaint from Rajitha seriously and decided to investigate and make contacts with Revolut Bank. They sent the below acknowledgement letter.
Rajitha was continuously supported over the phone by us. Many of the recently arrived migrants would part with their monies half way through a process during our help as they don't want to take the hassle of taking things such further due to the fear that it may affect their 'permanent settlement' visa in the UK later and so on. Some say that as now the fraudster got their details there may be some repercussions. With such we ask them to go their way as without the support from the aggrieved person we are unable to move any further. In this case Rajitha, knows the value of £250 as she has just arrived in the UK spending money which she didn't have as savings but from loans and debts and therefore every penny is precious for her. We advised Rajitha on what would happen and wouldn't and she stood with us in the whole process.
After three weeks an elated Rajitha called us last night and said that the money was refunded by her bank into her account yesterday (30th May). Prior to this there was a phone call from MET Police who asked Rajitha several questions and gave her advice on how to identify fraud and also not fall victim to such fraudsters.
Our summary findings are that enquiries were initiated following the letters we helped Rajitha to send to Revolut, HSBC, MET, EE. We made them all talk to each other and thus Rajitha's hard earned £250 was reimbursed by HSBC as she was a victim of 'authorised push payment scam'
What is Push Payment Scam
In recent years, "authorised push payment" (APP) scams, where a payer is deceived or defrauded into authorising a payment to a criminal, have increased both in value and volume, with many individuals suffering significant financial and emotional harm.
Most banks should reimburse you if you've transferred money to someone because of a scam. This type of scam is known as an 'authorised push payment'. If you've paid by Direct Debit, you should be able to get a full refund under the Direct Debit Guarantee.
If you have been a victim and if you wish to share it with our readers for them not to fall victims please email editor@ukmalayalee.com. 
CLICK TO FOLLOW UKMALAYALEE.COM