By A Staff Reporter
LONDON July 04: In a unique show of togetherness, Malayalee doctors from different parts of the world will come together to lend their voices to give life to a beautiful musical concept that will bond them together in these difficult times. This event is slated to be the first of its kind in the history of medical fraternity worldwide. This beautiful musical venture was conceptualised by Dr Sethu Warrier from London.
Dr Sethu and his friends minds were perturbed by the loss of several of his colleagues within the medical field from the UK and worldwide. He has dearly wanted to reach out to those families who are bereaving and also send out a message to all the medical professionals that we are all into together in this trying times of the pandemic.
Dr Sethu wanted to bring his singing mates together and share the compassion and the dedication with yet striving frontline workers, the doctors and dentists across the world who are continuing to battle the war against COVID-19.
Dr Sethu has further dream projects in his mind to bring together this bunch of talented medic singers to record music and also to present live stage shows once the lockdown restrictions have been lifted. He is looking at this event as the first ever bonding of a musical kind and then lead up to take it further by staying together in these difficult times and also in years to come.
Responding to a query from this website on the reasons behind such an innovative project he said: "People fail to notice that even in between the ongoing Greek tragedy staged everyday within the realms of medical care where medics play a major role, compassion and joy too exist from where music breaks through. Despite the various masks and roles we don to play a role in this drama, we doctors are also genuine human beings with pain, passion and personal stories like all out there.
"And, music is one balm that keeps our compassion flowing and invariably rejuvenates us to serve as warriors against this enigmatic curse that has struck humanity. This display of the talent that lies buried beneath the duty of care in the medic world is a selfish interest that I wished to share with the world".
The above comment summarises Dr Sethu's passion to bring together the medical professionals from all over the world under one umbrella through the means of music where everyone immerses into the just one song which is the song of love and compassion towards human mankind… a song from the heart.
The unique event titled Hridayageetham is planned to be held on 11th Saturday and 18th Sunday of July 2020 between 2 to 4pm UK Time (530-730 UAE ST) and 630-830 IST.
A line up of fabulous singers from the medic world will present popular film songs based on well known Ragas which promises to be a treat you should not miss.
The event will be Live streamed through We Shall Overcome Facebook page. The participants are medics who have already made a mark in not just in the field of medicine but also in music.The first if its kind event in the world, titled Hridayageetham, is termed as By The Doctors, For The Doctors and For Humanity, will feature doctors who are renowned as singers  at a professional level who have been participants in musical groups, who have performed widely on stage and have recorded and even composed music too.
Dr Sethu will be anchoring the show with Kishore Warrier, a well known musical genius, and they will take you through ragas and songs based on classical Indian music section.
Raymol Nidhry from We Shall Overcome will provide all the necessary support for the Live streaming of the show for all over the world.
The Live program can be watched by anyone who has a Facebook profile – either Live when it is on or later again on the Facebook link of We Shall Overcome. We Shall Overcome (WSO) is a popular Facebook forum which will telecast the event Live to the world. We Shall Overcome have already presented several successful music programmes featuring musicians from UK and India.
This will be a first venture where the entire cast is comprised of singing doctors who have made their mark in medicine as well as music.
Dr Sethu is a paediatric consultant who has been associated with music for past 40-50 years. He was singing on Radio and Doordarshan back in India and has been singing on various venues in UK. He has sung for eminent music directors from India like K Raghavan, Dakshinamurthy, Chidambaranath, M G Radhakrishnan, KP Udayabhanu, Perumbavoor, Darshan Raman, Jerry Amaldev on various forums – either recording for them or for their stage programmes.
Dr Sethu is currently working as a consultant for childhood neurodisability and rehabilitation in two centres- at National Centre for Young People with Epilepsy, Surrey and also at Chailey Clinical Services, Sussex for children with Cerebral Palsy. He follows both his artistic and clinical interests with equal  passion, a driving spirit behind this endeavour.
The Live stream event on Saturday 11th July and Sunday 19th July will include the following singers from different parts of the world from 2pm to 4pm (UK Time), 5pm to 7pm (UAE Time) and 6.30pm to 8.30pm (Indian Time).
Dr Sethu Warrier, UK
Dr Geetha P, Calicut
Dr Sangeetha, Calicut
Dr Sheeja P K, Muscat
Dr Rashmi Sudesh, Calicut
Dr Savitha Menon, UK
Dr Vimal Kumar, Dubai
Dr Manoj Chandran, Dubai
Dr Vani Jayaram, UK
Dr Roshni Sudeep, Dubai
Dr Priya Nambiar, Calicut
Dr Ajith Kartha, UK
Dr Soumya Savitry, UK
Dr Nigil Cletus, Kochi
Dr Arun Shankar, Trivandrum,
Dr Sreeja, Calicut
Dr Kishore Warrier UK
Venue: Online on Facebook: https://www.facebook.com/We-Shall-Overcome-100390318290703/
Dates: Saturday 11th July and Sunday 19th July
Times: 2pm to 4pm (UK Time), 5pm to 7pm (UAE Time) and 6.30pm to 8.30pm (Indian Time)
London June 4: The UK on Friday allowed quarantine-free international travel to nearly 60 "lower risk countries", excluding India and the US, as it released a list of exempt nations posing "a reduced risk" from the deadly coronavirus.
The UK Foreign Office Travel Advisory related to India remains unchanged as part of its wider advice for British nationals to avoid "all non-essential international travel".
India and the US are among the countries excluded from the list of nearly 60 low-risk countries.
The list containing countries posing "a reduced risk" from the deadly coronavirus includes European destinations of Germany, France, Spain and Italy as well as Australia and New Zealand.
Some of the Asian countries considered low risk include Japan, Hong Kong, Taiwan, Vietnam, with popular holiday destinations in the Caribbean as well as Mauritius and the Seychelles also making the UK's travel corridor cut.
"Today marks the next step in carefully reopening our great nation.
Whether you are a holidaymaker ready to travel abroad or a business eager to open your doors again, this is good news for British people and great news for British businesses," said UK Transport Secretary Grant Shapps.
"The entire nation has worked tirelessly to get to this stage, therefore safety must remain our watch word and we will not hesitate to move quickly to protect ourselves if infection rates rise in countries we are reconnecting with," the minister said.
Under COVID-19 lockdown related rules brought in last month, most travellers from any part of the world coming into the UK currently have to self-isolate, or quarantine, for two weeks.
The new measures, which will come into force from July 10, mean that people arriving from selected green or amber zone destinations will be able to enter England without needing to self-isolate, unless they have been in or transited through non-exempt countries in the preceding 14 days.
The devolved administrations will set out their own approach to exemptions, and so passengers returning to Scotland, Wales and Northern Ireland could be subject to slightly different quarantine rules until they confirm their travel strategies to control the spread of coronavirus.
The UK government said its expectation is that a number of the exempted countries will also not require arrivals from the UK to self-isolate. This will mean that holidaymakers or business travellers travelling to and from certain destinations will not need to self-isolate on either leg of their journey.
The exempted countries and territories will be kept under constant review, so that if the health risks increase self-isolation measures can be re-introduced to help stop the spread of the disease into England, the Department for Transport said.
The UK Foreign Office is also set to change its blanket advice against all non-essential foreign travel from Saturday and make it more region-specific in line with the traffic light system.
The transport ministry said the graded travel system follows a risk assessment has been conducted by the Joint Biosecurity Centre, in close consultation with Public Health England and the Chief Medical Officer.
The assessment draws on a range of factors including the prevalence of coronavirus, the numbers of new cases and potential trajectory of the disease in that destination.
According to Johns Hopkins Coronavirus Resource Center, the contagion has infected over 10 million people and killed more than 521,000 across the world.
The US is the worst affected country with over 2.7 million cases and more than 1,28,000 deaths. The UK has over 285,000 cases with more than 44,000 fatalities.
The COVID-19, which originated in China's Wuhan city in December last year, has also battered the world economy with the International Monetary Fund saying that the global economy is bound to suffer a "severe recession". Scientists are racing against time to find a vaccine or medicine for its treatment. – PTI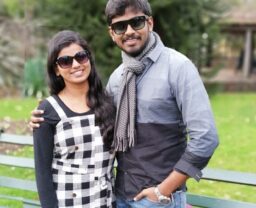 Palaniselvam and Dr Vinothini
Newly married Palaniselvam got stranded in the UK due to pandemic. His wife, who was here with him only had gone to Tamil Nadu briefly but due to lockdown she also got stuck there. Finally with help from the Malayalees Stranded in UK whatsapp group the couple were able to reach home. On their return Palaniselvam writes a blog to share his experiences of the flight from London to home. Palaniselvam works as a software engineer in a reputed organization in the UK. His wife Dr Vinothini is a homeopath.
"Yadhum Oore Yavarum Kaelir"
(Every village is my village and every person is from my relative)
My Journey via Vandhe Bharat Mission 3 – From London to Kochi on June 27
By Palaniselvam
I would like to pen down my first ever blog in my 28 years history! Since the feelings made me to do so and it has to be cherished forever in my life and also could be very helpful for others at these difficult times.
India is the land of many cultures and languages, a diverse nation. We often say, 'Unity in Diversity' but haven't got much exposure to understand the real truth. But life is full of surprises and beautiful things, right? Come I will try to picturize on what happened in my life during the Covid 19 pandemic and how I have been rescued from UK to India.
I don't want to waste your time in describing how cruel this Covid-19 is ruling the world and how much deeply it has impacted many people's mental and physical health. We all are in a extremely different world now which we haven't even imagined about!
I am a software engineer working in a reputed organization and came to work in the UK. My wife is a homeopath. We are newly married and we were in UK together until December 2019. She visited India alone for a short while in Jan 2020 and planned to return back in March 2020. It was very hard for both of us to stay alone but we havent got any other choice.
Covid-19 pandemic was declared, on an evening in March and received news that all international flights are banned in India. We were shocked and just prayed for things to return to normalcy (what could a normal human being can do in this unprecedented times). We expected all will be sorted out in a couple of months and we will be united in end of April or early May. But God has some other plans for us. Nothing wwent our way as we expected. I know it is the same situation for the entire world.
Mentally we both became low, and by the time there was a downward spiral in my health condition, my varicose veins became more painful. Couldn't do my normal activities. I was wandering to go back home, since I couldn't manage myself being alone in the UK.
I initially booked ticket to Chennai via High Commission of India (though tickets were not available online, they arranged it for me due to health issues). Later HCI announced flights to Kochi (which is just 4.5 hours drive from my hometown Erode, Tamil Nadu). I decided to go to Kochi and also due to my leg pain I couldn't sit for longtime on a single position so I opted business class ticket to Kochi.
After booking ticket, I was clueless on what quarantine rules Kerala had and how I will reach Tamil Nadu. Luckily I was introduced to Anoop of  'Malayalees Stranded in UK' Whatsapp group) by Sid. He quickly added me in that group. 
I gathered lot of information from the group to prepare myself for the journey towards Kerala from UK. I could see so many volunteers who are eager to share information on how to book and what happens during the journey and after it and it was more reassuring for me.
I was thinking that I am now in a safe place where I am being looked after by some really nice people and felt so happy and relieved to have around so many friendly persons who kept answering my at times silly questions.
Apart from Anoop, I found Sajida, Dr Ajay and Sanjay and several other chipping in with whatever information they have found about any flights and any updates.
Luckily I got to know there is no concept of mandatory institutional quarantine in Kerala for international passengers. That was a great relief! Though I can understand the seriousness of Covid-19  and necessity of quarantine, I was longing to see my family.
I personally feel, "Kerala government is of the people, by the people, for the people". Kerala government truly values the people emotions as well as their methodology to control Covid-19 is really commendable.
They understand very well on what is required to be done mandatorily and not required at all. They are evolving very dynamically on current unprecedented situation. Other governments should learn from them and shouldn't hesitate to adopt their plans in controlling the disease spread.
Iam in strict home quarantine now. I'm maintaining social distance from everyone in family, my food will be kept outside room. In fact Iam in a separate room in 2nd floor. But the joy of being in home after a very long period can't be explained in words, that too after a huge impact on my physical & mental health.
Coming to the real agenda of this blog 'Unity in Diversity'. I spoke with Anoop that I would need someone to help me since I couldn't stand or walk for longtime due to Varicose veins pain.
Before assigning a volunteer for the 27th June flight troop, Anoop gave me the contact for India's famous doctor Dr Roy Varghese for  varicose surgery in Kerala and he was very casually sharing his experience about varicose veins.
His call was so caring for me, and I came to get some other help but I got very useful information from him. God is Great, he is sending each & every person in our life whenever we are in need. No matter of race, religion, language, ethnicity, etc. Thanks a ton Anoop!
Then I was assigned with a volunteer /mentor named Bassim, a student. I have been given with his number and my number shared to him. Totally there were 20 pairs like this. Beautiful thing in it is, this Whatsapp group and information shared in that forum made us to unite each other even before we see in person.
I spoke with Bassim before the day of my flight. Such a kind hearted guy. I was little anxious that I'm the ONLY Tamil guy in that flight/group. Bassim spoke few words in Tamil too, I realised how they value other people and their language.
Next day we met at airport. I sent a photo of mine to him. As soon as he saw me in the airport, he popped to me directly without hesitation and started caring for me. He quickly attached with me.
Wherever help was required he stood 1st to get it for me. Right from wheelchair, security checking, during food intake, departure temperature checks, arrival at Kochi, Rapid test, baggage collection, exit of Kochi Airport he doubly ensured all are intact!
Meanwhile, while we boarded flight to Kochi from Mumbai I got call from Anoop enquiring how is everything going on and he ensured about my health too. I experienced  utmost care from my Kerala brothers during this unusual situation and unusual flight journey, which will be scripted in my memories forever.
Kerala and Tamil Nadu has a natural bond which was truly experienced during this pre-departure, flight journey and post-arrival! I would ensure that I would do the same for my beloved Kerala people if they have landed in Tamil Nadu.
Hats off my dear brothers and sisters! Thank you very much. Praying for all well-being of our community. There is a proverb in Tamil – "Yadhum oore yavarum kaelir" meaning " Every village is my village and every person is from my relative".
It suits us all since we were living in UK and returned to India but to different state and we got many relatives in this flights.
Regards, Palaniselvam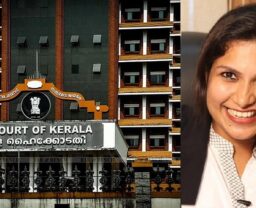 Advocate Anitha Mathai Muthirenthy from Kochi has been helping those relatives in Kerala to take up the matter with the Kerala High Court
By A Staff Reporter
KOCHI June 30: Hundreds of Malayalees are still stranded in the UK unable to secure places on Air India flights through the Vande Bharath Mission. Calls for direct flights from London to Kerala have been increasing day by day due to several passengers unable to go through the hassle of disembarking at a stopover due to health reasons. Majority of the Vande Bharath Mission flights from London to Kochi are having stopovers in one of the domestic airports in India before leaving to Kochi. This has caused huge inconvenience to those travellers.
Many of those Malayalees stranded in UK were also not able to make it to the flights scheduled for Kochi as spaces were taken over by people who would disembark in the domestic stopovers either Delhi or Mumbai. This means majority of those Malayalees are not making it to Kerala although it states that there is a flight to Kochi.
Advocate Anitha Mathai Muthirenthy from Kochi, who is the Advocate for more than twenty Malayalees stranded has been raising this matter with the court. During the hearing on Monday 29th June, Advocate Anita Mathai requested the court to allow either a direct flight from London to Kochi or ask Air India not to disembark those passengers travelling to Kochi for them to continue remain seated in the same flight for it to proceed to Kochi.
Thus the passengers leaving London don't have to change flights.
The Central Government Counsel on instructions submitted before the court yesterday said that they are seriously considering the concern raised by the petitioners through a representation and discussions on it are going on.
Regarding the flights that are scheduled to Kochi having stop overs in other domestic airports, the counsel submitted that no new passengers will be added on to the flights in which the passengers from London travel to Kerala.
However, since there was no clarity gained from the submissions made by the counsel whether the passengers from London have to disembark in the domestic airports and board another plane, the Kerala High Court has asked the Central Government Counsel to reply as to whether the Air India flight on 10th July would allow the passengers from London to Kochi to be able to continue travelling in the same flight without having to disembark at a stopover in one of the other states in India. A final hearing on this will be heard on Wednesday 1st July.
Shaima Ammal from the UK has been liasing with Advocate Anitha and coordinating the whole affair in regards to the direct flight. Advocate Anitha will be in court tomorrow (July 1) looking for the court's help in regards to have those stranded reached Kerala safely through direct flights.
Advocate Anitha Mathai Muthirenthy had done her studies in the UK. After graduating from Bangalore University as the topper in the University for Law bagging five gold medals, she was granted Taught Scholarship by Birmingahm Law school from where she completed her Masters in Law.
She is now practicing in the High Court, Family Court and Criminal Courts in Kerala for more than a decade. During her time in the UK she was involved in community work as being an Executive Member of Gloucestershire Malayalee Association while doing her studies in Birmingham Law School.
A Whatsapp group, titled Malayalees Stranded in UK, started by Anoop Sasidharan and Sanjay Menon have also been helping and providing support to those vulnerable to book tickets to the Vande Bharath Mission flights.
Those who are looking to know further information about further Vande Bharath Mission flights please log in using the link.
New Delhi July 29: In a tweet (yesterday) on Sunday evening, the Indian Civil Aviation Ministry said, "Private Airlines will have significant participation in Phase-4 of Vande Bharat Mission.
Among others, IndiGo will operate 238 flights from Qatar & 219 flights from Kuwait; while GoAir will operate 41 flights from Kuwait. The number of private carriers, flights & destinations are likely to increase."
The above news is open to many assumptions and one could argument could be that private airlines will be allowed to operate from UK too. However, it is yet to be seen who those private operators could be and who makes that decision.
Air India will fly 114 flights while IndiGo and GoAir will operate 457 and 41 flights respectively between July 3 and July 15 under the fourth phase of the Vande Bharat Mission to repatriate stranded Indians amid the coronavirus crisis. Continue reading "Private airlines IndiGo and GoAir to reptriate Malayalees stranded in Qatar and Kuwait: Will India allow private operators from UK?"