Keralite nurse from Liverpool lose £1316 rent money to scamster using Facebook Marketplace and Wise
Wednesday 26 January 2022 7:42 AM UTC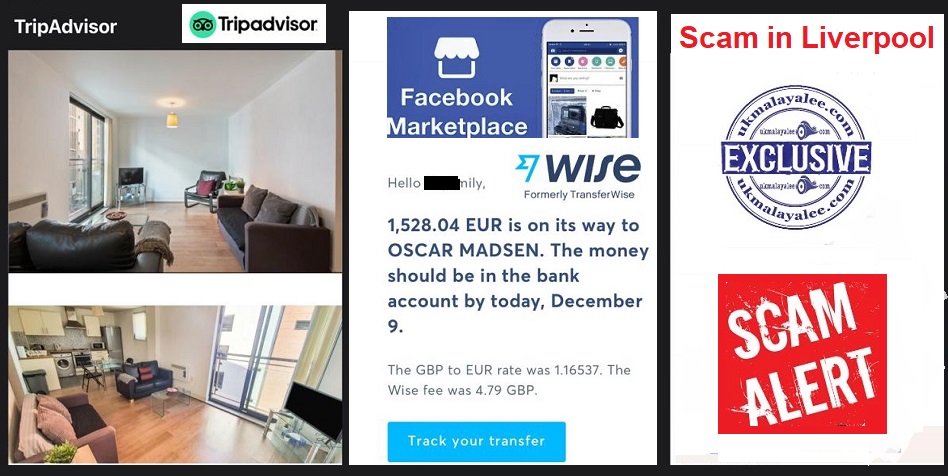 By A Staff Reporter
LIVERPOOL Jan 26: A Keralite nurse from Liverpool, who works at the Liverpool NHS Trust Hospital, has lost £1,316 to fraudsters who advertised a flat through Facebook Marketplace and took the money using a cloned page of the Trip Advisor website and Wise Money Transfer.

On Monday we published an article about how a Keralite student in Preston got cheated by scamsters using Facebook Marketplace, TripAdvisor. (Click To Read Keralite student in UK lose £2050 rent money to scammers using Facebook Marketplace and TripAdvisor.)
Now we have another scam which includes Facebook Marketplace, Trip Advisor and Wise money transfer app.
Mythili found a flat being advertised on Facebook Marketplace.
Mythili thus made contacts with a Facebook Marketplace advertiser and enquired about a flat which he advertsied at 29 Duke Street Liverpool L1 5AQ. The Facebook advertiser replied stating that he was advertising the flat on behalf of a landlord and said that landlord will contact her.
Mythili received a reply from a Michael Vondracek, stating that he is the owner of 29 Duke Street Liverpool L1 5AQ and the rent for the flat will be £520 per monht including water, wifi, electricity, and parking.
Mythili was asked to pay the first month's rent (£520) and the deposit of £780 with a total of £1300 upfront.
Michael Vondracek emailed Mythili stating that he is at present not in the country and is in Praque due to personal reasons. This means he wont be able to be present for viewing or sign up.
Therefore, he has made arrangements with TripAdvisor who will manage the rental for her property. As per Michael Vondracek's email TripAdvisor has a "special department for long time rentals that offers her both safety and protection and therefore her viewing, sign ups and rent collection will all be managed by TripAdvisor".
Mythili was advised by Michael Vondracek to pay the £1,316 using a link which she will be receiving later on from TripAdvisor. Mythili requested for a viewing but Michael Vondracek advised her that as he is in Praque and therefore he is unable to come down to show her around. Mythili was given an option where she could pay the full money in advance and she can move in and if she didn't like the flat then she can get her money reimbursed through TripAdvisor.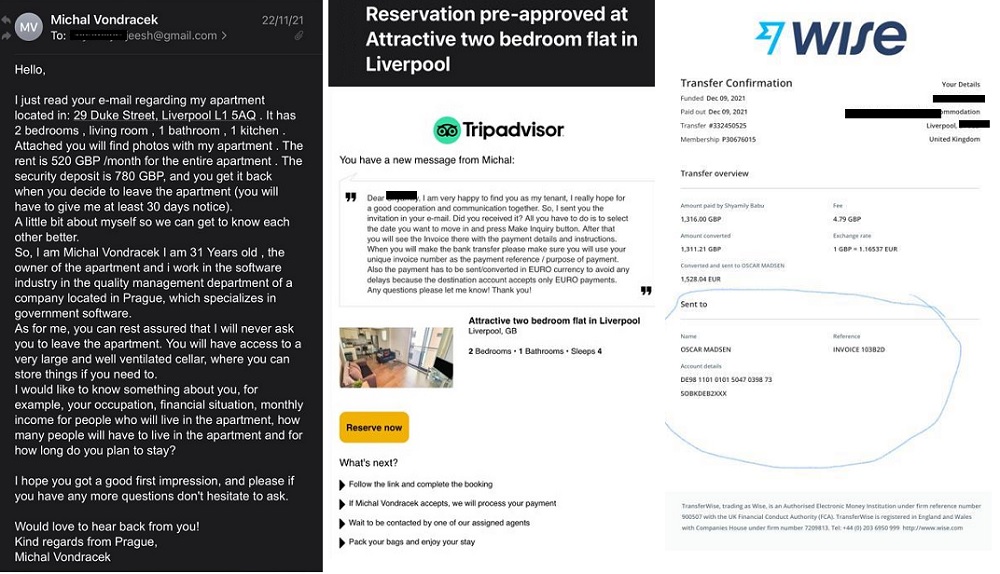 Mythili agreed to this and Michael Vondracek then advised Mythili that she will receive a link from TripAdvisor for her to make the payment.
Mythili received the link by email from TripAdvisor and paid the money using the Wise app and requested for viewing for 19th January.
As the link didnt work, Michael Vondracek sent Mythili details of whom to pay a Oscar Madsen who is holding a bank account with Solaris Bank in Germany. Thus Mythili transferred the money to Oscar Masden.
Following the payment of the money Mythili found it difficult to make any further contacts with email she received from TripAdvisor or Michael Vondracek.
Mythili has now made contacts with the account holder's bank in Germany and awaiting an outcome.
Scams and fraudulent activity on Facebook Marketplace are common
Scams and fraudulent activity on Facebook Marketplace have become more common of late, as the platform's user base continues to grow each year. Facebook Marketplace scammer is simply after your money. However, there's always the possibility that they're trying to collect some of your personal information.
If you share any sensitive information with the scammer, such as your address, bank account or credit card information, or other identifying information, alert your bank and keep your eyes open for instances of identity theft.
One of the most significant issues with Facebook Marketplace is figuring out how to pay for items. If you're not using Facebook Checkout—or Facebook Pay—you're left with either paying with cash, check, or through a third-party app, all of which come with their benefits and potential downfalls.
PayPal is perhaps the most potentially dangerous option. Scammers will typically ask to pay this way, but shortly after the transaction begins, you'll receive an email, allegedly from PayPal. However, scammers have now started to use TripAdvisor to dupe buyers.
How to Beat Facebook Marketplace Scams
Generally, Facebook Marketplace is a decent way to buy and sell any number of items. But, as with any online forum, there's the potential for things to go wrong.
When it comes to getting scammed, keeping your eyes peeled and being proactive is the best form of protection.
Some of the best ways to avoid Facebook Marketplace scams include:
Only exchanging items/money in person. This gives the added benefit of making the exchange at the same time.
Make sure to meet somewhere public and well-lit. Letting others know about your meeting—or bringing them with you—is also advised.
Researching your item. Especially if you're looking to buy a luxury or expensive item, knowing about the details can be particularly helpful.
Use your knowledge to inspect the item thoroughly when you meet up/when you receive it.
Don't be afraid to quiz the seller beforehand! This could be a clue as to whether they're a scammer.
Researching your seller. Check out as much of their Facebook page as possible to get a read on how real they are.
Asking for proof. This could be a receipt from the seller, an item serial number, or additional photos.
Sticking to known payment methods. This includes cash or if done at the time of receiving your item, third-party payment apps.
Beware of buyers who ask to pay with PayPal, gift cards, money orders, money wires, cashier's checks, or other unusual methods.
Never paying before you receive your item. The caveat is if you're utilizing Facebook Marketplace Checkout or Facebook Pay, which are both facilitated through the site and offer you some payment protection.
Of course, as always, the most helpful way to avoid a scam is to remember the age-old shopping advice: Let the buyer beware.
What to Do If You Fall For Facebook Marketplace Scams
If you've had the unfortunate experience of being scammed on Facebook Marketplace, there are a few things you should do depending on your situation:
Report the seller to Facebook: Tap on "Seller Info" on the product listing and then tap "Report." Facebook will investigate the claim.
Report the scam to your bank, Venmo, PayPal, TripAdvisor or another app you used to transfer the money.
Change your passwords if you think you may have accidentally given this to them (e.g., via a phishing link).
CLICK TO FOLLOW UKMALAYALEE.COM