Securing IT job in UK is possible: Hear from this IT engineer who secured job in the UK from Kerala
Thursday 15 December 2022 8:02 AM UTC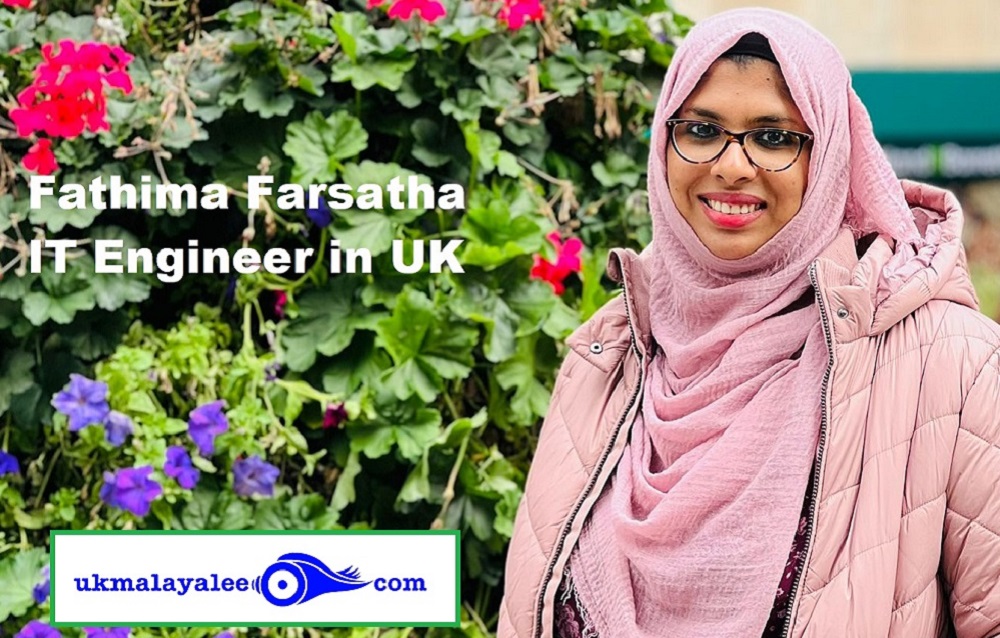 By Balagopal Kent
LONDON Dec 15: Many job seekers from India assume that there are only healthcare jobs available in the UK. Although this may be partially true, there is proof that there are also jobs available in other sectors including IT, hotel industry and other sectors. This website will be publishing a series of articles on those who secured jobs in other sectors in the future. Here we have an IT engineer who works for a reputed IT firm in the UK.

Fathima Farsatha from Ramanattukara secured an IT engineer in the UK with no referral. She applied through Linked in and attended the interview from India. Once she cracked the interview, they sponsored her under the skilled worker visa for 5 years.
Speaking to this website she said that "If we do our research, we can easily find which companies sponsor visa as of today, refer Tier 2 Sponsors List (https://uktiersponsors.co.uk). That's what I did and then checked in LinkedIn for job opening in those companies and I applied. Actually many folks in India don't know that IT companies here are recruiting directly from India. If the skillset is good and with good experience, we can crack the interview here in IT".
Below are a few queries which Fathima Farsatha answered to this website
1. Many here say we can get only health care jobs. Can an IT graduate secure a job in the area of his desire? What should he/she be doing?
This is not really true post Brexit. There are lot of career opportunities in the UK in IT sector. If the skillset is good with a good experience (atleast 8 years) , you can apply for job opening in the UK. Many top tier companies sponsor visa and are ready to recruit you directly from India.
2. How do you keep abreast with job openings in the UK?
I have subscribed to LinkedIn premium as it gives me more visibility. Some good job application websites are LinkedIn, Reed.co.uk, Indeed and Monster. If you are looking for job from India, I would suggest to check in LinkedIn or UKhired.com, this website only shows jobs that sponsor visa.
3. Which are the areas there is a good demand in IT jobs?
I would suggest to keep a watch on Skilled Worker visa: shortage occupations list in GOV.UK website. This list will tell you what jobs are in demand here and companies will mostly sponsor you visa if you have skill in one of the skill in shortage occupation list. This list keeps changing , so keep a watch on it. I am part of consulting, it has good scope in UK and companies always sponsor visa . Data Cloud, Data Science has good scope here in the UK.
4.Can an IT graduate apply from Kerala to UK companies and what are the chances of them getiting it or is it better for them to come here and do Masters and then try?
Ofcourse. I completed my BTech in MEA College Perinthalmanna. That doesn't matter. If I can do it, anyone can! Your experience and skill matters and you should be able to articulate all the good works you did in the interview. UK job interviews are very different from India. Here interviewers try to assess your approach to a problem or how you handle a specific scenario. They wont ask you 'What is' questions. If you do Masters here then it's a long route. You need to study, earn a job, prove yourself and then companies will sponsor you work visa. In my scenario, I did none of these. I landed in UK with a full time job and a joining bonus that covered all my visa fare, air fare and settling cost. So settling here was much easy for me. So I would suggest try your luck by applying for jobs from India and if it's not working out, then consider becoming a student here.
5. We hear a lot of demand for cyber security jobs. Is this right?
Not that much as compared to Cloud, data and analytics.
6. What are the basic pre requisites when looking to work in the UK?
As its an English speaking country, focus on improving your English, improve your vocabulary, familiarise yourself with British accent so that you understand what interviewers are asking (watching movies with British English is an easy option), take certifications in the area where you are working.
7. Tell us about you? 
I'm a girl with a lot of dreams, ha ha.. Working in the UK was one of my dream and I'm happy to finally accomplish it. I hail from a small village called Ponnempadam near Ramanattukara. I did my B tech in MEA engineering college, Perinthalmanna. Iam settled in Birmingham with my husband Jemshir and kids Jannah Mahek (9 year) and Mazin Muhammed (5 year). My husband works in an IT company as well in the UK. As my company sponsored visa, he got a direct transfer to their UK branch.

CLICK TO FOLLOW UKMALAYALEE.COM