NORKA has put in all measures to support newly arrived Keralites in UK if they need help, says NORKA CEO
Sunday 9 October 2022 5:54 AM UTC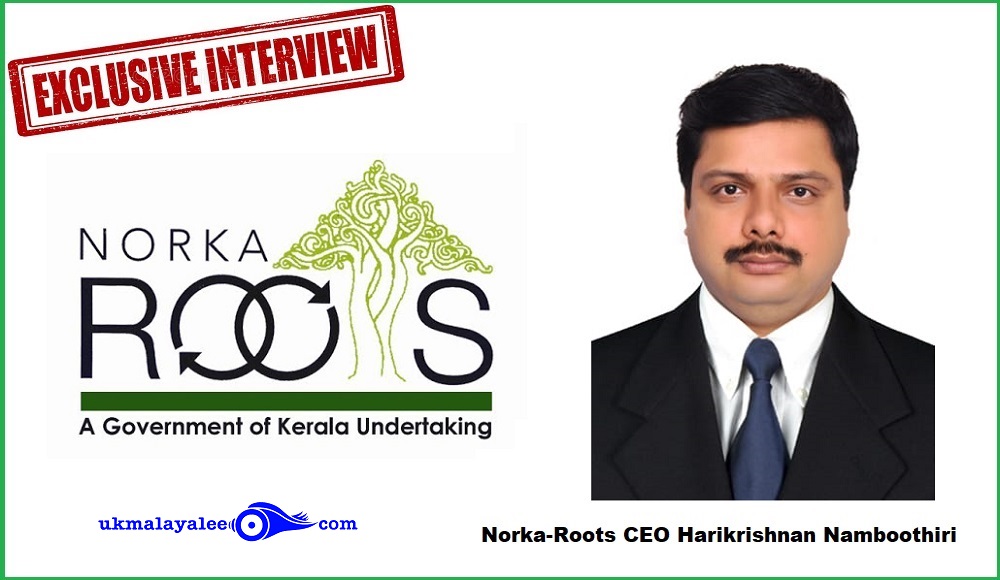 By Balagopal Kent
With a huge influx of Keralites into the UK in the last three years the socio-cultural problems are increasing day by day. The migration from Kerala in the last three years is mostly from the nursing, healthcare and student sector. The newly arrived Keralites are faced with several challenges from the day they arrive which includes getting acclimatised, securing a safe and secure accommodation for them and their accompanying family and finding a job for their spouses to support their stay in the UK.

In the past few years, the Keralite community who have been here in the UK have had to support the newly arrived immigrants by guiding them to find accommodations, jobs and also help them when they are in dire need. The number of cases who require help and assistance are increasing day by day. There have also been numerous deaths of newly arriving Keralites resulting in fund raising and supporting the family through the difficult times. It is on this anvil that we happen to have the CEO of NORKA visiting the UK as part of Kerala Chief Minister's delegation.
Department of Non Resident Keralite's Affairs (NORKA) was launched by Kerala government to redress the grievances of non resident Keralites both in India and abroad and to have a sustainable partnership with them. NORKA is the first Department of its kind in India.
In an interview with Norka-Roots CEO K Harikrishnan Namboothiri, we put forward questions in regard to what efforts or support they have put in place for those newly arriving Keralites who are still in their responsibility still while in another country. Harikrishnan vociferously defended our queries by putting forward and explaining to us in detail what is being offered to those Keralite migrants arriving in the UK as nurses and students.
However, Hariskrishnan, without denial accepted that with migration there are going to be unexplained challenges which would be beyond the remits of the existing policy or procedures in place. However, he was happy to explore ways on how to improve them after understanding and learning the newly thrown up challenges.
What policies and procedures are in place to provide those migrants with advice and guidance before they depart Kerala?
The India Centre for Migration has issued a booklet for Students Studying Abroad which aims at providing important information to Indian students on how to plan their study, travel and related expenses in a foreign country and ensure their safety and well-being. It has detailed advice on Pre-Departure, Departure and Stay in another country. Every recruitment agent in India is supposed to provide this information to the students. It guides a student on selecting a university, a course, scholarship, English proficiency tests, living arrangements in a foreign country, medical insurance when studying abroad and a list of emails and contact numbers for one to call or contact in dire circumstances. Click Here to access Student Handbook.
What process do you have in place to keep a track of the number of Keralite students studying abroad or in particular in the UK?
We have a database of students going abroad for studies. However, this is a challenging area as not all students register with us. Registration fees Rs. 315 per card. We are able to include them on the database only if they have followed the guidelines laid out by the Kerala government by obtaining a Student ID card. Malayalee students who have completed the admission process and are currently studying abroad can apply for an ID card. However, this is an area where we have an issue as all students don't take the Students ID card which means we don't have them on our systems. This could be because of various reasons. The student may have arrived in the UK on a visit visa or another visa and got it converted to a student visa, he/she may have arrived in the UK from another state in India or another country and thus he/she may not be aware of the student ID card for Keralite students. This causes issues in case when a student who is not registered on our database is faced with a dire situation. However, this doesn't mean that we cannot help. We will reach out to our community members wherever they can through our links. For example, when we were doing the evacuation from Ukraine, we could see only around 350 students who had registered. However, we found that there were around 3500 Keralite students. This caught us off guard. We strongly advise students to follow the procedure and we ask media persons like you to share this information with the students and encourage them to register. Click Here to appy for Student ID Card.
We have situations when students meet with accidents and in certain cases deaths too. What financial support can be provided to them in such circumstances?
A Student ID card holder will be eligible for Personal Accident Insurance coverage of Rs 4 Lakhs and up to a maximum of Rs 2 Lakhs for permanent /Partial disability. We can also arrange to liaise with the family back home, arrange for transport of the deceased body and support.
Students who have arrived in the UK recently are faced with serious issues with not being able to find jobs. What efforts can be made from your end?
We are aware of the issues faced by the students. We have begun talks and soon will be signing an MOU (Memorandum of Understanding) with Humberside NHS to host a job fair which is to help support the Keralite students to secure jobs as part of their internships or as part of the two years stay back. More details of this will be revealed in the next few days once the agreement is signed. This is a new area where we will have to collaborate with external bodies. Therefore, we will divulge information on this very soon.
What does NORKA Roots expect from the Malayalee associations in the UK when there is a situation where a Keralite student or migrant is faced with serious issues such as an accident or death?
We expect them to play the role of integrating the newly arriving communities with them. One of the topics for discussion on 9th October will be on "Loka Kerala Sabha, Keralite community and Malayalee association's roles and responsibilities", European migration and all these will help us to come out with a collective decision on how we can work towards embracing the newly arrived communities and integrating with mainstream communities. With this round of our visit to Europe it is also an opportunity for us to explore this further and come out with a tangible working relationship with the Malayalee associations here in UK and Europe.
What steps have you taken to combat the fraudulent recruiters who are fleecing nurses and healthcare professionals from Kerala?
We are aware of the situation. However, it is a law-and-order situation which comes under the remit of the home affairs. The Kerala government has launched a helpline as part of the 'Operation Subhayathra' or Operation Happy Journey project to crack down on fake recruitments from Kerala to various countries. The 24-hour Helpline number and E-mail ID will assist Non-Resident Keralites (NRKs) who fell prey to fake recruitment or visa fraud gangs to seek the help of the authority. NRIs can use the services to file a complaint regarding fake recruitments, VISA fraud and other crimes through a helpline number 0471-2721547 or e-mail — spnri.pol@kerala.gov.in, dyspnri.pol@kerala.gov.in. Malayalee associations abroad can file complaints about fraud recruitment agents to the above number and action will be initiated.
CLICK TO FOLLOW UKMALAYALEE.COM