MN Karaserry's Malayalee gathering at Hyde Park in London stopped halfway through after protests (Videos)
Monday 24 October 2022 7:55 PM UTC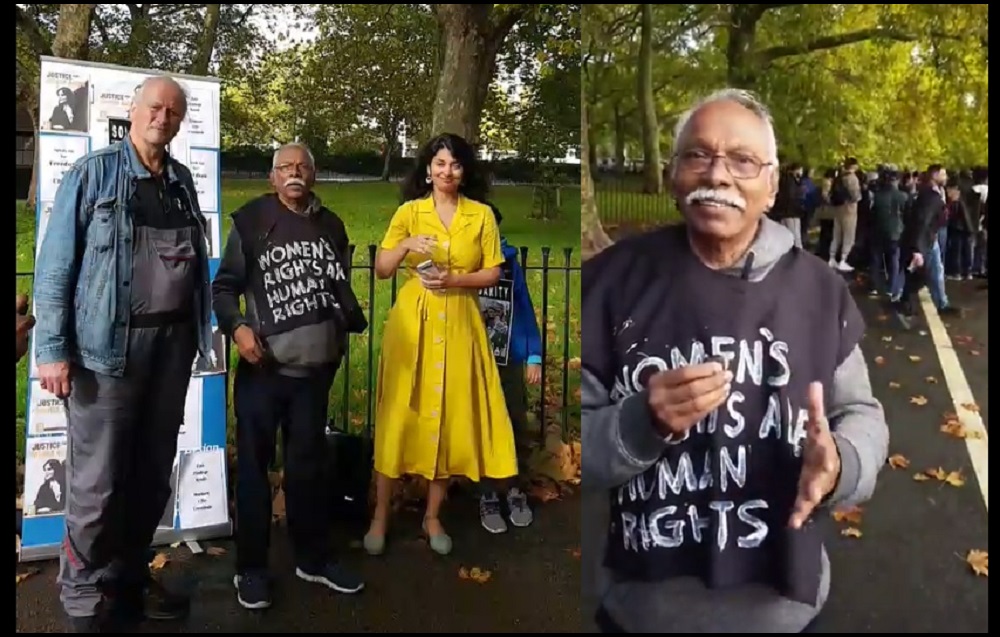 By A Staff Reporter
LONDON Oct 24: A group of Keralites, under the leadership of noted writer and lecturer M. N. Karassery, who is on a visit to the UK, gathered in London's Hyde Park on Sunday afternoon to pledge solidarity with the women's rights protests ongoing in Iran.

On September 16, Mahsa Amini died after being detained by so-called 'morality police' for allegedly not following the country's dress code while visiting the capital city Tehran. Since then thousands of angry women and girls have taken to the streets of Iran shouting chanting Zan, Zindegi, Azadi (Woman, Life, Freedom) against the mandatory hijab laws imposed by the government. The protests have spread worldwide in support of women's rights in general.
The protest at Hyde Park had to be stopped without it being completed whe some Iranian nationals arrived and created a ruckus. At the same time, some Iranian nationals who were supportive to the protests got into an argument with them which lead to the protest called off.
MN Karassery published a video explaining for the reasons for the protest being withdrawn. Speaking through his social media handle he said: "We were supposed to be having our event from 2pm to 5pm. However, we have to stop this at 3.15 due to issues caused by those against our protests.
Earlier, the program started with Rajesh Raman singing Sugathakumari's poem 'Rathri Mazha' (Night Rain). The poem articulates the solitary musings of a distraught heart with a haunting sense of feminist concern underlying it.
Speaking during the occasion MN Karassery said that we will stand for the right of women to wear hijab in Karnataka and for the right not to wear hijab in Iran.
Adil, a citizen of Iran, Mike Killock, a German citizen, Dr Jebin Taj, Lakshmi Rajesh, Binny, K. Abdul Ghafoor, Sunil Warrier, Ummer Kottakal, Dijo Xavier and Karim Abdul spoke during the protests.
The protest in London was spearheaded by Ummer Kottakal, Manambur Suresh, Mini Raghavan, Jose Anthony and Dijo Xavier.
CLICK TO FOLLOW UKMALAYALEE.COM