Madhavan Pillai: Man who touched hearts of family, friends and work colleagues through compassion bids adieu on 5th Feb
Thursday 4 February 2021 9:11 PM UTC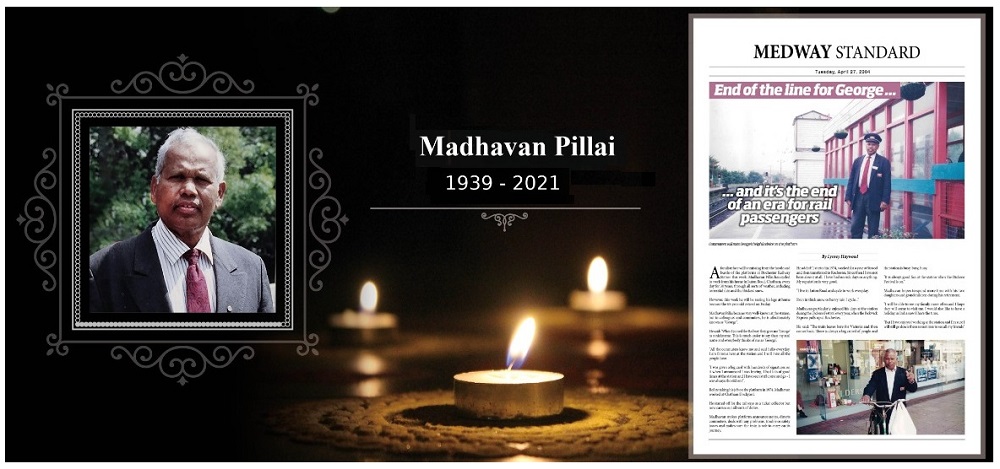 By Balagopal
CHATHAM (Kent) Feb 2: When Madhavan Pillai landed at Heathrow airport in the 1960s there was no one to receive him. But it was just another grind that has become part of his life in his march forward to relieve the pain and suffering of his parents and siblings.

He had no going back as there wasn't anything to go back to. He wrote down each and everything what he picked up on his way. "Take No 405 Bus from Heathrow to Victoria. From there take the train to Chatham in Kent from Platform No 3", read one of his notes from those days.
Born on April 23, 1939 into a family of eight Madhavan Pillai became a tower of strength to shore up resources to sustain his parents and siblings. He took the ship to Singapore and then later arrived in the UK to work at the Chatham Dockyard in Kent.
After a couple of years Madhavan Pillai joined the British Rail and began his work at Rochester, one of the Medway train stations. Soon he saved up money and became one of the first Malayalees to own a house in Kent. Madhavan Pillai would have found content and inspiration from just the thought of someone who didn't have or had a home in his native place owning a place of his own on British shores.
He was lovingly known at his workplace as George. His sincerity and dedication to his job led to finally the local newspaper carrying a full page article on him when he retired from his work in 2004. The news report said about how he won the affection of colleagues and commuters alike.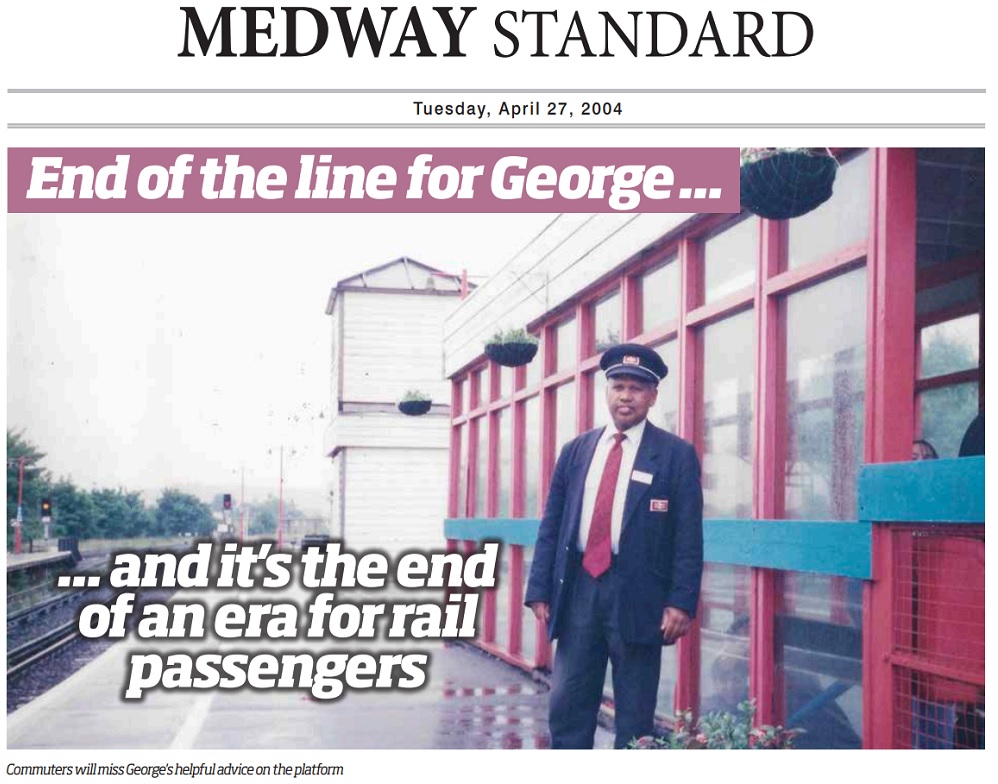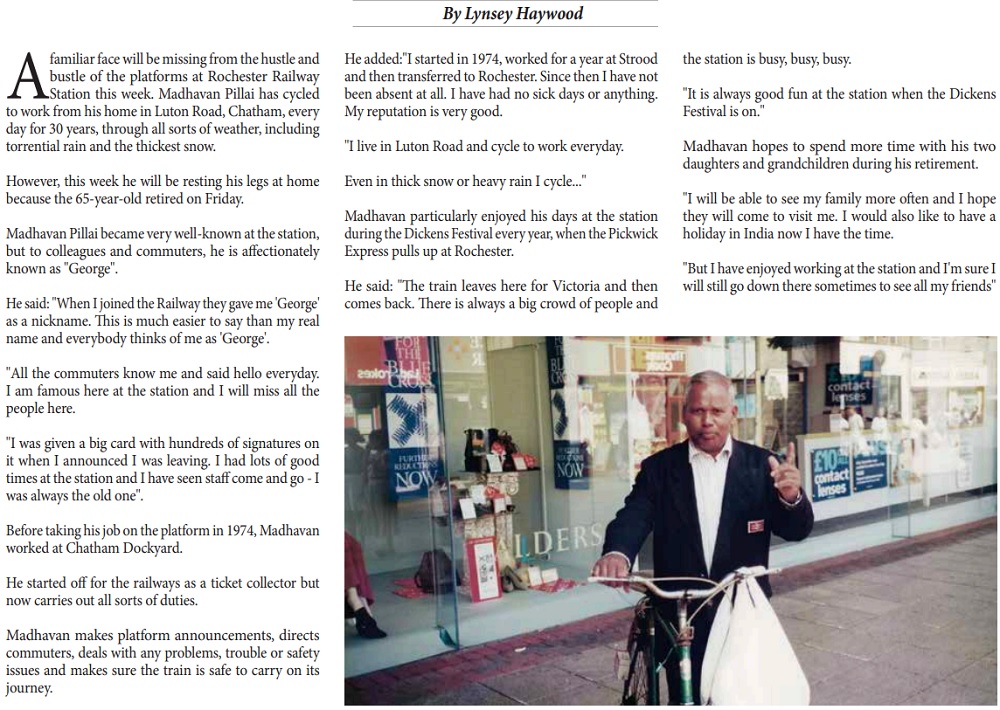 Cindy Smith, his neighbour from yesteryears who lived in the same street, sourced the above article from the British archives and recollected an incident. "George was always out and about doing one thing or the other. I remember once he walked an elderly lady from Gillingham to Chatham to ensure her safety. He was so caring and helpful".
His house became an abode for scores of migrants to build their lives by providing his home as their mainstay. Many who travelled from India to the UK for research, studies and visits were blessed to have enjoyed the hospitality, love and affection of Madhavan Pillai. Many were eager to profusely talk about the man he was.
Madhavan Pillai's best friend Krishna Pillai will always remember him as a loving and helping person. "We held a brotherly affection to each other from the time I met Madhavan Pillai until he passed away. We had great mutual respect and were a source of strength to each other. I will miss our chit chats and laughter which we retained until the end. He helped scores of people and his willingness to go out and take that extra mile to help someone will be missed".
Ravi Sankar from Kochi who was in the UK on a research reminisced him: "Madhavan Pillai uncle was an amazing human being who had the power to touch the hearts of anyone through compassion and warmth. I can never forget his hospitality and affection. Uncle was very kind hearted, simple, unassuming and a great well wisher. He was gem of a person. May his soul rest in peace".
Dr TK Thankappan Principal Scientist and Fisheries Consultant from Kochi recalled: "I was there in the UK during 1996 as part of my official training. Mr Pillai was a guide and guardian to us. Any body who came to the UK and Chatham from India specially Kerala he was a good friend and helpful in all aspects. He will be ever in our memory. In this juncture I convey my heartfelt grief to Mrs Vijayamma Pillai, Anita, Reena their husbands and children. May God Bless you all".
He was also a familiar name within Keralites in London.
Sachi Pillai, former officer at Bank of Baroda in London wrote: "Late Mr. Madhavan Pillai is known to me for the last forty plus years. A very humble, soft spoken, kind hearted family man who set himself as an excellent model for others to follow in life. His affection and consideration will always be remembered by all the social and charitable activists who have been involved in the activities and its beneficiaries alike. He will be missed by not only his family but also many people in the community. May the Allmighty God grant soul eternal peace.
T Haridas, businessman and former officer at Indian High Commission in London said: "Mr Madhavan Pillai had a pleasing personality with a kind heart to help anyone. His helping mentality has left a vacuum in the minds of many of his friends. I still cherish the few moments when I last met him at the High Commission for some consular service. He was well known in our family circle. May his soul rest in peace".
Madhavan Pillai was also instrumental in helping out Keralite and Indian communities in Kent to secure jobs by guiding them in the right direction.
Rajen Pillai from Gillingham in Kent remembered Madhavan Pillai as someone who played an important role in changing his life. He recalled: "I met Madhavan Pillai uncle in 1976 when I was without a job. He just asked me to turn up at the Gillingham train station the following Monday. I went there and informed the staff that I am Madhavan Pillai's brother and that I was told to approach them. I was offered a job straightaway with training. Uncle then told me to look for opportunities and when an opportunity arose I informed uncle who bought me books to prepare for the tests and interview for the position of Train Guard. Uncle sat with me at the Rochester train station a whole day to prepare me for the tests which I duly passed and progressed onto become a manager at British Rail. Meeting Madhavan Pillai uncle was a turning point in my life and he will be dearly missed".
Like the saying, "The purpose of human life is to serve, and to show compassion and the will to help others, Madhavan Pillai lived the life in its fullest adhering to basic principles of how life should be lived – Live and let others live, a lesson we could imprint in our lives.
He has done his parents Kunjan Pillai and Bhavani Amma, from Edava in Trivandrum district, proud and will definitely reach almighty's abode a content man who had fulfilled for what he was sent into this world.
His funeral and cremation will take place on Friday 5th February, 2021 at 4.15pm at the Vinters Park Crematorium, Bearsted Road, Maidstone Kent, ME14 5LG, UK.
Balagopal, the author of this article is the son-in-law of Madhavan Pillai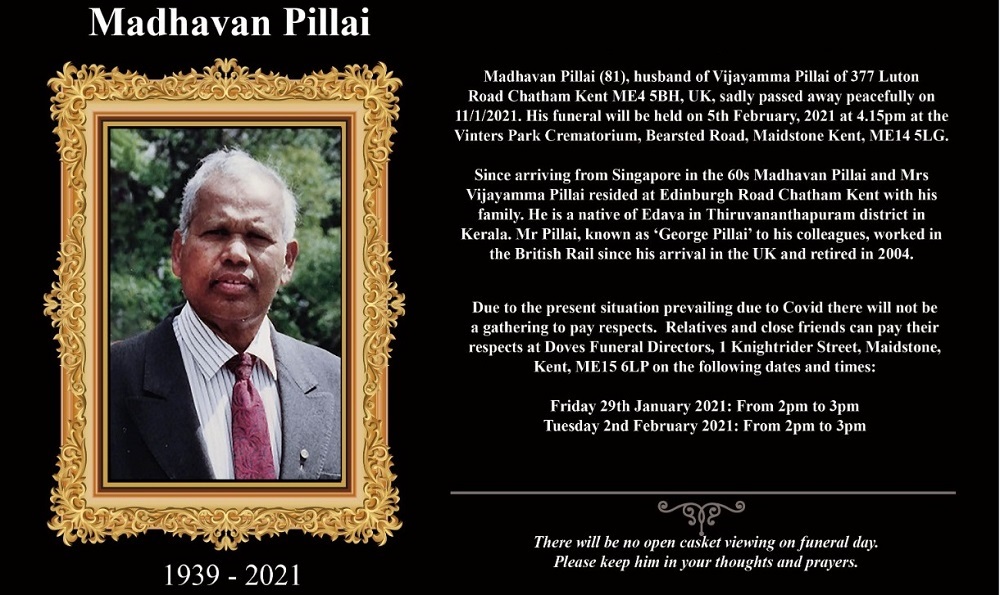 CLICK TO FOLLOW UKMALAYALEE.COM