Funeral of Vijayamma Pillai to be held on 8th Sept at Vinters Park Crematorium in Maidstone in Kent
Sunday 5 September 2021 9:51 AM UTC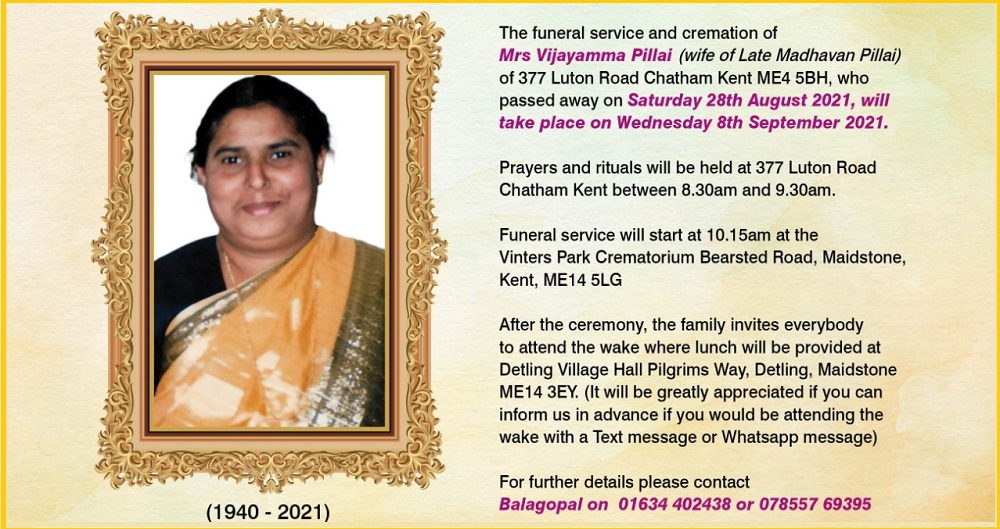 CHATHAM (Kent) Sept 5: The funeral service and cremation of Mrs Vijayamma Pillai (wife of Late Madhavan Pillai) of 377 Luton Road Chatham Kent ME4 5BH, who passed away on Saturday 28th August 2021, will take place on Wednesday 8th September 2021.

Prayers and rituals will be held at 377 Luton Road Chatham Kent between 8.30am and 9.30am.
Funeral service will start at 10.15am at the Vinters Park Crematorium Bearsted Road, Maidstone, Kent, ME14 5LG
After the ceremony, the family would like to invite all to attend the wake where lunch will be provided at Detling Village Hall Pilgrims Way, Detling, Maidstone ME14 3EY.
It will be greatly appreciated if you can inform the family in advance if you would be attending the Wake.
For further details please contact Balagopal on 01634 402438 or 07855769395
CLICK TO FOLLOW UKMALAYALEE.COM