Businessman 'Boleyn' Mohanan Kumaran's funeral to be held on Monday 15th February
Sunday 14 February 2021 9:06 AM UTC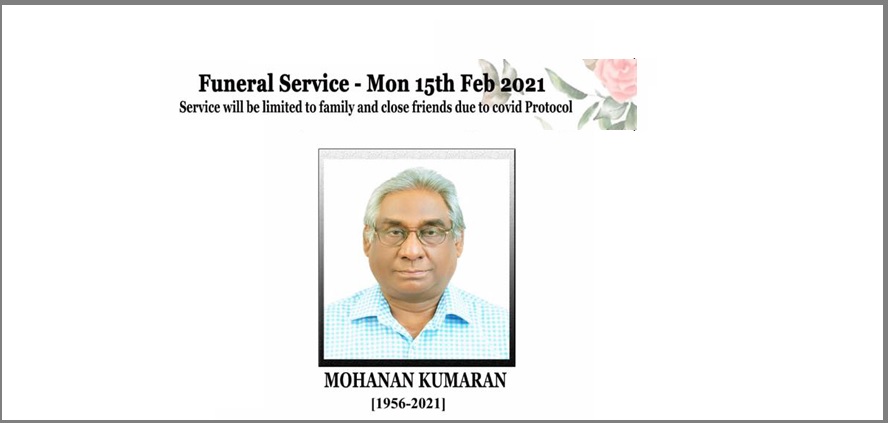 By A Staff Reporter
LONDON Feb 14: The funeral of Mohanan Kumaran (66), husband of Mrs Suseela Mohanan, residing at Gladding Road Manor Park London E12 5DD, who passed away on 15th January 2021 at the Newham Hospital after falling ill with Covid, will be held on Monday 15th February 2021. The funeral service will be limited to family and close friends only due to Covid protocol.

He is survived by wife Mrs Suseela Mohanan, son Harinarayan Mohanan, daughter Sreelakshmy Varunnadh, their spouses, and gradchildren Ayan Harinarayan and Mithra Varunnadh.
Mohanan, a native of Kollam Karunagappally, had run a movie theater called Boleyn near West Ham Football Stadium in East London. That is how he came to be known as Boleyn Mohanan. Malayalam movies were once enjoyed by UK Malayalees through Mohanan's Boleyn Theater.
Mohanan's native place is Karunagapally in Kollam and son of Late K V Kumaran Vaidyan. He later moved to live in Karamana in Thiruvananthapuram.
Mohanan, a noted business entrepreneur who ran several businesses at one time helped hundreds of Malayalee community members. He was also a passionate art loving individual who ran the Boleyn Cinemas in East Ham for several years.
Several Keralite organisations including those who were in cinema business were supported by Boleyn Mohan. He was also at one time involved in broadcasting Kairali TV channel in the UK and thus once earned the name of Kairali Mohan.
Mohanan was loved by the Keralite community in London and supported all irrespective of any affiliations or other and a selfless person who would help any needy if he had the resources. He will be dearly missed by the community.
CLICK TO FOLLOW UKMALAYALEE.COM