"Please dont leave me, I am afraid, I will die", not a day is spent without tears, memoir of a staff nurse at NHS
Friday 1 May 2020 12:59 AM UTC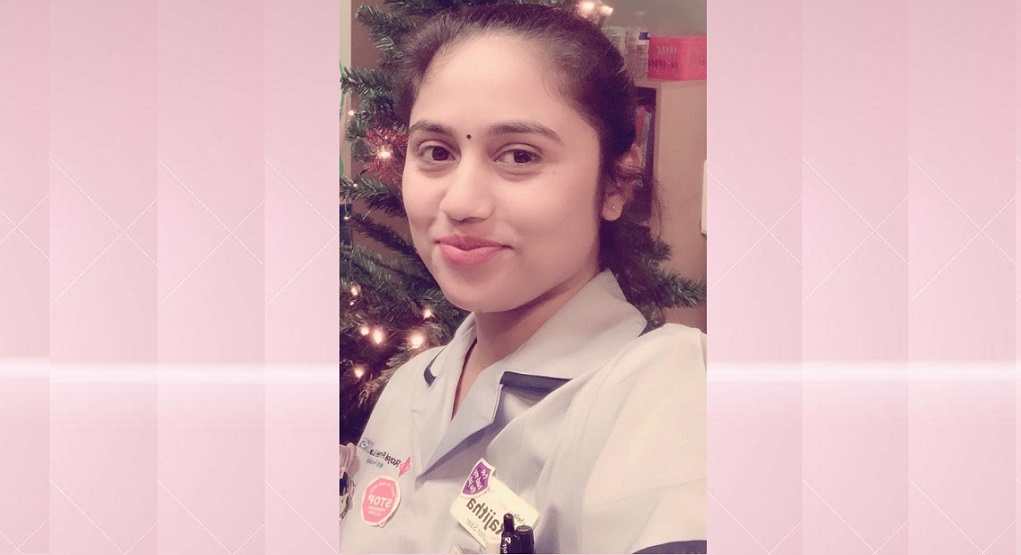 By Rajitha Prakasini
May 01: "With patients holding your hands not to leave them alone, not a day is spent without tears". Rajitha Prakasini writes for www.ukmalayalee.com her memoirs at the time of the Covid-19 pandemic.
It was early March and I was returning back to London after a week's stay in India. During the stopover at the Doha International Airport, I casually switched on my phone and to my dismay I found numerous messages one after the other falling in like a gushing stream of water.
I was awakening to the fact that the Covid-19 pandemic, that had already taken a toll in various parts of the world, has hit my hometown in Kerala too.
The news was worrying and I was just hoping that things would all be in control in the UK where I work as a staff nurse at one of the best NHS hospitals in London.
Soon news about the lockdown and social distancing trickled in from different parts of the world. It was dawning on me the fact that I am separated from my dear family back in Kerala. However, life had to move on. Life returned back to the routine wake up alarm and long hectic shifts.
I started to get the eerie feeling that somethings are going to change at work place. It came true, and yes, the Covid pandemic has begun to take toll in the UK too and our hospital was chsoen as one among the two hospitals declared as Covid-19 friendly sites in London.
Confusion and uncertainty gripped staff members on how to face this challenge, media fuelled the commotion and left common people in a utter state of shock. All of a sudden I was in a state of shock too not knowing what was going on in the outside world with limited food and social distancing and all sorts.
Meetings at managerial levels decided on how to prepare the staff to stand forth as frontliners in one of the deadliest pandemic outbreak of the century.
Then came the decision on converting our Dementia friendly ward to the first Covid specialty ward in the hospital.
This came as an emotionally and physically challenging news to our otherwise strong work team. Together we gathered the courage to fight with might. With the realisation that some things are beyond our strong will.
The first week of transition from the Geriatric to an Infectious ward was a roller coaster ride. We had to compromise, not just ours, but our families' and loved ones' health and wellbeing at risk.
For the first time I could see fear in the eyes of my colleagues who had to return to their frail elderly parents and little children at home after work not knowing whether they had contracted the virus or not.
I realised that not having my family with me in London at this time was a blessing. Though everyone back home was worried about me, constantly checking on my wellbeing with more frequent calls and messages.
I remember at one instance, my little boy on our regular video chat, asked me to show my legs and the surroundings and sighed in relief saying: "Ok, now I trust your words that you are safe.
You are not in a hospital bed!!". The thoughts of your dear ones cling onto me and I take life in its strides.
The hospital provided pilot training sessions on Covid-19 infection protocol and staff safety.  We were trained to ensure provision of the best nursing care for all our patients fighting this deadly virus. Our team worked day and night to ease the sufferings of the sick.
In few days time we were running out of enough PPEs. More appropriate to say, the proper PPEs. More and more of our staff fell sick with the virus. There was this steady rise in patient turnover and a steep fall in staff numbers.
This pandemic swept our strong team off our feet in no matter of time. But like the saying: 'Tough times do not last, but tough teams do!'.
The road to recovery was not smooth but never impossible. Every one of us fought with determination and came back as stronger to fight the pandemic. Soon we saw more wards were open for Covid.
The emotional trauma we had to go through were beyond words. Nobody could complete a work shift without shedding tears. The suffering of the sick, who were alone and away from their family and friends were never easy.
Hospital visitor restrictions in effect to prevent the spread of virus made the patients suffer loneliness. Many of our elderly patients with comorbidities had to succumb to the infection.
They had no family beside them to spend their last moments with.  At a morning handover one of the colleagues with heaviness in his heart told us that he had the most emotionally crippling night shift the previous night when one of his elderly palliative patient begged him to stay by his side all night holding his hand saying not to leave him alone and that he is feeling afraid to die.
These are moments when we as humans face the biggest challenges in our lives.
We are all living here with a smile on our faces with heavy hearts filled with thoughts of our dear ones during the time of the pandemic. In reality this is more than just a crisis.
This is the moment in our lives when we realise that there are powers beyond our control and no matter how advanced our lives are, we are mere humans.
Our losses in this battle are invaluable and irrevocable. But there is always a sunrise after a sunset. And like old times, together we will fight and once again prove the supremacy of human race on this mother planet.
CLICK TO FOLLOW UKMALAYALEE.COM