Meet the two Keralites in UK who set up a WhatsApp group to provide guidance and assistance to Malayalees stranded in UK
Friday 22 May 2020 2:59 AM UTC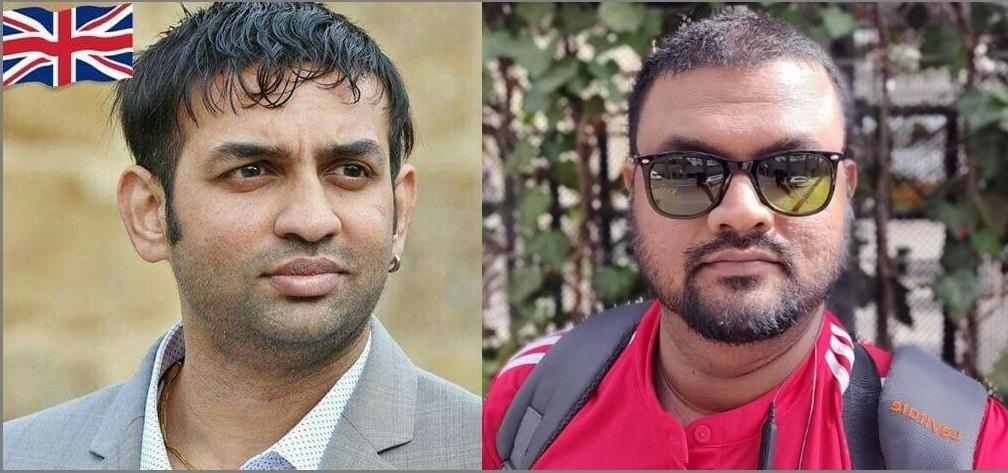 WE RISE BY LIFTING OTHERS: Anoop and Sanjay
By A Staff Reporter
LONDON May 22: Meet Anoop Sasidharan and Sanjay Menon. Here is a simple act of charity work by two strangers who came together to provide the much needed guidance and support to those hundreds of stranded Malayalees in the UK.
With the international flights being brought to a halt due to the Covid pandemic breakout numerous Malayalees who were here in the UK for several reasons were left stranded. After several weeks of them being left stranded in the UK, the Indian government finally decided to repatriate their citizens in different countries by sending flights to respective countries in different phases.
Those stranded Malayalees in the UK were disappointed when they found out that there wasnt any flights scheduled for Kerala in Vande Bharat Mission Phase I. However, they were glad when Phase II of the Vande Bharat repatriation Mission included a flight to Kochi scheduled for 19th May 2020. Soon there was this mad scramble for getting onto this flight. It was then Anoop set up the Whatsapp group.
It was Anoop's idea to form a group to bring together all those stranded Malayalees in the UK during the time of the lockdown. In an exclusive interview both Anoop and Sanjay they shared their thoughts behind opening a WhatsApp group and bringing on board all those stranded along with active lobbying.
Anoop Sasidharan is from Bristol in UK and from Aluva in Ernakulam back in Kerala and Sanjay is from Cochin.
On being asked on how it all evolved Anoop told this website: "I could see many people posting questions on High Commission's Facebook page without getting any response. While I was too exploring options to find information for my parents who were left stranded here, and able to obtain further information from elsewhere and thus I decided to form a group. to share what I was able to know as actual facts for the benefit of the community".
It was then Anoop met Sanjay who was also trying to get to Kerala. The duo immediately found a commonality in their cause and purpose and thus began a joint effort in helping others too.
The both soon started to find answers and solutions to some of the tricky situations they faced with the Indian High Commission and Air India and they didn't hold them back.
They shared it in the group for the welfare and benefit of others which provided a huge relief to those hundreds who were in the dark.
There were still several uncertainties on how one would get to this flight scheduled for 19th May 2020 as there were several who had received calls from the Indian High Commission but had not received the confirmation call from Air India. This intensified the frustrations with those stranded. The group kept buzzing with information being obtained from various sources and kept them all uptodate.
The process was that all those who were stranded and looking to return to Kerala had to complete a form which will be vetted by the Indian High Commission in London. Following this procedure the High Commission would issue the shortlisted people with an email stating that they will now be contacted by Air India for them to be issued with a tickets to fly back.
However, several of those who received the call from the Indian High Commission in London never got the follow up call from Air India.
Several of those who got the call from the Indian High Commission travelled to Heathrow airport in London in spite of not getting calls from Air India on the belief that they may ring them the following day or that they may be able to collect the tickets from the Air India office at the airport.
However, none of this materialised.
The day of the flight to Kochi arrived and it was a mad scramble for information where some got calls from the HCI but never got the follow up call from Air India. Many got to this WhatsApp group to vent their ire and also share information.
Information trickled to say some who didn't get the call from Air India has travelled to the Heathrow airport and all this was coordinated through this WhatsApp group.
"Finally many from the group, including my parents, were able to travel on the flight on 19th May. Many of those who received call never did recive the follow up call from Air Indian and were not able to travel on the day and it was a disappointment for all", Anoop said.
"The biggest relief came was when Sanjay got confirmation that he has secured the flight ticket and made it to the Air India flight scheduled for 19th May. As this helped Sanjay to provide the support required for those elderly who were travelling on their own".
"I believe the group members, in particular Sanjay, Midhun Selvan from Pathanamthitta and Rashid from Kannur was able to help many senior citizens and pregnant ladies with their baggage, forms filling etc while at the airport and afterwards during the travel to other districts",  Anoop added.
Messages flooded the group from relatives asking Sanjay to take care of their elderly parents who are travelling alone. Sanjay messages back from the airport to reassure that he has seen them and they are happy. He makes sure the elderly and vulnerable are comfortable and sends pictures to their kids to help them keep calm.
Messages from relatives back to Sanjay thanking him for his kindness flooded the group. Again inconsistencies with baggage and other issues arose within the group and information on how to overcome was shared through this group.
The group at one time was buzzing with so much information on 19th May. Finally the 19th May flight departed at 3.30pm. Pictures were shared on how the inside flight was and all went silent for a while and messages started to pour back in from Kochi that the flight has landed and passengers been taken to quarantine centres.
Anoop and Sanjay were watching how the situation was evolving and they started to become aware that there were so many inconsistencies in the manner on how the list for repatriation was done in the UK. They were both shocked to learn that there were still nearly 100 plus persons who received call from the High Commission but never got the call from Air India.
It was then they decided to take up the matter with those how made decisions higher up which included lobbying government officials and also obtaining media mileage to raise the matter with the public. Now, newspapers and medias too have taken up the issue and interested in taking issues further and be investigated if there are malpractices heard.
On what next Anoop said: "I am lucky that my parents reached safe back home and they are in quarantine there. However, we still have more than 100 who are still stranded here in the UK.
"Sanjay and me are lobbying the organisations, news media and government officials in the UK and in India to arrange another flight to Kerala. Unitl then Sanjay will work from Kerala and me from the UK".
"We are also discussing a potential get-together once things are back to normal and am back in the UK. The last 10 days has formed a sense of bond between all and we are planning to maintain the group and probably meet directly as well", Sanjay added.
"Now that the first lot has travelled including me its time to help others who are stuck. My first step towards that was to blog about the whole journey so that it helps others to plan better and avoid the mistakes we did, Sanjay added.
Sanjay was also involved in supporting the Kerala community during the floods last August 2019. He provided support through volunteers group in Kerala by setting up a Whatsapp group from the UK. Sanjay got in touch with a volunteer group on the ground who was helping to put together the information which was being used by the police and rescue groups. He quickly set up a WhatsApp group with his friends from all over the world and started gathering information of people who were stuck and needed to be rescued.
On being asked on how he sees these two challenges he says: "The floods and Corona represented two different challenges. For the floods we had people on the streets ready to help the community whereas for Corona there is the fear of getting infected and of course the message of staying home was rightly communicated.
"With the flood you have two to three days where the activities are high. I remember staying awake for 52 hours purely on adrenaline while coordinating the rescue whereas its completely different in this case. I think we all like peace and quite so we all wish it was a perfect world and it goes back to normal. Harsh reality is that it does not happen that way. This August is going to be interesting with Corona still lurking and water levels rising. We would be ready to do whatever we can in a sensible way to ensure we can help others".
This time will too pass and there will always be these two who will be remembered for the kind deeds they did to the community at a time when they were down at the time of the Covid-19 pandemic.
www.ukmalayalee.com
CLICK TO FOLLOW UKMALAYALEE.COM