Martyn Day MP to wed Malayalee who fell victim to flawed TOEIC tests
Thursday 4 April 2019 2:42 AM UTC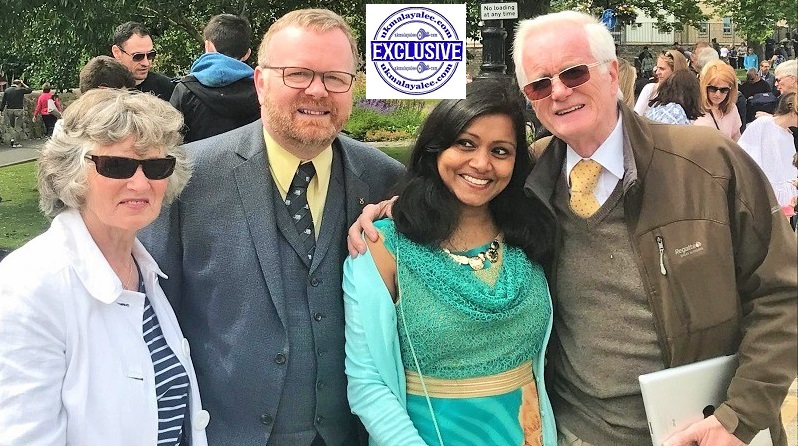 By A Staff Reporter
LONDON April 5: Nidhin Chand, a Malayalee from Pampakuda, a small town in Ernakulam district in Kerala, arrived in the UK as a student and had to sit the Test of English for International Communication (TOEIC).
The Home Office wrongly curtailed visa of around 48,000 people after a BBC Panorama documentary in 2014 claimed to have uncovered fraudulent activity at an East London school involving overseas students sitting the TOEIC. However, it was later revealed that the blame rested with the flawed computer system of a US company, ETS.
According to various media reports 48,000 students were accused, many were deported or forced out of UK, many who stayed behind to fight their cause in UK court. Recently, the Court of Appeals ruled that those accused of cheating in a 2014 investigation into two ETS test centres have the right to challenge the original ruling from within the UK.
Nidhin was one of around 2,000 of the victims who decided to stay back and fight. Since she did not have appeal right in UK, her initial attempts in court wasn't fruitful, it was a collective decision. However she decided to fight for justice, she lobbied in the parliament with the help of Indian Workers Association and www.ukmalayalee.com, who reported her continuous challenges. Along with Migrant Voice, Nidhin is continuing to fight for justice for TOEIC victims.
Nidhin Chand met Martyn Day MP in London, during that period she was lobbying in the parliament for TOEIC victims. In an exlusive interview with www.ukmalayalee.com Nidhin said: "I was one of the victim . When Martyn Day MP heard my story he felt the need to help me,
"He assured me with support and understanding, he told me he too had lived in the past with minimal payment, so knows the difficulty. Due to my visa issues I was depressed, so to alleviate my hardship Martyn took me to his family, an his parents took me as their family immediately.
"Due to the stress and uncertainty about my visa situation my mental situation got worse and Martyn kept supporting me throughout".
"Life moved on and finally one day Martyn, who is a divorcee, proposed me. I warned him that I didnt have a job or visa. So Martyn and myself decided to apply for spouse visa, we did not marry traditionally at that time because I had a prayer to Guruvayoor temple to have my marriage at the temple. So we are still waiting to do the ritual in a traditional way. We will do it once Martyn gets a break from the parliament.
In August 2018 Martyn Day MP and Nidhin Chand visited the flood hit Kerala and was involved in charity works by getting involved with ground realities in those affected areas by visiting the relief camps.
Martyn also held meetings with the Chief Minister Pinarayi Vijayan, Speaker, finance minister and other government officials. Martyn will move ahead with the initial meetings to further collaborations and connect Scottish departments and expertise with various department heads with the Kerala government. The strategic aim is to work towards establishing strong network between India and Scotland.
Martyn was all praise for Keralites as he termed them as Gods Own People.
Nidhin is too a divorcee and has a son who is in Kerala. The couple are hoping to get a break from the Brexit talks in the parliament to get to Guruvayur temple to tie the knot the earliest opportunity.
CLICK TO FOLLOW UKMALAYALEE.COM