Travel agency staff in Kochi stabbed by man for allegedly cheating him of Rs 5 lakhs and promise of Lithuanian visa
Wednesday 25 January 2023 8:31 AM UTC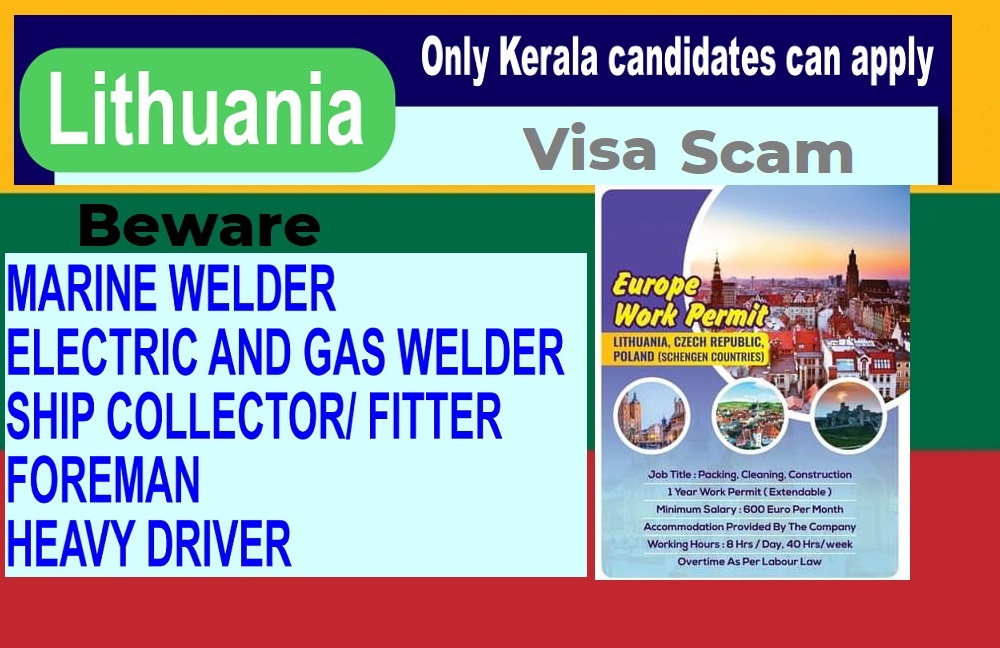 KOCHI Jan 25: Here is another story of an incident related to visa scam from Kerala. Kerala cities have become a hotbed of recruitment agencies springing up like mushrooms. These fly-by-night businesses want to make money very quickly, without caring about the quality or honesty of the service they offer.

A female staff member of a travel agency in Kochi was stabbed in the neck on Tuesday by a man who is allegedly a victim of visa fraud. According to the police, the assailant, Jolly of Palluruthy, had reached Ray's Travel Bureau in Ravipuram with the intention of killing the owner, Ali of Aluva.
However, on not finding Ali, Jolly stabbed Soorya, an employee there. She was rushed to Ernakulam General Hospital and later to a private hospital for treatment. Soorya is currently in the intensive care unit and doctors have suggested surgery. She is reportedly out of danger, reports Malayala Manorama.
Meanwhile, Jolly told the police that he was cheated Rs 5 lakh by Ali after promising a work visa to Lithuania. He claimed that Ali had collected the money in 2019 before the COVID-19 outbreak occurred. Following the pandemic, Jolly could not travel to Lithuania and he demanded his money back from Ali. Despite repeated requests, Ali did not return the amount of Rs five lakh and so he decided to kill the travel agency owner, Jolly said.
He also said that on not finding Ali at the travel agency, he stabbed Soorya believing that the owner would soon turn up. After being attacked, a bleeding Soorya escaped to a hotel in front of the travel agency. Employees of the hotel soon reached the travel agency, where they found Jolly waiting for Ali. Jolly told them that Ali had cheated him and he was there to seek revenge. Jolly added that he wanted a short sword to kill Ali, but on failing to find it, had come with a knife with which he stabbed Soorya.
At the same time, Ali told the police that he collected only Rs 34,400 from Jolly for the Lithuanian visa. "This money has already been returned to him," claimed Ali.
"Jolly received a visa valid for a year. However, due to the COVID-19 crisis, he could not travel to Lithuania. After one year, the visa lapsed. Later, he approached me and said that he no longer wanted the visa and demanded his money back citing some financial problems. I have already returned the amount collected from him," said Ali.
Later, Jolly started visiting the travel agency regularly enquiring about job openings abroad, said Ali. "On Tuesday also, he came and asked for me. When informed that I was out of station, Jolly stabbed Soorya," he said.
Ali also told the police that he has been running the travel agency for the past 16 years without anyone complaining about its functioning. "Jolly has psychiatric issues. I have explained everything to the police," Ali said to Manorama Online.
At the same time, people working in shops adjacent to Ray's Travel Bureau said that Ali was present in the agency when Jolly arrived there. However, as soon as Soorya was stabbed, Ali fled from there without even taking his car which was parked in front of the travel agency. Later, after Soorya was admitted to the hospital, Ali appeared before the police and gave a statement.
CLICK TO FOLLOW UKMALAYALEE.COM