Ticketed Air India passengers can opt to re-route journey from Heathrow Airport to Gatwick Airport without charge
Monday 16 January 2023 10:33 AM UTC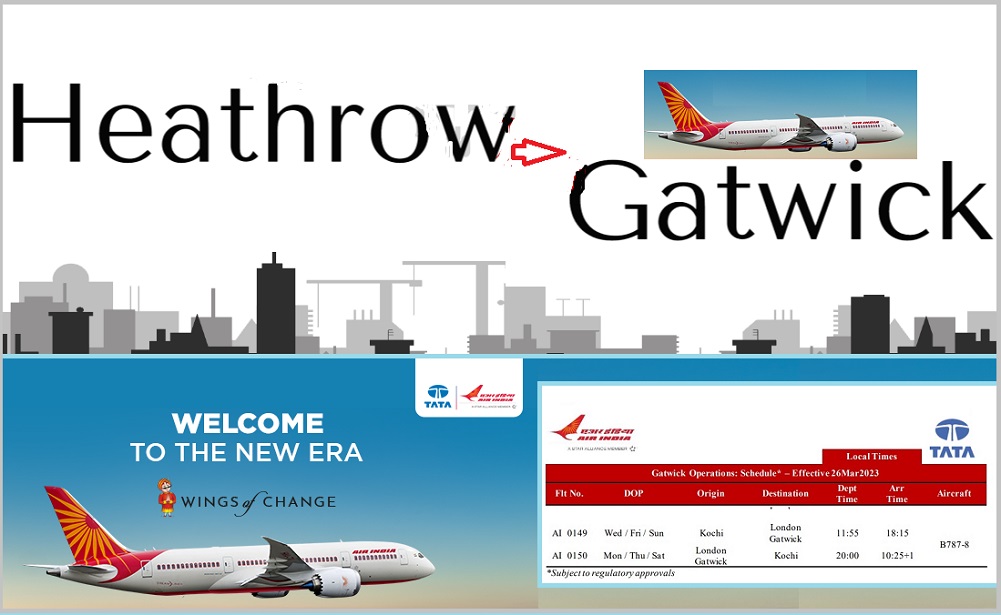 By A Staff Reporter
LONDON Jan 16: Air India is moving four UK routes from London Heathrow (LHR) to London Gatwick (LGW) at the beginning of the summer 2023 season. The airline plans to offer flights from Ahmedabad (AMD), Amritsar (ATQ), Goa (GOI) and Kochi (COK) starting from March 26. Each route will receive three flights per week using Boeing 787-8 aircraft.

Following the switch to Gatwick, the Star Alliance member intends to increase frequencies of Heathrow-Delhi (DEL) from 14X-weekly to 17X-weekly and Heathrow-Mumbai (BOM) from 13X-weekly to 14X-weekly. However, the existing 3X-weekly flight to Heathrow from Hyderabad (HYD) is not currently scheduled to operate beyond the end of March.
Those ticketed passengers who have taken direct tickets between London Heathrow and Amritsar, Goa, Kochi, Ahmedabad can now opt to reroute their journey to and from London Gatwick, said a notification.
Air India is offering the below to those passengers who have been affected as a result of flights being moved from Heathrow to Gatwick
1. Passenger travelling to/from London Heathrow can reroute their journey to/from London Gatwick.
2. Passengers of cancelled flight can opt to travel via Delhi/Mumbai as transferred by Space Management team provided no change in origin/destination
3. Once tickets are re-issued for any further changes fare rule will apply
4. Full refund can be offered to passengers of cancelled flight
Gatwick CEO Stewart Wingate welcomed Air India's arrival: "India not only offers wonderful cities and beach destinations to explore but provides a wealth of opportunities for businesses and wider connectivity. These connections are also hugely important to our local and regional communities, with people looking to visit family and friends across India."
Those who have booked the tickets need to make contact with the respective agents to have their tickets re-routed.
CLICK TO FOLLOW UKMALAYALEE.COM