Three direct flights every week on Wednesdays, Fridays and Sundays from London to Kochi from Aug 22
Saturday 14 August 2021 9:11 AM UTC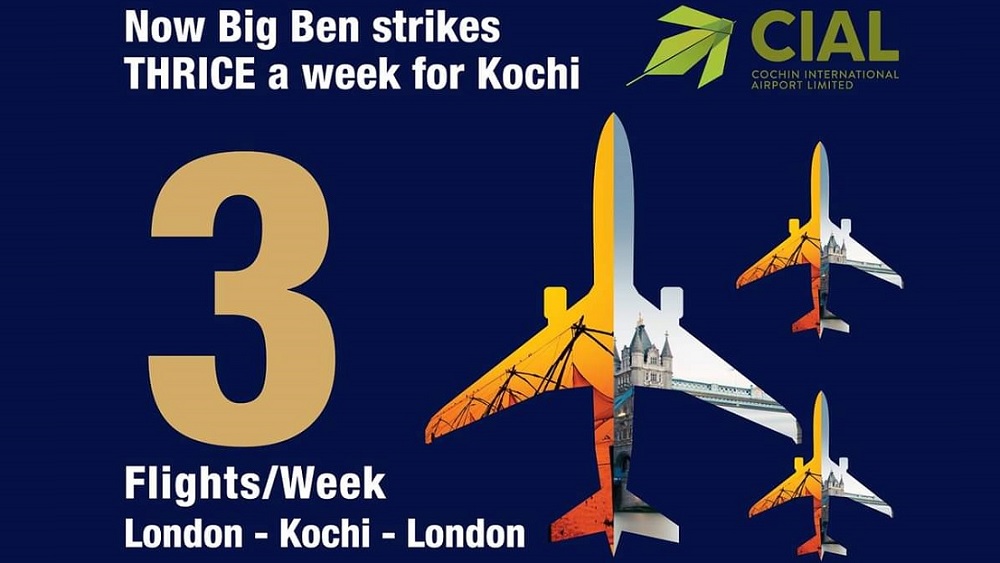 By A Staff Reporter
LONDON Aug 14: Cochin International Airport has announced that there will be three direct flights between London and Kochi every week from 22nd August 2021.

Direct flights will be available on Wednesdays, Fridays and Sunday.
Flight No AI 0150/0149 – LHR-COK-LHR – Frequency (Wednesdays, Fridays) Arrival/Departure COK Hrs LT – 0345/1320
Flight No AI 0150/0149 – LHR-COK-LHR – Frequency (Sundays) Arrival/Departure COK Hrs LT – 0300/1320
"CIAL is delighted to host three flights from London a week. This is the highest number of flight services that have been scheduled in this sector in the history of CIAL.
"It gives a shot in the arm for the effort taken by government of Kerala and CIAL to establish frequent connectivity to Europe", S Suhas IAS, managing director of CIAL.
With the commencement of new flights to London, thousands of stranded expats will be able to travel between India and UK from 18th August.
The flight will take 10 hrs from Kochi to arrive Heathrow.
Entering the UK from places on the amber list requires three Covid-19 tests — the first, at least three days prior to departure; the second, on the day of arrival or before Day 2; and the third, on or after Day 8.
Home quarantine for 10 days is also mandatory. For UK nationals who are fully vaccinated, neither quarantine nor the Day 8 test are required.
People who have been fully vaccinated in the United States or many European countries will not need to quarantine when they arrive in England or take the Day 8 test.
CLICK TO FOLLOW UKMALAYALEE.COM