Keralite nurse wins silver award for 'Nurse of the Year' at prestigious British Journal of Nursing Awards
Saturday 2 April 2022 5:57 AM UTC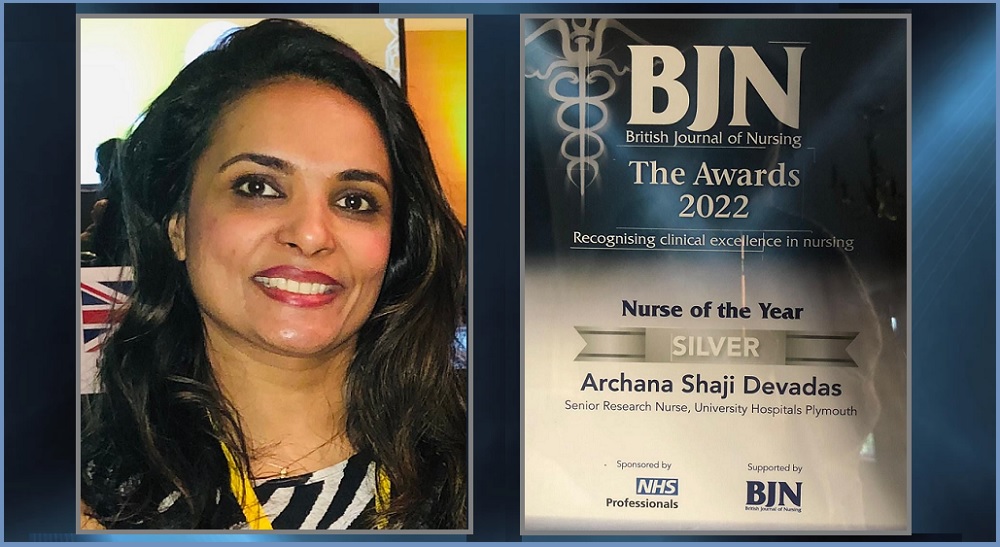 By A Staff Reporter
LONDON April 2: A Keralite nurse from Plymouth has won the silver award for the 'Nurse of the Year' at the prestigious British Journal of Nursing Awards last week here in the UK.

Archana Devadas, a lecturer at University of Plymouth and an honorary Senior Research Nurse at University Hospital Plymouth (UHP) won the award for her outstanding contributions to nursing profession through clinical care, research, education and academia.
Archana has been praised for her lead educator role in the pioneering Nursing Associate Pilot programme funded by Health Education England. The success of the project helped to alleviate nursing staff shortages.
Archana's role in the setting up of a Simple Discharge Team during the emergence of COVID-19 pandemic saw many benefits to reduce hospital admissions during these unprecedented times. This was applauded by colleagues and the Trust.
She also managed and coordinated many commercial and non-commercial COVID vaccine trials and other COVID related studies, which received global attention.
Archana is an academic and researcher herself with specific interest in Geriatric Health. She has been awarded funding from National Institute of Health Research (NIHR) to conduct research in this topic. She achieved this after a very competitive interview with other health care professionals.
Archana lives in Plymouth since 2004 with her husband Shaji Devadas also a nurse, working as a Surgical Care Practitioner (SCP) at UHP NHS. She has two children.
She studied Diploma in Nursing from St. Joseph's School of Nursing, Anchal, Kollam, BSc (Hon) in Health Studies from University of Plymouth and Masters in Clinical Research from University of Plymouth.
The family is from Thiruvananthapuram, Kerala.
CLICK TO FOLLOW UKMALAYALEE.COM