Don't miss this interesting heart-to-heart conversation between two top Keralite professionals in UK
Wednesday 13 April 2022 9:32 AM UTC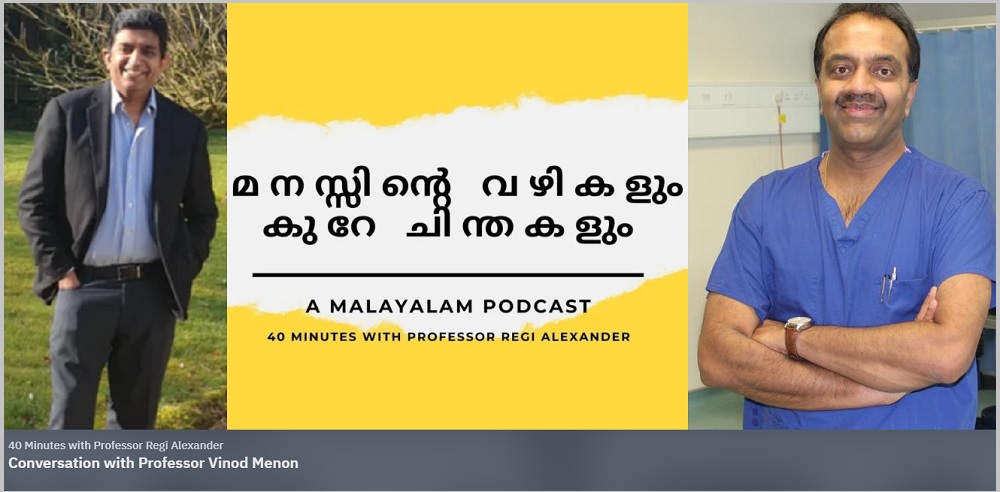 By A Staff Reporter
COVENTRY April 13: Regi Alexander is an alumni of Trivandrum Medical College and the National Institute of Mental Health and Neurosciences (NIMHANS) in India. Professor Regi Alexander has been a Consultant Psychiatrist in the UK for well over 20 years. He is an author of over 100 journal articles, book chapters and other publications, an Associate Dean of the Royal College of Psychiatrists and President of the Royal Society of Medicine's Intellectual Disability Forum in the UK.

In his latest Malayalam podcast venture titled 'Manasinte Vazhikalum Kure Chinthakalum', he converses in Malayalam about ways of the heart with some thought leaders of our times.
In his first episode he speaks to Professor Vinod Menon. Vinod Menon is a highly experienced laparoscopic upper gastrointestinal & obesity surgeon and cancer specialist working in Birmingham, Coventry, Warwickshire and in Leamington Spa.
Vinod Menon has carried out over 1000 bariatric (obesity) and Oesophageal cancer operations with excellent outcomes. Vinod Menon is also the Honorary Secretary of British Obesity & Metabolic Surgery Society (BOMSS).
Vinod Menon is closely associated with teaching, research and global health initiatives at the University of Warwick in his role as Honorary Associate Clinical Professor since 2015. Vinod Menon graduated from University of Kerala (India) in 1989 and completed his basic and higher surgical training on the All Wales Surgical Training Programme.
In a 40 minute candid conversation with Regi Vinod Menon shares about his personal and professional life.
CLICK TO FOLLOW UKMALAYALEE.COM