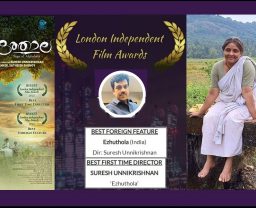 By A Staff Reporter
LONDON March 25: The vanguard of new-age mentalism, Aathi is an artiste who paints miraculous illusions in the minds of his subjects, taking them on a journey driven by their own figments of imagination. He is an entertainer who strives to bring together different sides of the art mentalism and uses his insider's view on the world of 'mystique', and psychic powers' to deconstruct their vice-like hold on humanity.
Aathi will be performing in four cities in UK – on May 13th in Manchester at Forum Centre, Simonsway, Wythenshawe, Manchester M22 5RX, on 14th May in Leicester at Maher Center 15 Ravensbridge Dr, Leicester LE4 0BZ, on 20th May in Watford (Venue to be announced) and on 21st May in Ilford at Redbridge Town Hall 128-142 High Rd, Ilford IG1 1DD.
The show, titled 'Insomnia', is presented in UK by Pratyahara International, Essex.
'Insomnia' is a unique theatrical journey crafted with mind-bending illusions that will challenge your understanding of our construct called the mind. With every illusion building on the previous one, Aathi will take your mind on a trip like never before. Aathi's mastery over the mind will be demosntrated through his amazing techniques of mind reading, predictive forecasting and manipulative theatrics in the coures of his 90-minute signature show 'Insomnia'. The entire show leads one after other into a specatcular and suprising conclusion that will leave audience awestruck in their seats.
The sale of tickets will begin in the first week of April.
Aathi's show is unique for how he manages to get into the audience's mind with the help of magic, hypnotism, body language and micro-expression. Aadhi's shows involve bringing the audience or a subject into a particular realm that is created on stage, moving forward with the instructions and tracing their thoughts. Art and science, magic, the psychological trick, and misguided by language influences are all there in the accompaniment of colourful spectacles, soundtracks, and music.
Aathi's friendly boy-next-door nature has won the hearts of thousands, which became the theme of three blockbuster south India movies. The legendary violinist Balabhaskar, the celebrated illusionist Rajamoorthy and Aathi have together mesmerized their audience across the world through 'The M Show (Mond, Music and Magic). Aathi's stand alone show Insomnia and its extension in association with the internationally lauded hynostist Anothony Jacquin were all grand successes.
Aathi is a native of Kanhangad in Kasargod district.
For further details about the shows in UK please contact 020 3432 5653 or 07438 315183 or admin@pratyahara.