Passengers from UK face six hours wait at Indian airports: May not be able to get connection flights
Wednesday 1 December 2021 10:36 PM UTC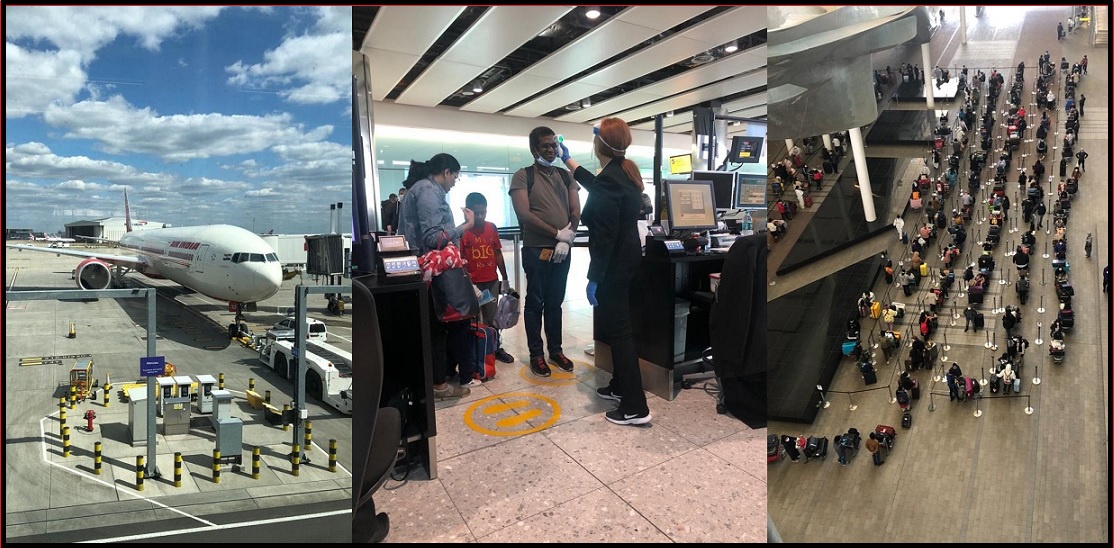 By A Staff Reporter
LONDON Dec 1: All international passengers from high risk countries, which includes UK, have to wait for around six hours at Indian airports following a RT-PCR test for the results to arrive before they can decide on their onward journey.

The central government has issued strict orders to states to undertake effective surveillance of international passengers.
According to a Press Release issued by India government yesterday (30th Nov 2021) it asked the states to "test samples of international travellers coming from "At Risk" Countries on 1st Day and of specified category of passengers on 8th Day needs to be scrupulously done. International passengers from "at risk" countries are being advised to prepare to wait at the airports till the report of the RT-PCR test is available".
States have been advised not to let their guards down, and keep a strict vigil on the international passengers coming to the country through various airports, ports and land border crossings.
Indian states have put in measures to follow the guidelines issued by the central government. Airports have put in their processes and procedures. However, the procedures applied are varying at different airports and thus a non direct journey may become tedious. Delhi airport has asked passengers to be aware of the delay in results coming which may
#FlyAI : In view of updated arrival requirements for passengers arriving from countries at risk into Delhi, passengers may not be able to connect onto Domestic leg of their onward travel.(1/2)

— Air India (@airindiain) November 30, 2021
(2/2) To facilitate such passengers
we are providing free change of booking to subsequent domestic flights. For detailed info please click on https://t.co/2QFpxr16eU

— Air India (@airindiain) November 30, 2021
Different airports have different procedures.
Air India's advisory to those arriving in Mumbai says, "Passengers connecting onwards will not be allowed to connection flight until a Negative test report is obtained. As the waiting time is 6 to 8 hours, passengers need to book on flights with connecting time of 6 hours or more.
Click To Read State wise quarantine Regulations in India
See below what Kochi Airport has published on their portal
Kerala – Covid guidelines for passengers from CIAL (Cochin International Airport Limited)
1. All passengers coming from abroad or from other states have to undergo 14 days quarantine. Home quarantine is permitted for asymptomatic passengers. They can be tested on the 7th day after arrival and if tested negative, further quarantine of 7 days is optional and not mandatory.
2. Those who don't get tested would be advised to continue on quarantine for the remaining 7 days and complete a total of 14 days in quarantine.
3. Passengers can avail the pre-paid taxi service from the airport. They can also arrange their own pick-up vehicle. KSRTC operates on select routes.
4. All Incoming passengers are advised to register in https://covid19jagratha.kerala.nic./. Apart from this, International incoming passengers should register in airsuvidha link (www.newdelhiairport.in) too, at least 72 hrs. before the commencement of journey. Outgoing passengers are advised to use web check-in facility and adhere to the rule applicable to destination state.
5. Domestic passengers who visit the state for business purpose can go back to the point of origin within 7 days. Quarantine is not compulsory. Relaxation is also allowed for domestic tourists and incoming international transit passengers
6. Passenger can use the testing facility at the airport (charges as per Govt. approved rate). The quarantine rule stated as point no.1 is applicable here too.
Mumbai Airport
#FlyAI : Intl Passengers for Maharashtra kindly note, order issued by Govt of Maharashtra require quarantine for all arriving from countries at risk & RTPCR test for other countries.

Domestic passengers coming to Maharashtra require RTPCR report 48 hrs before departure. pic.twitter.com/RNeldW29CL

— Air India (@airindiain) November 30, 2021
Latest Guidelines for International Travellers to India
#FlyAI : Passengers travelling to India are requested to check the latest guidelines issued on 30th November 2021 by @MoHFW_INDIA in supersession of all previous guidelines issued on the subject. pic.twitter.com/8nrVeNKdgH

— Air India (@airindiain) December 1, 2021
CLICK TO FOLLOW UKMALAYALEE.COM