Experiences of Keralite student's life in a foreign university: Meet Aji Thayyil from UWE Bristol
Thursday 20 October 2022 6:46 AM UTC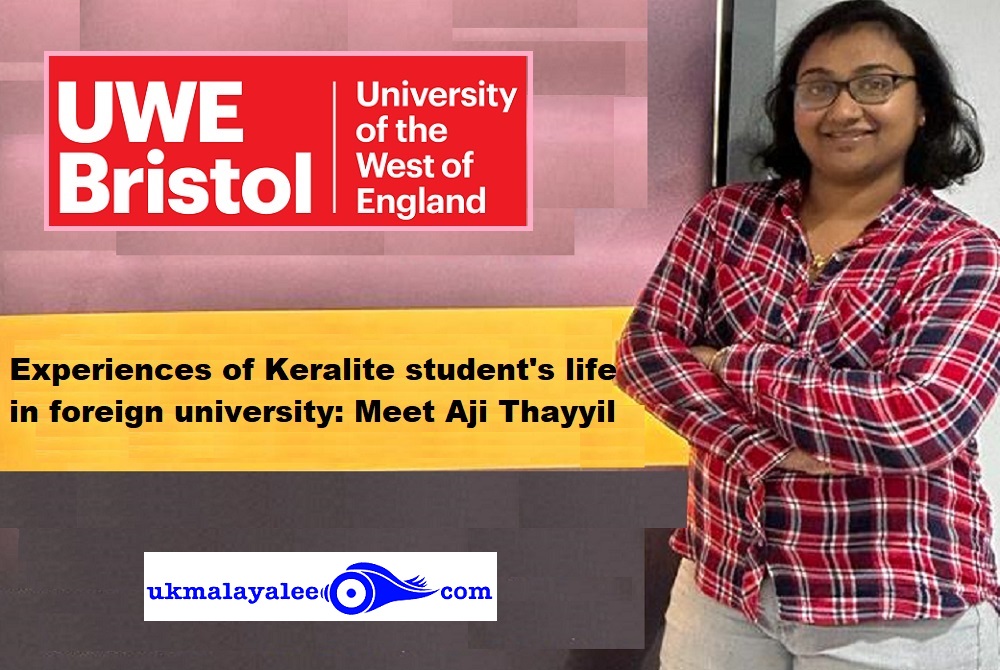 This is a series by ukmalayalee.com to share with the community about experiences of a student doing education in a foreign university. From loans, scholarships, food, accommodation, cultural experiences, students tell us how life is in different countries compared to home.
Aji Thayyil George
I am Aji Thayyil George and I am pursuing a Master's degree in MSc Science Communication from UWE Bristol: University of the West of England Bristol in the UK. While working as science teacher in a school back in Kerala, I felt the need to upskill myself.
But why a foreign university? After graduating with a science degree I was about to get a teacher job in Kerala in a private (Aided) school but due to Covid time it didn't work out at that time as I couldn't pass any of the Psc exams to qualify for the teacher post and thus I decided to further my education abroad. And more than that the political situation didn't give me a hope on being in Kerala. Studying abroad not only makes an individual a more responsible person but also exposes them to a new culture. Moreover, I thought I can do something in science if I take Communication in science. September 2021- June 2023
I completed my graduation and post-graduation in physics from Kerala University and MG university respectively. A degree from a foreign University was my dream from my teenage years. But I got this opportunity very late after my marriage and two kids. The best age to seek an admission here is just after a degree, as we will get some more maturity about life by that age.
For students who are planning to study abroad, I would suggest learning basic life skills like cooking, cleaning, etc. In the UK you have to do everything on your own as labour here is expensive.
As a Keralite student, initially I found much difficulty in following the British accent, but slowly I used to it. I recommend other students who are about to come here, listen to many good YouTube tutorials and videos and try to learn some new vocabularies. Try to listen to English web series, follow English with Lucy YouTube channel, BBC Learn English
https://youtube.com/c/bbclearningenglish and https://youtu.be/F30R0tDIXP0
To cover my expenses and be independent, I have also taken up a part-time job at a care home. Since I had teaching experience I am taking private tuition as well if some body demands. Striking a balance between college and a job and still finding time for yourself is trickier than you think. But the experience is worth it.
The other experience as a student is difficulty to get an accommodation as a couple especially with children. While searching an accommodation, please keep in mind that, there are loopholes for the tricky people to deceive us. Always check with someone who has been in the country earlier.
Do complete research on the universities and the scholarships they offer to international students before you decide to apply.
Some of the challenges of student life are with paying loans, expenses, paying the fees, which will be much challenging, especially if we lead an extravagant life. My advice it to lead a simple life and accept the struggles here, it will gradually pass through as the time goes and keep on search of jobs in your study fields, as our course ends.
For a student with partner also working will ease our life here to meet the expenses. If you already paid the fees, the twenty hour work is almost enough for the survival here, otherwise little difficult to manage. Now am on a student visa, I can work up to 20-24 hours per week, my partner can work full time almost up to 48 hours now he is doing and sometimes some extras too.
Education is more self centric here than teacher centric compared to India. Developing ideas of our own got many chances to get exposed, assignments evaluations are more based on the learning outcomes of the subject taken. Digital learning sources are many.
After finishing the modules and my assignments I found out that I am capable of doing work related to that. (Since I had done my assignments self)
The cultural aspects need to be adhered to while living in the UK. Here the people are very helpful when we ask them help, on contrary they also need their personal privacy. Here teachers are considered as normal friends while taking class even though they are with PHD.
Here people's dressing pattern are more open to the public, but they don't care about what they are exposed to. Any man or women a boy or girl can gather chances for good habits or bad habits easily from here, for example liquor habits can be influenced easily .If we are self responsible, nothing can stop us from our aims.
The culture here which gives equal opportunity to man and women according to their ability, I found as great here; no gender difference. The culture which gives equal value and dignity for any type of job attracted me much . The culture of time bounded and time keeping is yet another one to point out. The system of timely garbage collection and the councils responsibility is the one thing our country also to be followed.
The strict driving ethics and rules is a very peaceful thing while travelling through the road here.
The climate here is another thing I am enjoying so much. The natural beauty of all seasons will be a part of our UK life gradually. As I am a lover of nature, I say poetically, we can see all the stages of our life through all seasons. The spring season is so gorgeous to eyes.
My plans are to find a job here in my academic field itself and settle here for some years and return home land Kerala.
Are you interested in sharing your journey as a student abroad. Write to editor@ukmalayalee.com
CLICK TO FOLLOW UKMALAYALEE.COM