Beware UK Malayalee Youtubers: Providing unauthorised immigration advice is illegal and punishable
Wednesday 16 March 2022 7:08 AM UTC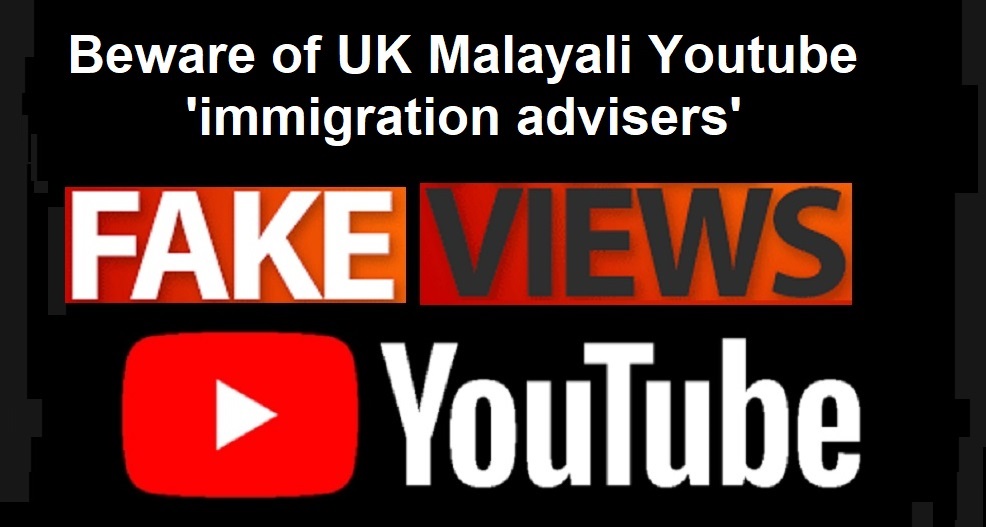 By A Staff Reporter
LONDON March 15: With the liberalisation of student and senior health care visas to the UK, numerous UK Malayali Youtubers have sprung up as bloggers to share their 'expert' advice to those looking to migrate to the UK.

Although there are a few good Youtubers they are outnumbered by numerous UK Malayalee Youtubers who are disseminating half baked information on immigration matters leaving several unanswered questions. When questions are raised by those who listen to them they still do not provide a comprehensive advice leaving the listener in limbo.
The glorified presentation and half truths in regards to that UK immigration is now opened up to every Tom, Dick, and Harry are leading to several Keralites falling victim to the fraud recruitment agents those who are cashing on these videos.
These Youtubers are normally reading general guidance on UK visas and providing what they read as translation into Malayalam but not able to go in depth and explain the intricate rules pertaining to a particular visa type. It seems that they are not bothered to think on who all would be falling victims to those fraudulent recruitment agents.
Some of the Youtube videos go to the extent of saying that a student can earn up to £6,000 per month, when the maximum he could work a month would be 80 hours in a period of four weeks. Many Keralites in UK have taken it to social media to protest against such videos.
Majority of the viewers are from Kerala and thus they assume that travel to the UK is very easy and thus they begin paying agents without a second thought to process their applications. Many have paid money and waiting to hear from these agents on when they can travel to the UK
This website has received several queries from those from Kerala enquiring whether an agent is genuine or fake. However, it is too late by then as the monies have already been paid.
In the UK it's illegal for anyone to provide legal advice to individuals unless you are accredited with OISC/LSC (the regulatory bodies of immigration advice), or is a member of certain other bodies. Non-lawyers who want to give immigration advice must register with the OISC. OISC regulates immigration advisers and makes sure they meet certain standards.
If someone has fallen to a fraudulent recruitment agent following them listening to any of the immigration advice they heard on Youtube they can make a complaint to the Office of the Immigration Services Commissioner (OISC).
Click to Make A Complaint About A Wrong Advice You Received And Lost Money
CLICK TO FOLLOW UKMALAYALEE.COM