Lakshmi Menon: Redesigning lives of the less fortunate, underprivileged and elderly in Kerala
Monday 21 September 2020 7:54 PM UTC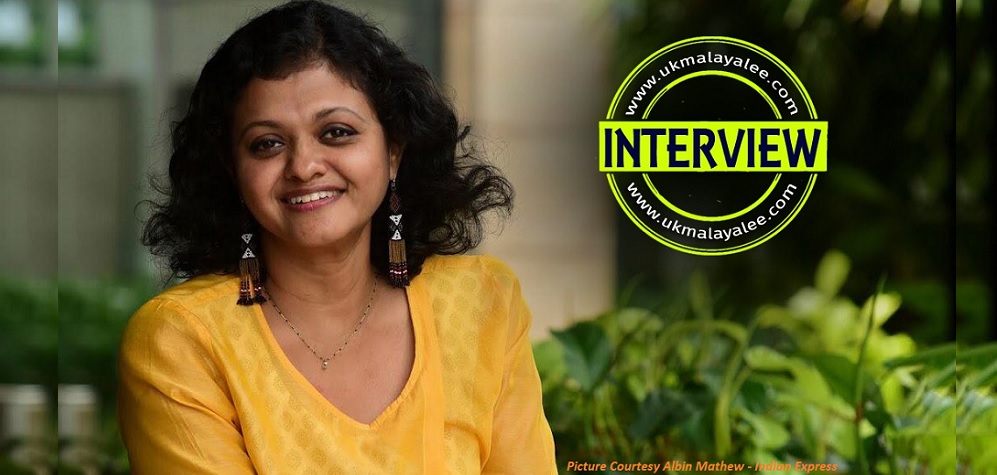 Lakshmi: For her every little deed is an imprint on humanity and an awakening call
By Balagopal
We come across several people in our lives. But some are destined to leave an endearing imprint in your lives. They gently tiptoe into your with such subtlety that once when they have caressed through you they leave a captivating aura with the sheer magnanimity and beauty of their thoughts. They don't talk big. But when they talk of little things you hear their words oozing in confidence and their thoughts so picturesque and inspiring that they leave an imprint in you which is perpetual. They are just simple folks with small things which has got the power to transform humanity.

Meet Lakshmi Menon, from Kanjiramattom, near Kottayam, whose message to humanity, through her small acts, is that adversities should be seen as opportunities to seize initiatives which should serve as inspiration in these difficult times. For her every little deed is an imprint on humanity and an awakening that we all can be part of the revival in the time of the pandemic.
Lakshmi gave up her work in the United States and decided to return to Kerala as for her home is where the heart lies. Her homecoming was with a purpose which she desired from her childhood. It was a lesson she picked from her father who used to tell her. "You were born on to a family which already had a car and other luxuries for which you can take no credit of. We shall provide you with education and other basic amenities, on a condition that you will put these privileges to a good use for the community.  You didn't own the car which is at home. It is your dad's car". It made her think about earning your own way of life and becoming morally responsible persons who would benefit for the betterment of society and humanity.
Lakshmi always had an inkling towards helping the less fortunate ones which were the vulnerable in the society in particular the elderly. With recent changes in the world she also became concerned about those common folks who lost the day-to-day earning from their daily jobs.
With a strong backing from family and technical knowhow as a designer, artiste and social entrepreneur Lakshmi sets out to the rough world with just sheer determination and passion to to help the needy and "be the change she want to see in the world".
On a question on whether it is her management skills that worked out for her in Kerala she laughed. "Its just me and a driver in a lorry on some days going to pick up the 'raw materials' (disposed off goods from factories) for them to be recycled for the benefit of others.
"In order for me to achieve my objectives I set out by myself and do a thorough rigorous study of the project before I start engage or employ anyone. I just go out there and feel for myself and master it then I get it done through people whom I like to support ", Lakshmi laughs. I enjoy going out to pick up the 'raw materials'. Some days I end up getting more than what I required but then it will be too late for me to deny taking it from those who I agreed to. My house sometimes become a place filled with 'raw materials'. Not sure when my brother will be returning from the US as his room too is full at the moment", Lakshmi laughs.
"Each and every project for me is precious and I revisit them to ensure it is still in place as it is in turn the livelihood of hundreds," she says.
Her varied projects are like beads in a necklace. They glisten and glow, not in the exuberance of its light but just by the magnificent imprint it has left behind in peoples lives. The stories of her noble deeds are a readers delight and enlightenment.
Ammoommathiri (Wicksdom project)
In a unintended trip to an elderly care home, Lakshmi asked an elderly woman on what she would wish to have if she was given a choice, and the elderly lady quipped If possible I would like to have a parippuvada (a snack). Along with the request, Lakshmi also saw in her the endearing look of helplessness. Lakshmi is such a person who sees through people and reads their minds.
She wanted the elderly mom to be empowered to earn what they want through an income for them to fulfil to their wishes and to be empowered and lead a life of respect. This inspired Lakshmi to look out for opportunities to those helpless elderly women.
Back home Lakshmi noticed her grandmother who was rolling out wicks for lighting the lamp and this inspired her to try out something with making the elderly roll out wicks and sell them to earn an income for themselves.
Soon she gave life to the Wicksdom project (Ammoomma thiri) where she got together elderly mothers and started it out as a small venture where the elderly started to earn small income with the toil of their hard work which earned them to leave a respectful life. Lakshmi purchased yarn and gave it to the women in old age homes and helped them sell it too. The entire profit goes to them.
Project Ammoomma thiri caught the attention of several prominent personalities including Amitabh Bachchan and Malayalam superstars advertising the project free of cost and showering accolades for the beauty of her thoughts and her selflessness.
Entree (My tree)
Soon Lakshmi was looking to do something for the differently-abled people, which would be simple and easy to make. This led her to make pens using recycled paper with seeds of Agastya Tree, chilli, spinach, cucumber, guava enclosed at the rear tip of the pen. After use, the pens can be thrown while the seeds will germinate and grow into plants/trees. Each pen costs Rs 12 and carries a leaflet with information on the uniqueness and details of the seed enclosed.
Through the project Lakshmi achieved the objective of helping elderly women, help Kerala go green and help artists to make contemporary products with higher sales quotient.
Chekutty dolls
If the above was Lakshmi's one noble gesture to the hapless the next was proof that adversities bring out the best in Lakshmi. The 2018 Kerala floods destroyed the weaving units and washed away all the stock and raw materials of handloom weavers in Chendamangalam in the Ernakulam district. The garments were all destroyed in the floods. Lakshmi and her friend Gopinath Parayil put their heads together to work out an alternative to rescue the garments which were damaged by floods and also do what they could to help raise funds for the handloom weavers. Thus the idea of Chekutty doll evolved. Chekutty doll is upcycled from the Chendamangalam handloom sarees that were destroyed during the Kerala floods.
They fashioned tiny dolls with bright smiles out of the soiled and ruined cloth pieces that were left behind and named them 'Chekutty'. 'Chekutty' is made from two Malayalam words- 'Cheru', meaning mud or soil and 'Kutty' meaning child. Chekutty then represents the resilience of a muddy-child who has braved the ravages of the floods.  The creation of the Chekutty was a profitable venture for the weavers. A normal six-yard saree would sell for about Rs1500. Around 360 dolls could be made out of one saree, and each doll was sold for Rs25. This earned the weavers a much higher amount, about Rs9000.
FriendShip
The 2018 Kerala floods also saw the resilience of the Kerala fisherfolk community who arrived at flood hit villages with their fishing boats and rescued more than 65,000 without earning a penny in income. Lakshmi set her next project to show a gratitude to the Kerala's flood heroes. Lakshmi started a social campaign called FriendShip, along with Neenu Rathin, to show gratitude to Kerala's saviours.
Lakshmi collaborated with New India Life Assurance Company and introduced a crowd funding insurance scheme. An amount of Rs1 lakh insurance coverage for death due to accident, for a payment at Rs24was the scheme. Any one can spend Rs24 and insure a fisherman. From symbolic gestures of appreciation to insurance schemes for accidents at sea and land and entrepreneurship opportunities, this campaign has been working to improve the lives of the fishing communities holistically.
Shayya
Before the pandemic, Lakshmi was already working on with the idea of fashioning mattresses out of tailoring scrap and providing them to the needy through her initiative Pure Living.
As COVID-19 cases spiked in Kerala, the government ordered every panchayat to set up a 50-bed care centre. This brought in a huge demand for cots, mattresses, pillows, and other essentials. Since she was updated with every minor thing happening in her neighbourhood in Kochi, she asked the panchayat member how she could help. The panchayat member told her the cost of the mattresses was very high and people did not have enough funds to donate at this time.
Level 10, a manufacturing unit based in Kottayam, was kind enough to send her a few samples of PPE gown tailoring scrap. This scrap has not been used anywhere else, as it arose after material was cut for PPE kits. Lakshmi found it ideal to be made into mattresses as it's clean, fluffy, and lightweight.
The beds have now been started to be distributed to Covid Care Centre and to homeless people. After Lakshmi shared this over social media, she was approached by corporate companies who wished to purchase the beds from her and distribute it for free across different Panchayats in Kerala.
For them, Lakshmi charges Rs335 for one bed, which is the charge of employing one worker plus the raw material cost. If there are individuals or companies who wish to purchase beds from Pure Living and distribute them across COVID Care Centres in India, you can contact Lakshmi Menon at +91 8330021192.
Karuna Dolls Kadhakali
Millions of artisans in India are stranded with no sustenance following the Covid pandemic which has brought businesses to a standstill. It was at this time Creative Dignity, a movement which came forward to provide relief and rejuvenation of the artisans in a bid to ensure their sustained prosperity.
Their new concept for artisans was for each state to launch a finger-sized Karuna (compassion) doll. This project is part of their larger programme to connect artisans from across India and their craft with a market.
The finger-sized Karuna dolls from each state are reported to be the creation of women spinners, weavers and embroiderers from their homes. Kerala's Karuna representatives are the Kadhakali & Kadhakili finger puppet, which will be using Kerala handloom.
Lakshmi soon came up with Kerala's Karuna representation in the form of Kadhakali & Kadhakil doll. These dolls from Kerala has now set out the journey to visit all states of India to narrate the stories of the arts and crafts and artisans of Kerala. At every State they will meet their Karuna doll counterpart who have their own collection of tales to tell about their magic land.
With every visit to a new state, they gain a new set of friends, adding to the kaleidoscopic image of the rich and diverse heritage and traditions of this great country.
The Kadhakili as it flies will be offering an aerial description of these lands, especially touching upon the flora and fauna, the interconnection between man and nature, while the Karuna dolls travel from one end of the country to the other.
Other engagements
Lakshmi has also been invited by Dakshinachitra Craft village in Chennai to model Coveed houses. Lakshmi briefly had worked as a crafts consultant with Kerala tourism department, where she worked in shaping a crafts village Sargaalaya in Vadakara, Kozhikode.
Apart from the various projects which are ongoing Lakshmi is also doing talks online and running webinars on topics of sustainable development and social commitment and responsibilities to adults, youths and children. Lakshmi lives with her grandmother Bhavani and mom Sreedevi.
The small lamp, lit using the Ammoommathiri thiri passed to her by her grandmother, is still aflame and it could be by sheer coincidence that her grandmother (Ammoomma ) knew what her grandchild wanted to do in life by helping the vulnerable and elderly and decided to kindle the fire in her. The lamp is still glowing and the fire in Lakshmi is still on kindled from one project to the another.
CLICK TO FOLLOW UKMALAYALEE.COM