One year on, T Haridas' loss continues to create a huge void for Keralites in UK
Thursday 24 March 2022 6:42 AM UTC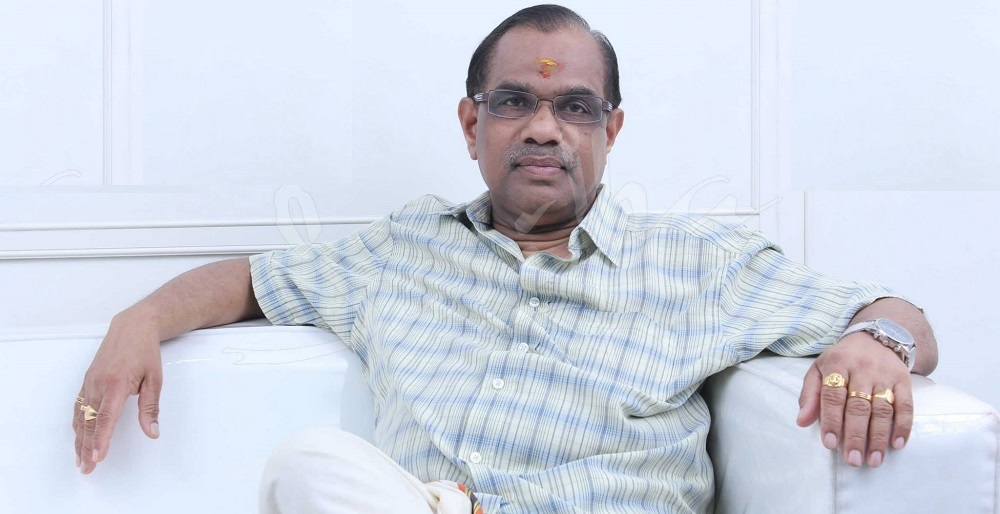 By A Staff Reporter
LONDON March 24: It has been one year today (24th March), T Haridas, affectionately known as Hariyettan, passed away. T Haridas, former officer at the Indian High Commission in the UK, a business entrepreneur and philanthropist, passed away on the 24th March 2021. His funeral was held on 12th April 2021.

One year on, Keralites in UK still miss him dearly. This can be vouched by several organisation leaders who have divulged to this website that they missed a man to whom they could turn to at times to ask for guidance, assistance or support.
T Haridas was a great humanitarian who understood people, and although he reached great heights in authority and richness, he remained a selfless human being without any inhibitions. Thus he was a go to person at all occasions.
One year on there has been several instances when the community uttered his name and had said, "if Hariyettan was there he would have sorted this, he would have guided, he would have assisted etc".
Today, on the anniversary of his death, the family will just conduct a small pooja at the temple.
Late Hariyettan's ashes will be taken to Rameshwaram by family to perform the Hindu sacred rituals of immersion of his ashes in the sea off Rameswaram on 10th April 2022, family informed this website.
London Hindu Aikyavedhi will host the Vishu Vilakku reminiscing Late Haridas on 30th April 2022 (Click To Read News in Malayalam)
Following the death of Hariyettan, an upcoming music band from Kerala 'Lelu Allu' paid tributes through a devotional song about Lord Guruvayoorappan, as a perfect choice to Late Haridas who happened to be an ardent devotee of Lord Guruvayoorappan.
T Haridas, who has died aged 69, was one of the longest-serving Malayalee officer at the Indian High Commission in London on whom hundreds of Keralites in UK relied on in times of precariousness. His retirement from the Indian High Commission did not deter him from continuing his selfless service to the Keralite community in the UK.
His influence within the Indian High Commission bureaucracy in the UK and with the Indian and Kerala politicians and bureaucrats was considerable. No other Malayalee played a more important role in grappling with how to respond to distressing situations. He always had a role to play or would take the lead if there weren't anyone to come forward to lend a helping hand to someone in anguish or suffering. To many he was lovingly known as Hariyettan.
Haridas played a considerable role in bringing Kerala to mainstream Britain too. He was attributed the title of Unofficial Ambassador of Kerala Tourism in UK by India Tourism. India Tourism took to their Facebook page to condole the passing away with terming it as a "loss to the industry in India especially for Kerala and his contributions for the promotion of tourism for over three decades".
It was Haridas' clout within the Indian political and bureaucratic spectrum in the UK that lead to the numerous Kerala cultural programmes brought to mainstream Britain. He was instrumental in organizing the participation of Kerala at the City of London's Lord Mayor Show for several years. The other major highlights being Onam celebrated for the first time in the British Parliament and the Indian High Commission in London. Kerala's cultural and art presence was always felt in mainstream Britain with him taking the lead in holding the primed Soorya Festivals on iconic stages in London such as Logan Hall and others.
Haridas received the Hind Ratan award for services to India in the realm of tourism and the Tourism Man of the Year Award for promoting Kerala. He was entered the Asian's Who's Who and Who's Who of Britain's Business Elite.
As a young man, Haridas was a dreamer who gave his best to achieve all his dreams. At the age of 21, around 40 years back, he arrived in London on an invitation of his uncle who worked in the Indian Foreign Ministry. Instead of enrolling in a course, a graduate then, he started working as an accountant in the High Commission of India.
But as a hardworking youngster with keen entrepreneurial mindset Haridas pursued his desire to spread his wings and made his first stint by joining a restaurant after getting a diploma in catering. His sincerity and acumen to run a restaurant business impressed the owner who handed over the restaurant to him when it was time for him to retire. The British got the taste of Kerala's cuisine from him and their liking for the food made him expand his business with him finally setting up a string of restaurants and becoming the chairman of Kerala Group of Restaurants.
Haridas was not just a restauranteur but also a philanthropist. He was regarded as a man of great purpose and conviction who was motivated by a sense of duty to others. His legacy is sure to live in people's lives through the role or interventions he made in times of hardship while him being an officer at the Indian High Commission in London and as the Non Resident Keralites Affairs (NORKA) representative in the UK until his passing away.
The greatest appreciation which came in recent times was when Haridas was accorded the role of Loka Kerala Sabha presidium member. Apart from being part of various overseas organisations Hridas has been spearheading on an advisory role to various community organisations.
Being a native of Guruvayoor in Kerala he was a great devotee of Lord Guruvayoorappan. His ambition to build a Guruyoorappan Temple in the UK lead him to the formation of the London Hindu Aikyavedhi.
Like the saying, God takes soonest those he loveth best, Haridas was gone too soon. He was plucked away too early. Haridas, son of Bhaskaran Nair and Thankamma, will reach the almighty abode a proud son. Haridas died on 24th March 2021 at the St George's Hospital, Tooting in London. His funeral took place on 12th April 2021.
Haridas leaves behind wife Jayalatha and four sons. First son Vaishak, after doing business management, has been looking after the family business. Second son Vinod is a teacher by profession and Head of Maths and a noted dancer. Third son Nilesh after graduation is in IT profession and fourth son doing his studies.
CLICK TO FOLLOW UKMALAYALEE.COM