Keralite school student in UK enters World, Asia and India Book of Records for building maximum Lego models
Thursday 8 December 2022 8:47 AM UTC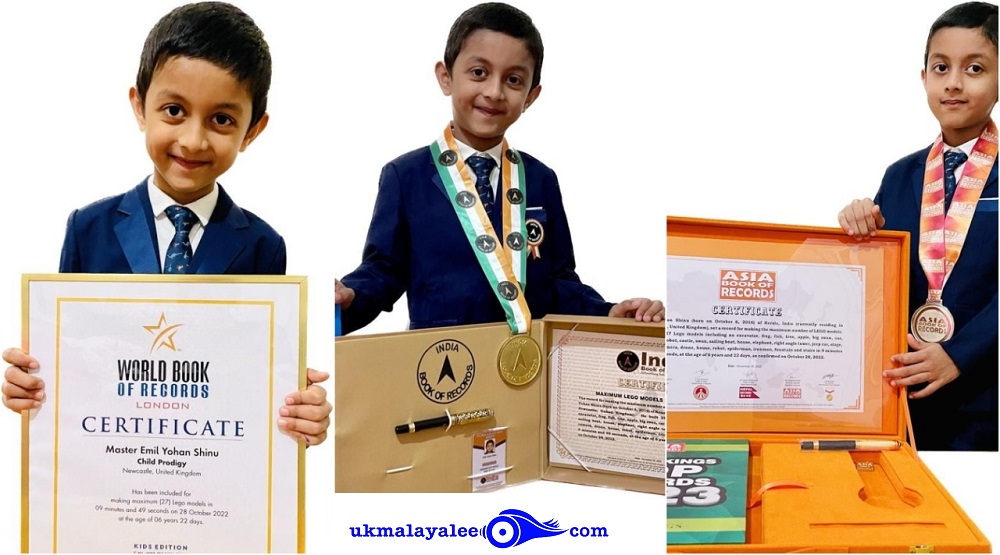 By A Staff Reporter
NEWCASTLE Dec 7: Emil Yohan Shinu entered the World, Asia, and India Book of Records for building maximum Lego models.

The class one student is a native of Konni in the Pathanamthitta District. Currently, he is residing in Newcastle, United Kingdom.
He builds twenty-seven different Lego models in nine minutes forty-nine seconds. It was his love of Legos that prompted Emil to attempt the record.
He built different types of Lego models such as cars, jeeps, excavators, swans, robots, cartoon models, and buildings in this short period of time.
He also holds the Asia book of records and India book of records to build the maximum number of Lego models in five minutes and he built 13 Lego models.
He is a class one student at Brighton Avenue Primary School, Gateshead, Newcastle.
He is the son of Scientist Shinu Yohannan and Sneha Sam.

CLICK TO FOLLOW UKMALAYALEE.COM