Victim of illegal immigration: Keralite in UK beaten up violently in brutal attack in London
Saturday 17 April 2021 6:58 AM UTC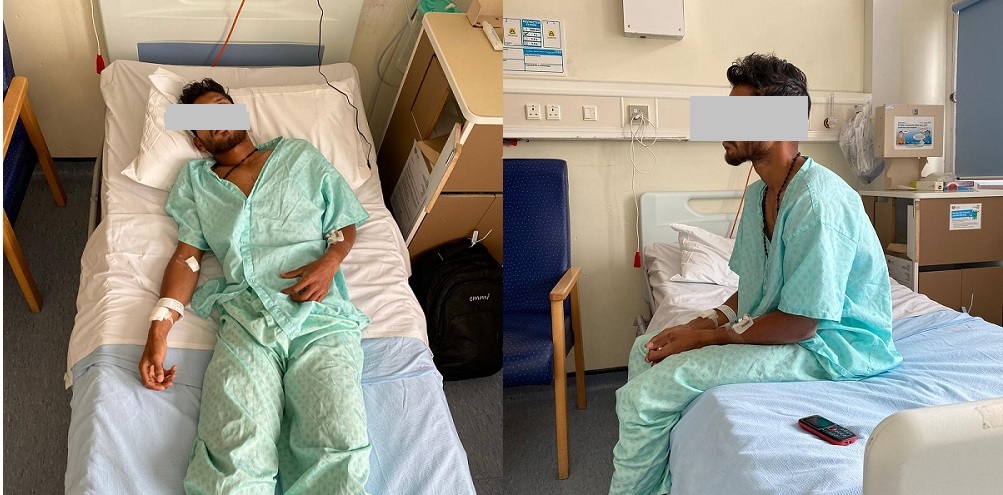 By A Staff Reporter
LONDON April 17: A Keralite who arrived in the UK last month got violently beaten up in a brutal attack on the streets of London. Thomas Jose (27), (name changed) who landed at London Heathrow Airport on 23rd March on "Seamen visa", was beaten up and was abandoned on the streets.

He was admitted to the Ealing Hospital in London last week after a violent attack while he was on his way home after a day long job hunting. He was abandoned on an alley way and taken to hospital by some kind hearted passers by in the following morning.
Thomas is unable to remember the incidents properly. According to him he was on a bus in the evening when he was approached for money by some other passengers and then when he alighted they followed him and then the next he could remember was lying in an alleyway writhing in pain when some north Indians got him to the hospital.
According to information received Thomas was left in a serious condition and was suddenly discharged without further clarification from the NHS.
Thomas wanted to return to Kerala as soon as possible followed by an immediate eviction from his accommodation. And thus he went back to London Heathrow Immigration authorities to request them to rerun his passport to go back to Kerala. The authorities asked him to return on 20th May.
Thomas had nowhere to stay or no means to live on and is in severe pain due to the physical attack he suffered.
At the end, he decided to get readmitted for further treatment and finally ended by at the Hillingdon Hospital where he is surviving with care of Malayalee nurses.
Thomas's story is similar to those hundreds of Malayalees who arrive in the UK on visa's built up on fake documents submitted to the Home Office.
Thomas, from Thiruvananthapuram, worked in cruise ships before and he came to know about an agent who would help him to reach UK on "Seaman's Visa". As Thomas had experience in working in the ships he decided to obtain this. He paid nearly Rs500,000 to an agent and obtained a visa to board to the UK
On arrival in the UK the airport authorities, alongwith the UK Border Agency, arrested him and was questioned for a day where he pleaded ignorance and finally the authorities confiscated his passport and made him sign some asylum papers and sent him off.
The agents had arranged an accommodation with another north Indian family in Southall. He stayed there for a few days and started job hunting. He did manage to get some cash in hand jobs and survived somehow. However, last weekend while he was travelling by bus in an evening he was followed by some people and got beaten up and left in an alley way.
Union of UK Malayalee Associations (UUKMA) has brought the matter to the High Commission in London and the Mission has offered all possible assistance to the victim and is taking up the matter with relevant UK government authorities to investigate about the attack against the Indian national and to facilitate his early return to India. The Mission is in direct contact with the victim of the attack.
Thomas is one among many who put their family home at stake by paying some agents in Kerala and UK in the hope of making a living abroad. However, many such people who arrive on fake visas find in a spot when something goes wrong. The agents who facilitate the illegal immigration disappears from the scene altogether leaving the victim in the lurch on his own.
Reports say there are numerous illegals from the Kerala community in the UK. They get in trouble when something goes wrong like in this instance Jose is not able to get any help as he doesn't have the right immigration status.
Agents in India are continuing to send people to the UK with non-existent contacts in the UK which makes it difficult if these victims end up in such unfortunate situations.
Scores of such people have got suicidal as they get depressed and disillusioned on their arrival. Some survive and some end up in dire circumstances.
Usually some end lying dead and some get assistance from local community members or associations and return back home.
This news is to raise awareness within those people who are getting ready to hit UK airports on Seamen visa or other forms of visa fraudulently.
CLICK TO FOLLOW UKMALAYALEE.COM