Why the Catholic Church wants me back in India? What is behind it? And WHO is behind it? And why does it pop up right now?
Wednesday 8 July 2020 3:16 AM UTC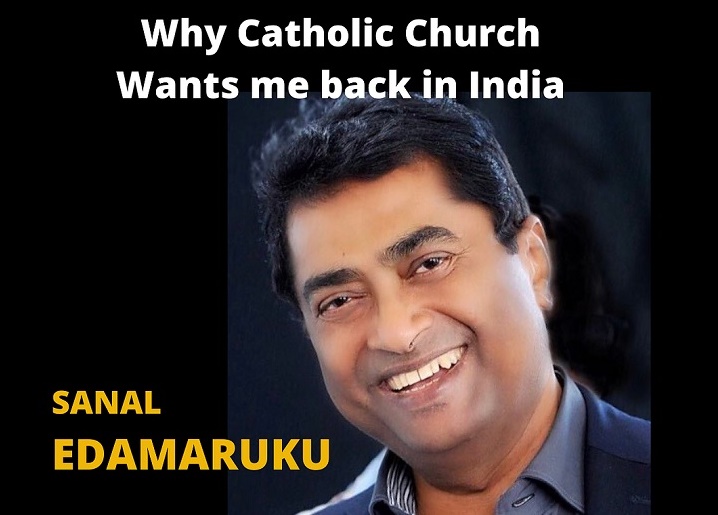 July 08: According to reports in the New Indian Express, the Interpol (International Criminal Police Organisation, commonly known as Interpol) has now issued issued Red Notice against Sanal Edamaruku after the Central Bureau of Investigation, the premier investigating agency of India, sought the help of the global agency to trace the 65-year-old, who is accused of swindling Rs 15 lakh from a woman after promising her to provide Finnish visa.
Based on the Red Notice, the agencies have moved a lookout circular for the accused. The red  notice is a request issued by the Interpol to locate and provisionally arrest an accused pending extradition or who is wanted for prosecution. Sanal Edamuruku has published the below blog,
By Sanal Edamaruku
Is it a coincidence? Out of the blue, a sensational press report starts jumping like a ping pong ball through some Kerala media. It speaks about a red corner notice issued by Interpol against me.
What is behind it? And WHO is behind it? And why does it pop up right now?
Before trying to shed some light on the story, I want to make a clear statement: I have not cheated or conned anyone. I am an honest person.
I have not done anything illegal. I have not violated any law. Also, I have not done anything against my conscience. Therefore I am confident that I will get justice from the courts.
I have been living Finland since 2012. This open and friendly country where politics and people are guided by tolerance and Human Rights, gave me asylum when I had to flee India overnight, accused of blasphemy offences that carry a three-year prison sentence. My life was in danger.
Mumbai blasphemy case
In early March 2012, after my investigations brought to light that the source of the "holy water" dripping from the feet of a Jesus Christ statue in Mumbai was a blocked toilet drainage pipe, my life changed dramatically.
During my TV interview on the "dripping crucifix" in prime time, Mumbai bishop Angelo Gracias joined the discussion. Once he realised that his arguments were not convincing and not countering my positions, he abruptly left the program.
Once the program was over, I realised that I could not leave the TV studio as a group of men was waiting outside with beating sticks and cricket bats. The TV studio staff explained to me that they had been brought in vans after the bishop angrily left the TV debate. They were identified as professional thugs.
Mob attacks and lynchings are not uncommon in India. I smelled the danger. I had dinner with the head of the TV channel in his room, rested for some time, and checked again. The thugs were still waiting for me outside. Police were called; but there was no response.
Four hours later, the back gate was forced open for me to drive away so that I could escape the thugs at the front gate. In some hours I flew to my home in New Delhi.
I read reports the next days that some 27 complaints in different police stations were filed against me by different Catholic groups alleging that I hurt their religious sentiments.
There is an old British law, still valid in modern India, that was invoked against me by these groups. Two or three police stations took the complaint and FIRs were registered, media reported.
The hands behind it
It was not difficult to see who was behind this well-orchestrated attack against me. If there was still any doubt, an official statement from the Catholic Church appeared on the web site of the ArchDiocese of Bombay to make it clear.
Arch Bishop Cardinal Oswald Gracias – who is none less than the president of the Catholic Bishops' Conference of India – demanded my apology in exchange for the withdrawal of FIRs and cases against me.
My reply was simple and clear. I wrote: "I am convinced about what I spoke and can prove it. I can understand that you might be inspired by the stories of Inquisition and Witch-Hunting in the middle ages.
We live in the 21st century. There are courageous people who would defend the right to speak what they are convinced about, even if stakes are invoked against them. I am one amongst them. Even if you bring all torture machines from medieval times, I would not apologise nor succumb to any pressures."
Obviously my response was not taken kindly by the Catholic church.
Soon I received warnings that there could be attempts on my life.
Three months in hiding
After the dramatic incidents in Mumbai, I was advised to move away from my home and live in different safe places without disclosing my whereabouts. From my different hiding locations, I contacted Indian and International media and talked about the situation.
I wrote to Prime Minister Manmohan Singh explaining the situation and requesting his interference. Also, I wrote to the Home Minister and Chief Minister of the State of Maharashtra where the Mumbai blasphemy case against me was registered Indian Rationalist Association set up a "Sanal Edamaruku Defence Fund" to support me.
As the anticipatory bail petitions filed on my behalf by eminent lawyers in Delhi and Mumbai were turned down, I decided to stand trial. If the Mumbai blasphemy case should come to court at all, my lawyers were authorised to fight the case.
Nothing happened. But after three months, threats for my security mounted. Rationalist, freethought, humanist, and skeptic organisations in several countries offered to help me get out of India. I informed the Home Minister's office, and the police commissioners of Delhi and Mumbai and flew to Finland.
That was eight years back. Thanks to moral as well as generous financial support of friends and supporters in Finland, India, and other countries, I have fast been able to build up a new base, re-establish Rationalist International, and have ever since continued my fight against obscurantism with even more vigour.
What is the truth behind the recent case that surfaced in the media?
In 2017, a private case was filed against me by a woman in Kerala, who had been a good friend of mine long before I moved to Finland.
She suddenly claimed that I had accepted money from her for securing a job for her in my company in Finland. I did indeed, after an online interview, offer her a job which she declined.
Earlier she had deposited money in small units over a span of three years into an Indian account meant to help the rationalist movement, and had nothing to do with a job in Finland.
So, I was truly shocked by her allegations and believe that she made them for personal reasons.
It was obvious that there are people who seize the opportunity to use her private case against me.
I filed a Quashing petition against her case in the Kerala High Court, which was accepted in September 2018 for consideration. To my understanding, the proceedings in the lower court have been stopped upon the decision of the Kerala High Court to consider my Quashing petition.
Nothing has changed or moved since then – till now suddenly the report of a red alert of Interpol jumped out of the box.
Why the Catholic Church wants me back in India
Is it a coincidence?
Recently I received reports from my friends in India that the Catholic Church was trying to get the blasphemy cases against me charged in courts. They thought that I might not come back to India to fight the cases. So, their strategy was to mobilise Interpol to issue a Red Corner notice to press me down.
It is no secret that the hands of the Catholic church are very long. They may go to any extent with their direct or indirect methods to silence their critics.
Of course, my findings in Mumbai were quite uncomfortable for them, as they did not only spoil the blossoming of a new pilgrimage site but also showed the Catholic miracle factory in a poor and ridiculous light.
That is a sensitive point, and I had hit it before, revealing the "nun-export" strategy behind the sainthood of Alphonsa or during the beatification process of Mother Teresa, when I presented the evidence that the 'miracle' that the Vatican approved to make her saint was a fake.
So far, I have escaped their net. Their attempts to silence me made me fight them on a higher level. They may want to make my case an example to demonstrate "Catholic power". But I am not easily intimidated.
I have the will power to deal with such challenges and manipulative campaigns, because I know, who my opponent is and I know what is at stake.
—-
PS:  There are unfortunately legal limitations to speak more on judicial matters. I can't discuss the practical details of this case as it is still under judicial consideration. If I say anything publicly, it will be sub-judice.
CLICK TO FOLLOW UKMALAYALEE.COM