We can always rebuild economy, but we can never bring someone back to life: West need to learn from Kerala: MP Martyn Day
Sunday 28 June 2020 3:13 AM UTC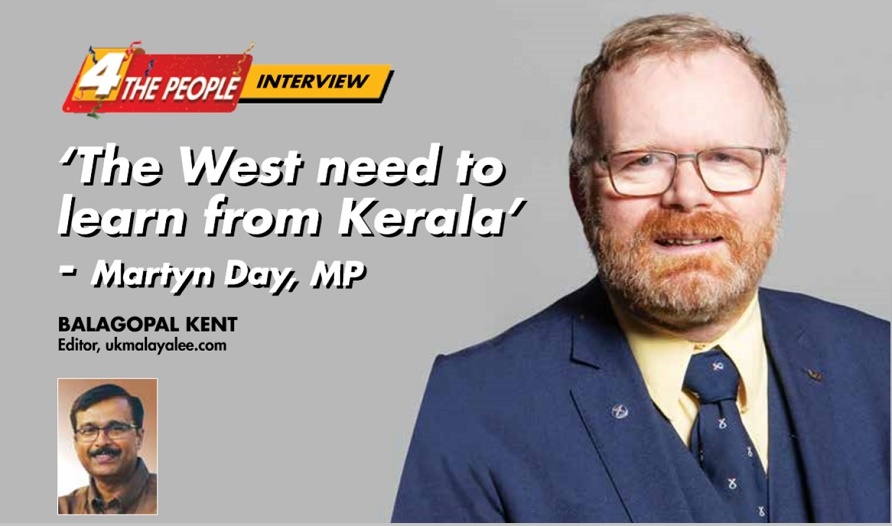 By Balagopal
June 28: International media, academicians, scientists, economists have all applauded Kerala's successful approach taken in regards to fighting the Covid-19 pandemic. Now, we have a MP from the parliament in the UK asking the West to learn from Kerala on how to fight the virus.
Martyn Day MP, from the Scottish National Party (SNP) quotes a Scottish phrase "nae pockets in shrouds" to suggest that we can always rebuild the economy, but we can never bring someone back to life.
Martyn Day is also an ardent supporter of migrants in the UK and fights for their causes. He is at present one of the MPs who are urging the government to allow those here on work permit visas to access benefits and recourse to public funds like any other citizen in the UK.
He is also of the opinion that those already here and exposed on the front line fight against Covid-19 should be offered Indefinite Leave to Remain for themselves and families.
What do you think the West can learn from Kerala on the successful ways on how they are addressing the fight against Covid-19?
This is the biggest public health challenge to be faced in our lifetimes and the measures we take to deal with it must reflect its magnitude, unfortunately the European response was in my opinion too slow to react to the threat.
The UK response was described by Richard Horton, editor-in-chief of the Lancet medical journal as a "national scandal".
Early contingency planning for pandemics in the UK over the preceding years highlighted the potential risks but adequate resources were not made available, and then when this actual outbreak occurred vital time from mid January onwards was wasted.
Time which should have been used to prepare, ordering respirators, PPE, and testing reagents. All of which has been compounded by political choices which saw a decade of austerity cut health spending and staff numbers.
Initial assumptions of "herd immunity" being achieved have left us behind the curve. Instead much more vigorous testing, contact tracing and quarantining should have been implemented from the very beginning.
Perhaps having suffered from an outbreak of Nippa virus recently Kerala was better prepared and took virial threats more seriously.
Even today we can compare the UK 7 day isolation for those with symptoms to the 14 day WHO recommendation and the 28 day quarantine in Kerala. It is easy to see who is treating the threat more seriously.
By contrast Kerala appears to have been on top of the issue from the very beginning, demonstrating effective planning and speed of action as main lessons to be learned by the West.
In your opinion what makes Kerala stand out from rest of the world in regards to the fight against Covid-19? Why are they successful?
One area is political, it has a government supportive of a command economy model.
By contrast the neoliberal models elsewhere have been proven weaker in their initial response and I fear to keen to prioritise the economy over public health with potentially premature easing of lockdown measures. The Trump regime in America being the worst example.
How do you compare Kerala to the West in regards to the way how its all going at present in regards to the fight against Covid-19. What should UK's priorities be at this time?
Clearly while Kerala and the UK started from different positions and also have very different public health profiles, things look much better in terms of confirmed cases and deaths in Kerala than they do in the UK.
I feel my in-laws in Kerala are currently safer than my parents in the UK. The spread of the virus across the UK is not even, and there are clearly going to be geographic peaks and regional variations.
London has so far suffered the most, and the whole UK entered lockdown at the same time in all four nations. This has benefited Scotland as we entered lockdown earlier in the spread.
The UK needs to get back to a position where effective containment of the disease can prevent its spread until such time as a vaccine can be produced. Only then will be able to safely start to lift the lockdown restrictions, this looks like being weeks or months away at present.
And a question for the future is, will there be a UK wide lifting of the lockdown, or will there be geographic/regional variations?
The priority has to be to save as many lives as we can. There is "nae poackits in a shroud" as we say in Scotland. We can always rebuild the economy, but we can never bring someone back to life.
What do you think that Kerala can learn and how can it take forward the successes it had until now?
This is still a new virus, and analysis of the statistics and evidence will take some time. Our thinking and response to the crisis will change over time as we are presented with facts from our own experience and those of other states. Keep doing what is working. There will be the need for more research capability and increased testing going forward.
Hope you are aware that there are thousands of Kerala nurses in the UK? How are you able to support them at this present times in the UK?
Kerala medical and care staff play a vital role in the UK Health and Social Care provision, and in the wider community. They along with all other vital workers should be adequately resourced with proper PPE, and equipment to do their jobs safely and this needs championed both now during this crisis and afterwards.
The Home Office hostile environment regarding visas and immigration needs ended urgently. In my opinion those already here and exposed on the front line should be offered Indefinite Leave to Remain for themselves and families.
The proposed new Immigration system also needs scrapped and it should be made easier and more welcoming for valued workers like these to enter the UK with their families.
Balagopal is editor of www.ukmalayalee.com
CLICK TO FOLLOW UKMALAYALEE.COM