Keralites from UK who were stranded at Delhi airport reach Kochi
Saturday 9 January 2021 10:30 PM UTC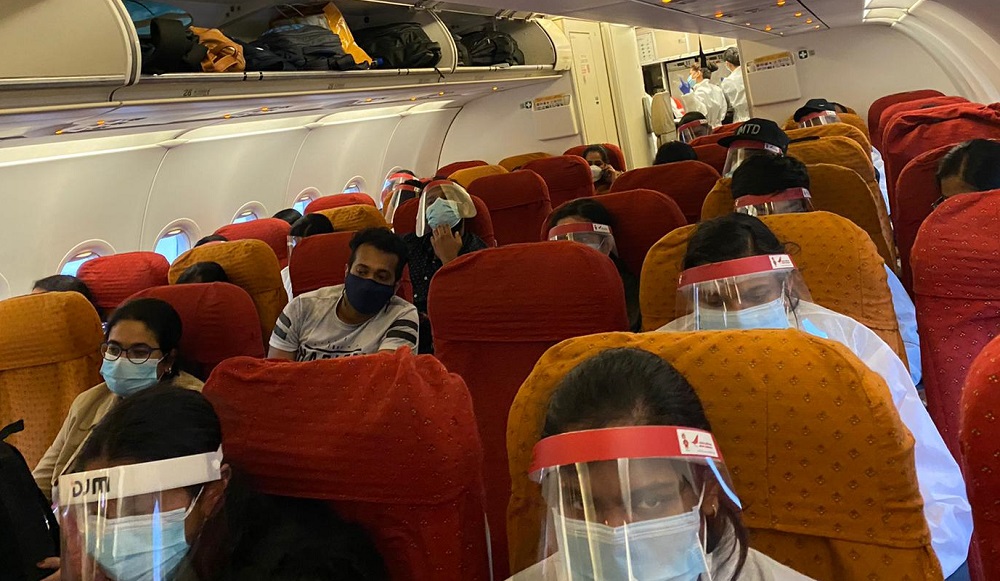 By A Staff Reporter
DELHI Jan 9: Around 100 Keralites from UK who were stranded at the Delhi airport overnight left for Kochi via an Air India flight which left between 4.30pm and 5pm India time on Saturday 9th January 2021.
Reports received say that they have safely reached Kochi and were able to checkout without any hassle by just completing the declaration form. They were asked to go into 14 days quarantine.
The Keralites who were making an emergency travel from London Heathrow to Kochi had a stopover at Delhi airport on Friday 8th January 2020. However, due to changes brought in by the Delhi government on the same day resulted in all of them having to quarantine in Delhi irrespective of them being tested Negative or Positive for Covid.
Caught unaware of the rule change in Delhi, the Keralite passengers were not willing to leave the airport and insisted on having a connection flight offered to them to travel to Kochi. This was denied to them and they decided to protest as they were unwilling to go into quarantine in Delhi as they had to reach Kochi the earliest.
Soon news broke out in the media about the stranded Keralites which was followed up with calls to politicians and power brokers within Indian and Kerala governments.
All throughout, the passengers who were held up in Delhi, were sharing their videos and voice messages on the UK Pravasi Help Desk operated from the UK. The messages were shared to media and to the politicians at real time. This instigated a flurry of activities from various quarters including Suresh Gopi MP. The passengers from Delhi made contacts with the Kerala Chief Minister's Office and NORKA who pledged to do what they can to help them out.
All this while the passengers spent the whole day at the airport not knowing what the next course of action would be from the flight providers and the airport authorities. Help and support trickled in from the airport authorities in the way of them being provided refreshments.
Finally, around 9pm the passengers were told that they will be allowed to travel to Kochi but it would be the next day which is Saturday in the evening at 4.30pm.
Although they were unhappy with them having to spent the night at the airport they were relieved that they could now travel to Kochi without having to quarantine in Delhi.
Reports from the passengers received by this website now can confirm that they have all boarded the 4.30pm Air India flight to Kochi and on way to their home destination.
Earlier on Friday, Air India's AI112 flight with 256 passengers from London landed at the Delhi airport at around 10.30 am on Friday 8th January 2021. Rules regarding air travel from Delhi was changed on the same afternoon (Friday 8th January) which meant those travelling to Kochi were not be able to take the connection flight to Kerala.
Delhi Chief Minister Arvind Kejriwal announced on Friday afternoon that travellers coming from the UK to Delhi will have to undergo a seven-day institutional quarantine and a seven-day home quarantine even if they test negative for COVID-19 on arrival.
This rule at such a short notice caught all those travelling to Kochi unaware. Several of those who spoke to this website from Delhi airport were furious. Although news has come out to say that these passengers have now been issued with Boarding Passes for a flight to Kochi at 4.30pm on Saturday (9th January) many are still apprehensive whether there could be any further last minute changes. The stranded passengers have been told to pay for their own food and other expenses at the airport and there wouldnt be any assistance from the airport.
Sanju, who is going for an emergency said: "This is absurd. You cannot tell people the rules have changed after they land. Some notice should have be given. There is at present utter mayhem at Delhi Airport with this flight, families with small children, pregnant woman."
Reports say that the new rule asking all people arriving from the UK to institutionally quarantine for seven days was published only after the Air India flight from London landed in Delhi on Friday afternoon.
According to reports, as passengers from the UK landed in Delhi, the Indira Gandhi airport tweeted a clarification of the updated Covid-19 testing and isolation rules stating that RT-PCR tests, which could take upto 10 hours, were mandatory for all arriving passengers. In its Tweet the Delhi Airport added that the cost of the test was to be borne by the passengers, and all Covid positive and negative passengers had to adhere to seven days of institutional quarantine, followed by seven days of home quarantine
Anish Thomas speaking to this website from the airport said: "It's absolutely maniac at Delhi Airport. Asking us to go for institutional quarantine even with a Negative PCR test is not right. They didn't mention this on the SOP (standard operating procedure)."
Heated arguments between the passengers and security personnel who were present at the airport continued throughout the day when the passengers passports were held by the airport staff.
Air India, however, claimed on Twitter on Friday evening that it had informed the flight's passengers about the new advisory of the Delhi government before the plane took off from the Heathrow airport last night.
"Around 20 passengers opted to cancel their flight on being informed by Air India's London team of this advisory. The announcement was repeated during the flight as well," the carrier added.
Earlier this month, the Union Health Ministry stated that a passenger coming from the UK can board a flight to India only when he has a negative test report from a sample taken 72 hours prior to the journey. Moreover, as per the rules, the passenger also has to take the RT-PCR test on arrival at the entry airport in India.
India had suspended all passenger flights between the UK and India from December 23 to January 7 as a new variant of coronavirus emerged in the UK.
CLICK TO FOLLOW UKMALAYALEE.COM