Travellers to India no longer required to carry proof of vaccination and negative PCR test result if unvaccinated
Sunday 27 November 2022 8:58 AM UTC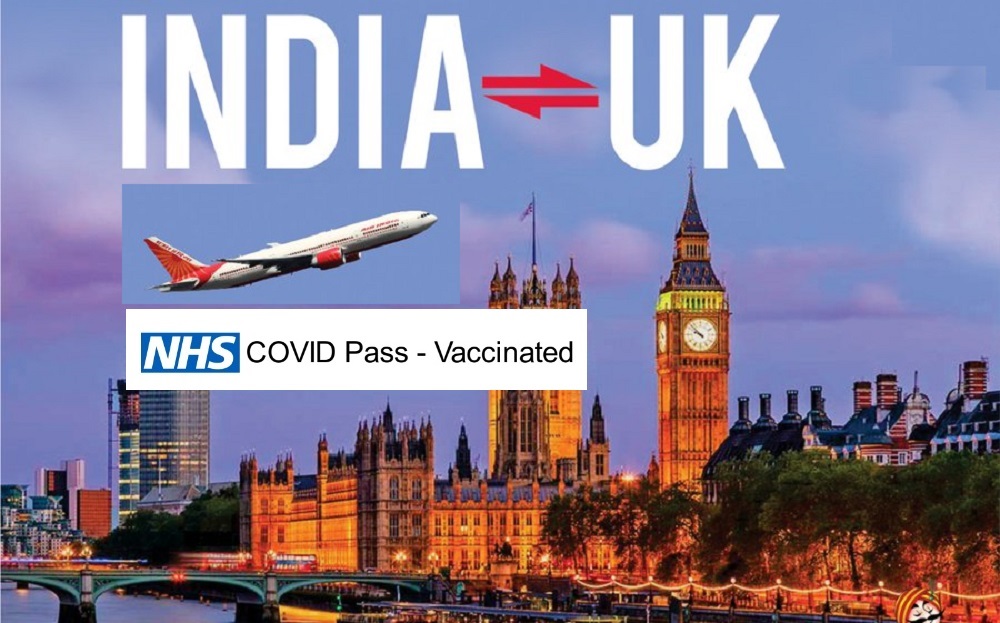 By A Staff Reporter
LONDON Nov 25: Travellers are no longer required to have proof of vaccination or, if unvaccinated, a negative PCR test, the UK government's official page on Travel Advice to India updated yesterday (24th November 2022) said.

This website has also received a message this morning from a Keralite who travelled from Heathrow to Mumbai on way to Kochi who confirmed to us this morning that he and his family were not asked for any documents i.e. apart from Passport and ticket at Heathrow and at Mumbai. He made it clear that he wasnt enquired about Air Sividhya or for the Covid Vaccination Proofs.
The Entry requirements page on the UK government which was updated on 24th Novemebr states as below:
All travellers must comply with all instructions and screening requirements at the airport. Please co-operate with the authorities if asked to do so.
Travellers are no longer required to have proof of vaccination or, if unvaccinated, a negative PCR test. If found symptomatic for COVID-19 during travel or on arrival, you will need to follow the instructions of the health authorities, which may include testing or isolation at a designated medical facility.
Exemptions
There are no exemptions to India's entry requirements.
Check your passport and travel documents before you travel
Passport validity
To avoid possible problems at immigration, make sure your passport is valid for a minimum of 180 days at the time of entry into India.
Your passport must be machine readable, with 2 blank pages for your visa and valid for a minimum of 180 days at the time of your visa application.
OCI and PIO card holders
In March 2016, the government of India announced that OCI cardholders would no longer need a visa to enter India. The 'U' visa sticker that was placed in the foreign passport of OCI cardholders has been discontinued with immediate effect and you'll no longer need to show this sticker to the immigration authorities when you enter and leave India. You'll only need to present a valid passport and your OCI card. For more information, visit the website of the Indian Ministry of Home Affairs.
The Indian Ministry of Home Affairs has issued new guidelines permitting all OCI and PIO cardholders to visit India. British nationals who do not hold these cards may also travel to India if they have a valid visa but are not eligible for eVisas at present. For information on categories and process, visit the Indian Bureau of Immigration website.
Visas
You'll need to get a visa before travelling to India.
The High Commission of India in London uses a Three Step Regular Visa Application Process. You should secure an appointment date in good time, to ensure you have time to complete the visa process ahead of your planned visit.
Make sure you get the right visa for your travel and that it's valid for the purpose and duration of your stay. If you enter India on the wrong visa, you could be detained on arrival and you may be deported and blacklisted, meaning that you cannot enter India again. Make sure you meet entry requirements. You can find further information on the Indian High Commission website or the Indian Immigration Bureau website.
You should check your visa for any endorsements that state you should register your arrival in India within a certain amount of time. Failure to do so could lead to you being denied permission to leave.
There have been changes made by the Indian government on visa formalities for foreigners who are hospitalised in India when travelling on a short-term tourist visa. If you or someone you're travelling with is travelling on a tourist visa and is hospitalised, get in touch with the local Foreigners Registration Office (FRO) to check if visa conversion is needed.
India's Bureau of Immigration has announced that with immediate effect, foreign nationals who arrive at an Indian port holding non-machine readable passports will be denied entry. Carriers who transport foreign passengers holding non-machine readable passports may be subject to a fine.
Overstaying on your visa is an offence. Make sure you leave the country before your visa expires.
CLICK TO FOLLOW UKMALAYALEE.COM