Right of Abode stamp in expired Passport: Elderly UK Malayalee woman from Croydon held up in Kerala for 6 months
Wednesday 9 November 2022 8:10 AM UTC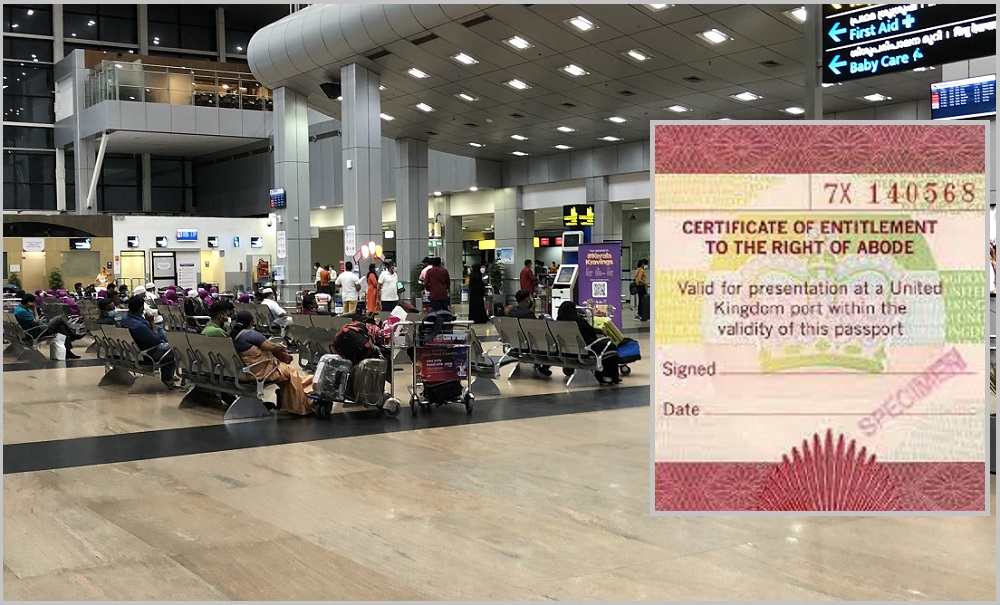 By A Staff Reporter
LONDON Nov 7: An elderly woman, who has been living in the UK for the last 52 years, with Right of Abode status in UK, is held up in Kerala for the last six months with not being able to travel back to the UK as her Right of Abode is stamped in her expired Indian passport.

Radhamany Prabhakaran, aged 79, from Croydon had travelled twice in 2018 and 2019 with the expired Indian Passport with Right of Abode stamp and her new Indian passport and there wasn't any issues while boarding from the UK and on her return from Trivandrum.
The family didnt get the Right of Abode stamp transferred to her new Indian passport after reading news about delays with UKVI in getting the passport back on time to travel. And thus she travelled to Kerala in May 2022.
The official government notification says that "a certificate of entitlement to the right of abode will cease to be valid on the date the passport or travel document to which it is attached expires. If you wish to have a certificate of entitlement placed in your new passport you will need to make a fresh application".
But the family relied on their previous experiences of travelling with the two passports and thus too the journey.
However, on her return in June 2022 after holidays she was stopped by Ethihad Airways staff at Kochi airport stating that she doesnt have valid immigration documents for her to travel. The family argued that she has the Right of Abode stamped in her old Indian passport and also that she has travelled with the two Indian passports in 2018 and 2019 and there werent any issues then. But the Etihad Airways staff was adamant that she should not travel and thus she was turned away from the airport.
After making parleys with several people at UKVI, VFS, High Commission both in Chennai and London Radhamany Prabhakaran was asked to approach VFS Kochi to put in an application for her old Right of Abode to be transferred to her new Indian passport. Following submission of the application from VFS Kochi, she received an email stating that the UKVI Liverpool office will get back to her in three weeks. After a couple of months she received an email from UKVI Liverpool office that her application for Visit Visa has been rejected.
Things now started to become more dangerous healthwise for Radhamany as she suffers from diabetes and other health conditions and her medications were already running out. This time the family was advised by a travel agent that she could try her luck by flying with another airlines. Due to sheer desperation the family booked an Air India ticket for her to travel from Kochi direct to London. However, her second attempt was also blocked by Air India staff. Thus she is held up there in Kerala for the last six months.
Contacts made with the Indian High Commission in London stated that this is not a matter in their hands as it has to be dealt by the British High Commission wherever be it. However, the British High Commission states that it is not their responsibility but it is with UKVI.
The plight of a stranded elderly woman was highlighted to several authorities by her daughter in the UK but was no avail. Finally she has now travelled back to Kerala to be alongwith her ailing mother to support her with her medications and also in the efforts to bring her back. Her efforts are continuing.
Getting the Right of Abode transferred from the old Indian passport to the new Indian passport is not something which can be done by a day due to the obvious backlog and incertainties that has gripped the immigration offices in the UK and abroad.
However, this website learns that if a High Commission in India can provide her with a 'letter of consent' to travel to the UK on the basis of her Right of Abode then the immigration authorities, including the airlines staff at Indian airports will allow her to travel to the UK and have her Right of Abode transferred to her new Indian passport in due course of time. It is now at the behest of such higher ups to act with just a letter for the elderly and frail lady to return home. Hope someone is out listening?
Efforts to help the elderly to be brought back is ongoing through all channels. If there is someone out there with options please do not hesitate to reach out with us on editor@ukmalayalee.com.
CLICK TO FOLLOW UKMALAYALEE.COM