Meet Murali: With a decade of acting career this Keralite based in London is finally hogging the limelight in major films
Saturday 19 November 2022 7:44 AM UTC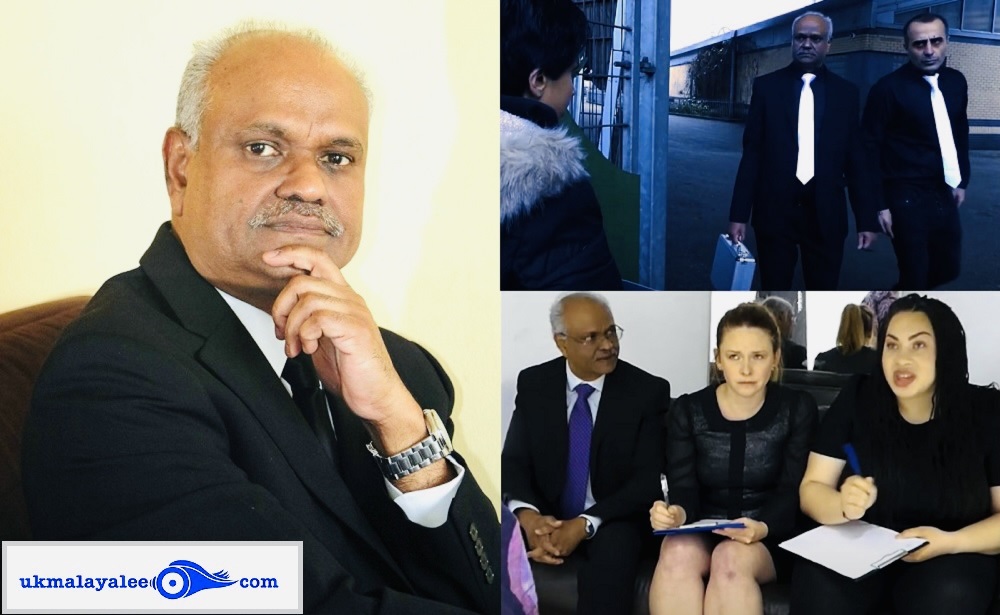 By A Staff Reporter
LONDON Nov 19: Many would know Murali Vidhyadharan as an IT expert and as a community leader who has once been the forte of Sree Narayana Guru Mission in London. But there is another shade of life to this Keralite who completes nearly a decade of acting in his lifetime.

The boy who began acting in school days at the age of 11 in Kerala, today has a steady stream of major international films in his kitty since 2021 and it is continuing into 2022.
Speaking to this website Murali said: "After taking early retirement from the post of Senior IT Project Manager, I was exploring the possibility of getting into English films in 2020. Since then I have acted in several feature films, short films, music videos and commercials in the past two years. Two of the commercials were shown on TV. Short film 'I fell in love with my Stalker ' was shown in a cinema and came 4th in a 48 hour film competition. I also acted as a Street Handyman in the recently released film Disenchanted".
IMDb, the world's most popular and authoritative source for movie, TV and celebrity content, refers Murali Vidhyadharan as known for his role in "I'm in Love with my Stalker (2021), The Blood Magician and Bring Me A Skin for Dancing In (2022)".
Murali has a few projects in the pipeline with the next shoot in Serbia in December.
Since the positive turn of tide since 2021 now he has an agent and also been accepted by Spotlight, the professional actor's organisation.
Murali has been acting in Malayalam plays in London since 1980, mainly playing lead roles, and in total, would have acted in over 20 plays in London. He is also founding committee member, ex president/general secretary/ Building Project Leader of Sree Narayana Guru Mission of the UK.
Murali is settled in Chigwell with his wife Dr G Chitra who is a Consultant Anaesthetist. His only daughter is Dr Kavitha Griffiths and she is settled in Epping with her husband Dr Huw Griffiths.
List of films Murali has been part of since 2020
2020 – March – The Power – English Film (to be released on Amazon Prime)
2020 – Dec – Footprints on Water (Bollywood English Film shot in Birmingham)
2021 – April – The Sketch Book – TV Sitcom Pilot
2021 – April – Perfection – Short Film
2021 – May – Promotional Video by Lonely Leap
2021 – May – Music video – Butter Boys Sunday Club
2021 -May – Promotional Video
2021 – May – Music Video – Easy Life – Have a Great Day
2021 – June – Promotional Video -DHL
2021 – June – Music Video – Joy Crookes
2021 – July – The Nevers Part 2 (Episode 1)
2021 – August – The Nevers Part 2 (Episode 2)
2021 – September – Hector's Proclamation -Short Film – Angry Citizen
2021 – September – The Son -TV film
2021 – September – The Nevers Part 2 (Episode 3)
2021 –September – I am in Love with a Stalker (Short Film – 48 hr Film competition)
2021 – October – The Nevers Part 2 (Episode 3)
2021 -October – The Nevers Part 2 (Episode 4)
2021 – November – The Nevers Part 2 (Episode 5)
2021 – November – G.O.D TECH New World Order (TV Series – Episode 1)
2021 – December – Readers Digest Equity Release Advert
2021 – December – Street Dog – Film
2021 – December – The Nevers Part 2 (Episode 6)
2022 – January – G.O.D TECH New World Order – Lieutenant Haldar
2022 – March – Disenchanted -Disney Film – Supporting Artist
2022 – June – Black Ops (BBC Comedy series) – Supporting Artist
2022 – July – A Mind Full (Short film) – Yoga Class attendee
2022 July – YOU (Netflix Film) – Restaurant Owner
2022 August – The Chemistry of Death (Paramount+ film) – SOCO
2022 August – G.O.D TECH (Feature film) – Bar Man
2022 August – Indie POP Music Video
2022 September – KAMBU -P45 Music Video – Advisor to PM/Rally Attender
2022 September – Drizilik's Decide Music Video – Priest
2022 October – Kanneda – Feature film – Political Rep
2022 October – YAAD KAROGI – Zack Knight – Music Video (Groom's dad)
2022 October – Big Trouble in Little India – Feature Film (Ghost)
CLICK TO FOLLOW UKMALAYALEE.COM