Indian WhatsApp scammers now targeting UK Malayalees by using their profile pictures to ask for money
Tuesday 15 February 2022 8:15 AM UTC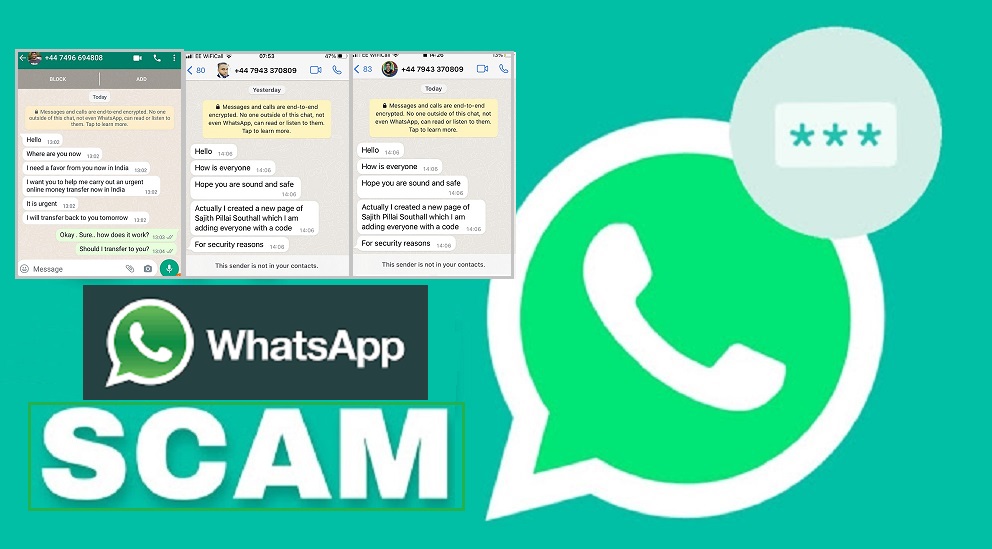 By A Staff Reporter
LONDON Feb 14: WhatsApp scam has been happening for a while now. However, Indian fraudsters are now using pictures of UK Malayalees' WhatsaApp profile pictures and sending request through Whatsapp asking for money saying that they need help and asking to transfer money.

The "friend in need" scams has been on social media for a while now. However, recently it has become so much that every other day a UK Malayalee WhatsApp user is receiving fake messages from India using their friend's profile pictures.
One such Whatsapp request from a fraudster from India was followed through by a community leader in Southall, Sinto Antony.
The WhatsaApp number will show as a UK mobile number but the profile picture would be of your friend and therefore, it is normal to check what happened to your friend.
Sinto received a message from an anonymous Whatsapp UK number saying: Hello, where are you now. I need a favour from you now in India. I want you to help me carry out an urgent online money transfer in India. It is urgent. I will transfer back to you tomorrow.
Sinto decided to take on the fraudster by by replying: Okay.. Sure. How does it work? Should I transfer it to you?
The fraudster sent the below details to transfer the money:
Vipin Kumar
Acc no: 743502010004719
Union Bank of India- Jwalapur branch,
Haridwar dist. Uttarakhand – 249407
Indian PAN no: JUAPK8365M
Google pay: 88688 58263 – UttarPradesh West.
UK mobile number: 0044 7496694808
Sinto took the following actions and shared with us:
He reported to Union Bank Jwalapur & Regional division and Jwalapur Police Station. Not sure if anything going to happen but for his reference. There is no response from them.
He reported to EE in UK as all the number they use are from EE but they said no actions from them.
He reported to Action Fraud and they said they will investigate whenever they get to it
Sinto thinks that they would have stopped using his profile as the scammers are  finding no results. Sinto also opines that these Indian scammers are idiots as they often make a lot of mistakes throughout the chats as they get easily caught out. However, these callers and those who liaise are just the staff members but there could be a huge racket behind them who could be using the information gathered by accessing your WhatsApp account to carry out other fraudulent acts.
WhatsApp and Trading Standards have warned the public about "friend in need" scams. The scams are getting more popular. Scammers are messaging people on WhatsApp claiming to be a friend in need of help. Sometimes they say they have a new number, but sometimes it occurs when they hack someone's account and gain access to their contacts.
Scammers send messages that appear to come from a friend or family member asking for personal information, money or a six-digit pin number.
The messages are sent from the compromised accounts of your friends, so they look as if they're coming from someone you know, or from an unknown number claiming to be a friend who has lost their phone or been 'locked out' of their account. These kinds of scams are particularly cruel as they prey on our kindness and desire to help friends and family."
Scammers can hijack WhatsApp accounts, often by using accounts they have already hijacked, to message friends and contacts asking for help.
Often these "friends in need" claim that they are sending their WhatsApp security code to the victim and ask for it to be sent back to them – however this security code belongs to the victim and enables the criminals to hijack their account.
Other scammers ask directly for money or personal information to be shared over the app.
WhatsApp are asking users to be vigilant, and to call the person, or request a voice note from them to verify their identity.
WhatsApp advise all users never to share their six-digit pin code with others, not even friends or family, and recommend that all users set up two-step verification for added security.
If you receive a suspicious message (even if you think you know who it is from), calling or requesting a voice note is the fastest and simplest way to check someone is who they say they are. A friend in need is a friend worth calling.
With a stolen account, the hijacker can message your friends and family, and pretend to be you. They may pretend you're having a crisis and ask your contacts for money. It also gives them your contacts' phone numbers so they can try the six-digit code trick with new victims. By hijacking your account, the scammer will also remain in your group chats, where they could see sensitive information.
In a statement, WhatsApp said: "The safety and security of our users and their messages are really important to us. However, just like regular SMS or phone calls, it's possible for other WhatsApp users who have your phone number to contact you."
A scam awareness campaign has been launched by WhatsApp and National Trading Standards. The campaign advises to:
STOP: Take Five before you respond. Make sure your WhatsApp two-step verification is switched on to protect your account; that you're happy with your privacy settings, and your six-digit pin is secure.
THINK: Does this request make sense? Are they asking you to share a PIN code which they have had sent to you? Are they asking for money? Remember that scammers prey on people's kindness, trust and willingness to help.
CALL: Verify that it really is your friend or family member by calling them directly, or asking them to share a voice note. Only when you're 100% sure the request is from someone you know and trust, should you consider it. If it turns out to be untrue, report It to Action Fraud.
Click to Read How To Stay Safe on WhatsApp
CLICK TO FOLLOW UKMALAYALEE.COM