Finding a professional or engineering job in UK is possible: Hear from a Chartered Scientist who secured job in Germany and UK from India
Monday 19 December 2022 8:04 AM UTC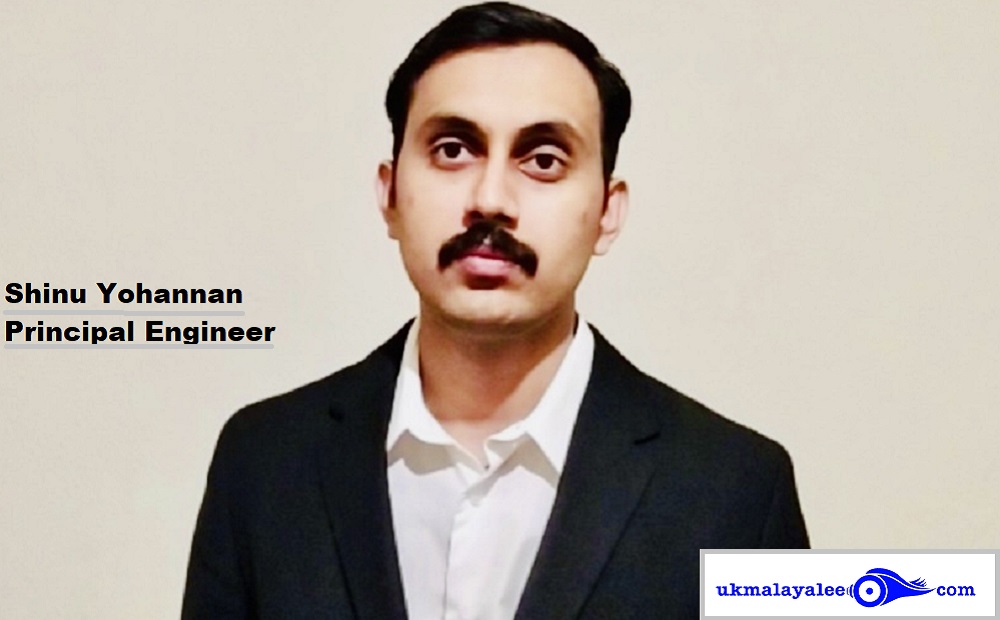 By Balagopal Kent
LONDON Dec 19: Many job seekers from India assume that there are only healthcare jobs available in the UK. Although this may be partially true, there is proof that there are also jobs available in other sectors including IT, hotel industry and other sectors. This website will be publishing a series of articles on those who secured jobs in other sectors in the future.

Here we have today Shinu Yohannan from Pathanamthitta a Chartered Scientist and Chartered Engineer who secured Principal Engineer Job in the UK. Shinu initially secured a job in Germany and from there he applied for a job in the UK and he got it. Shinu opens up with this website his journey from Kerala as a job aspirant who intially secured a job in Germany and then in the UK.
Can you please explain to us on how you secured the job in Germany first and then the UK?
I applied for the job in the UK through a Job portal named Total Jobs and attended an interview from Germany, while I was working there. Once I cleared the interview, the employer-sponsored him under the skilled worker visa. Previously I was working in Mumbai as a Senior Engineer, and from there I applied through a job portal website named Stepstone and got a Job in Germany as a Project Lead Engineer. The process is different in Germany compared to the UK. In Germany, you don't need any sponsorship to apply for a skilled worker visa. Once a candidate clears the interview, they will get a job contract letter from the employer to do the visa process. It's a great advantage compared to the UK. However, some jobs required the German Language, and it is critical to handle it. In most engineering job profiles, the employer only looks for skills and experience. So, knowledge of the English Language is enough to get a job in Germany. The real fact is, a candidate doesn't need any English Language assessment test like IELTS to secure a job in all other sectors except health care in the UK or Europe countries. As per the UK point-based system, it definitely meets the requirements even without IELTS, so it does not matter.
How should an engineering person approach an interview?
The first point is, in all the engineering sectors, you can find a job. You potentially think and raise a question in your mind, why an employer from the UK or Europe recruits a candidate from India? So, it means some special skills they are interested in and that is the key point of job search. You need to find out the key skills first.
The second point is, while finding out a Job opportunity, how to apply for that position. The way candidates are preparing their Resume and Cover Letter is an initial step to proceed with. Don't create a general resume and send to it all employers. This is important while you are applying for a job. First, need to review the job description and analyse what skills I have. Then modify the resume and cover letter with respect to the job description. Job seekers need to spend time preparing their resumes and cover letter. Make it simple, normally all HR will take a maximum of 30 seconds to review an application initially. If they do not find anything related to their requirement, they do not proceed to the next stage. So, in this case, key point is to check the job description and company profile thoroughly, then modify the resume and cover letter accordingly before sending an application to the employer.
The third point is, after you receive a positive response from the employer, prepare for the interview according to your resume and cover letter that you submitted. If you modified the resume with respect to the job description, then prepare accordingly for the interview. The keynote is, what are the contents you are putting in your resume and cover letter, you must be confident in that. The first stage is a normal telephone call and after the telephone call they will go for the technical and HR interview, either face to face or via Skype/Teams, it does not matter, well prepare for the interview. If an employer invites a candidate for a face-to-face interview, they definitely reimburse all expenses. This is the standard process for all professional companies.
The Fourth and last point is, If the candidate cleared the interview and got an offer letter from the employer, the employer will also provide a Certificate of Sponsorship. This is more than enough to complete the visa application process. Because, if an employer provides a Certificate of Sponsorship, the candidate should meet the minimum salary requirement criteria and for the required job position, it is definitely above that cap. Other than the healthcare sector, the minimum salary criteria were reduced last year to £25,600 per annum, and the visa application process is straightforward. However, as I mentioned above, if an employer needs to pay this much amount or higher, the candidate must prove that their skills and experience are capable of that job profile.
Are there opportunities in UK for Engineering job aspirants from India?
Yes, there are a lot of career opportunities in the UK, especially in the engineering sector. As I mentioned above, the method we are searching for the job is important. If the skills and experience (minimum 5 years) are good, you can apply for job opportunities in the UK. The most important thing is how job seekers are approaching job research.
Where are the places, they need to be checking for job opportunities in the UK?
There are lot of online job portals like Total Jobs, Indeed, and the LinkedIn platform available. If a job seeker does a proper search regularly, they can find out the correct opportunity. In some cases, external recruitment agencies will contact you first. They will share the employer details, so you could check the sponsorship license details of the employer on the UK government websites (GOV.UK) to verify it.
Which Engineering sectors are mostly open to job seekers?
I would say all engineering categories are in good demand. However, software, electrical, electronics, and mechanical branches are at their peak. But you must be a specially skilled person in that category. For example, if we consider Electrical Engineering, there are different sections inside of that, everyone can't be an expert in all. So, the job seeker should focus on which is the most valuable skills and experience I have in Electrical Engineering, for example, Power Electronics, Hardware Design, Machines, Manufacturing, etc.
What is your advice to a prospective Engineering job aspirant from India in regard to preparations and any prop courses they need to do?
Experience and skills are the most important thing. For example, if a candidate completed higher degrees or different courses, but the candidate doesn't have industrial experience, it's a difficult problem. On another side, if the candidate only has a graduate degree and is an expert in that area with good experience, that creates an opportunity. Academically, the qualification is important, its better to learn more, parallelly need a good industrial experience in that area. If a candidate needs to clear an interview, communication skill is very important. However, they don't need to submit any English Language assessment test results. If they are applying for a professional job and are an experienced person, they have this capability.
Tell us about you?
I'm from a small village called Konni in Pathanamthitta, Kerala. I completed B.Tech. from Mahatma Gandhi University and completed M.Tech. from University of Kerala. I started my career at ISRO as a project fellow and moved to Bangalore as a Development Engineer at Trolex India and then to Mumbai as a Senior Engineer at Hind rectifiers Ltd. The pass over from Mumbai to Germany was difficult, however, it is achieved by God's Grace. While I was in India, I had a total of around 6 years of industrial experience in the research and development area focussed on Power Electronics. That helped me to understand the industrial work culture and improved my knowledge in that specific area. I'm recognized as Chartered Engineer and International Professional Engineer from Engineering Council, UK. Recently, Science Council UK awarded Chartered Scientist. Currently working as Principal Engineer in Turbo Power Systems, UK. After all, my father and mother are behind me for all the above and I'm thankful to them. I am residing in Newcastle with my wife Sneha Sam and kids Emil Yohan Shinu (6 years) and Emily Ann Shinu (2 Months). My wife is from a software background, and she completed Masters in Computer Application.
CLICK TO FOLLOW UKMALAYALEE.COM