Opportunity for migrants in UK to request govt to reduce ILR fee: Complete survey before Jan 18: MPs to debate on Jan 30
Saturday 14 January 2023 4:29 PM UTC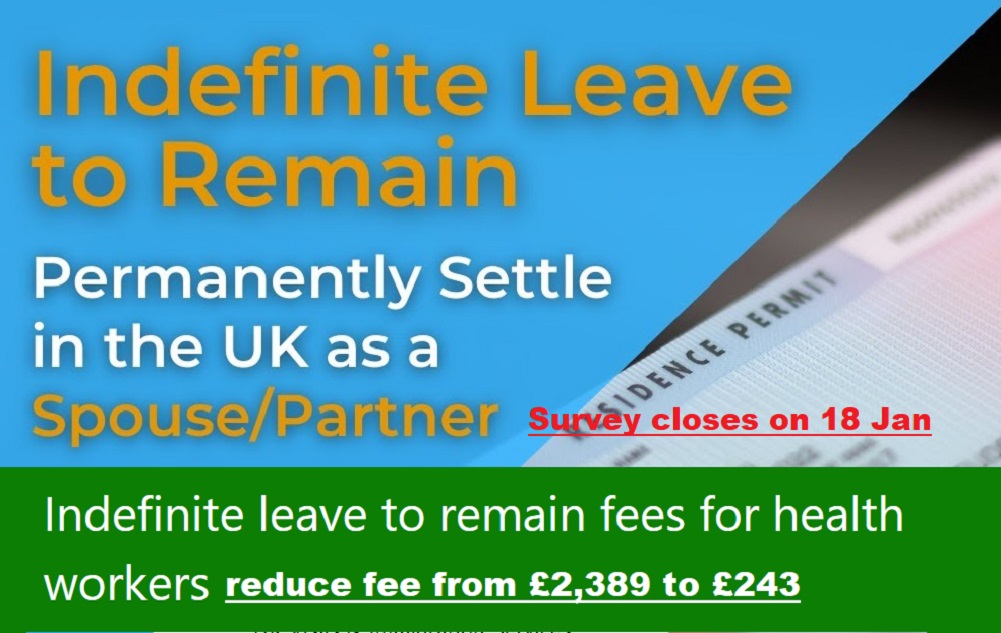 By A Staff Reporter
LONDON Jan 14: Indefinite leave to remain is how you settle in the UK. It's also called 'settlement'. It gives you the right to live, work and study here for as long as you like and apply for benefits if you're eligible. You can use it to apply for British citizenship.

The Home office is charging at present £2,404 for each person applying for ILR which is almost ten times the intitial processing cost whcih was £243.
A petition was started asking the government to stop making profit from foreign health workers and instead seek to retain those foreign doctors and nurses in our NHS. In reply to this petition, the Petitions Committee – a cross-party group of MPs who consider petitions started on petition.parliament.uk – has scheduled a debate in Parliament on this petition calling for the Government to reduce fees for applying for indefinite leave to remain from £2,389 to £243 for health workers.
The MPs on the Petitions Committee have scheduled a debate on this petition. Tonia Antoniazzi MP, a member of the Petitions Committee, has been asked to open the debate. To inform the debate, Tonia would like to hear your views on this issue. You can share your views with Tonia by completing this survey CLICK TO COMPLETE THE SURVEY
The survey will close on Wednesday 18 January at 5pm and the debate will take place on Monday 30 January at 4.30pm
Your responses will be anonymous. A summary of responses will be published on the Committee's website and may be shared with MPs and referred to during the debate. Please don't share anything that may identify you.
Watch the debate
The debate will take place on Monday 30 January at 4.30pm.
CLICK TO FOLLOW UKMALAYALEE.COM