Health Minister KK Shailaja honoured by UN: Only person invited from India to speak on Public Service Day
Wednesday 24 June 2020 6:36 AM UTC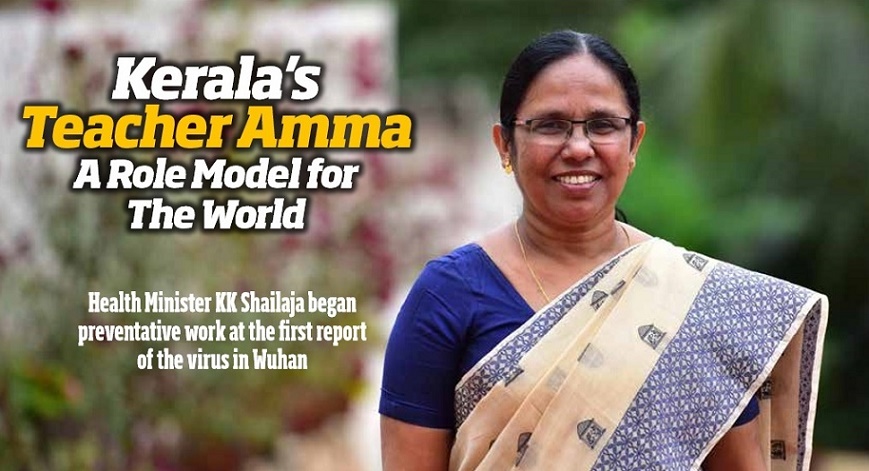 By A Staff Reporter
THIRUVANANTHAPURAM: Kerala's Health Minister KK Shailaja was honoured in a webinar organised by the United Nations as part of the UN Public Service Day on Tuesday.
The Kerala health minister was the only person to be invited from the country to attend the webinar that honoured the public servants who have been at the forefront in the fight against COVID-19.
Attending the webinar on pandemic and Public Service Delivery, Health Minister KK Shailaja presented the Kerala model and opened up about the various measures taken by the state government and health department to contain the coronavirus outbreak.
She also added that the experience in handling the Nipah outbreak in 2018 has also helped the state in dealing with the Covid situation.
The United Nations was marking Public Service Day on 23 June to honour the women and men who are risking their lives and health to deliver essential public services amid the ongoing COVID-19 pandemic.
A virtual event brought together public servants and leaders to discuss the importance of the continuation of public service provision during times of pandemic.
In doing so, it was examining the various approaches countries have taken during the crisis while looking at what measures they are undertaking to better mitigate such challenges in the future.
Speakers included Mr. António Guterres, Secretary-General of the United Nations (video statement)
Mr. Tijjani Muhammad-Bande, President of the General Assembly
H.E. Ms. Sahle-Work Zewde, President of Ethiopia.
Dr. Tedros Adhanom Ghebreyesus, Director General, World Health Organization.
Mr. Liu Zhenmin, United Nations Under Secretary-General for Economic and Social Affairs.
H.E. Mr. Chin Young, Minister of Interior and Safety, Republic of Korea
Dr. In-Jae Lee, Deputy Minister of the Interior and Safety, Republic of Korea
H.E. Ms. K.K. Shailaja Teacher, Minister of Health of Kerala State, India
Mr. Jim Campbell, Director, Health Workforce Department World Health Organization.
Ms. Annette Kennedy, President of International Council of Nurses
Rosa Pavenelli, General Secretary, Public Services International,
Moderator: Ms. Odette Ramsingh, Executive Director: Human Resources, Sefako Makgatho Health Sciences University.
CLICK TO FOLLOW UKMALAYALEE.COM