This Keralite couple from Nottingham in UK has just won £195,000 Lamborghini and £20,000 cash (Full Video)
Wednesday 8 July 2020 12:31 PM UTC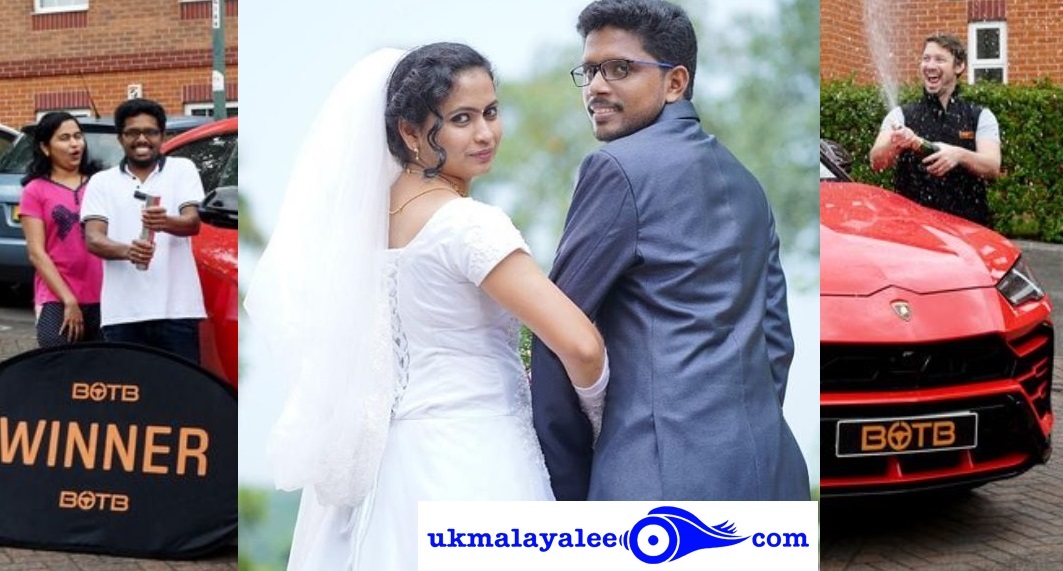 By A Staff Reporter
LONDON July 8: At times when there is so much uncertainties about job security and future during the time of the pandemic, this Keralite couple from Nottingham has just won £195,000 Lamborghini and £20,000 cash in an online competition.
Shibu Paul and Linnet Joseph from Nottingham celebrated their first marriage anniversary in May this year. They just moved from Cambridge to Nottingham recently and Shibu was jobless and was looking for jobs when lady luck smiled on him.
The couple have been in the UK only for a year now and have been trying to find their own feet to secure their future and Shibu was doing all what he could to support his wife who works as staff nurse at the Nottingham City Hospital.
On speaking to ukmalayalee.com an elated Shibu who is still carrying on with his usual and normal way of life said: "Yes, I am happy but chetta (brother) is this so much big for a news?".
"I was doing all I could like any of our community members to look for work and secure a job by emailing companies. Then I stumbled upon this online competition titled Best of the Best (BOTB). BOTB is a dream car and lifestyle competition company that has been operating in airports since 1999 and runs online competitions. So last week I too entered the contest and left it. But then today it all changed when the organisers came in and knocked on our doors", Shibu told this website.
"The organisers knocked this morning at 11am (8th July 2020) on the door and informed me of the news about the win. Initial thoughts were this could be a prank. But then they invited us to come out and see the prized car. Linnet was asleep after her late night shift and she too couldn't believe her eyes. We went out and found it was all real".
The organisers showed the car to the couple and told them that they can choose if they didn't like the red Lamborghini worth £195,000. The they asked the couple to open the boot of the car and there they found £20,000 cash. The car was delivered by Lamborghini Leicester, and Christian Williams, Virgin radio presenter and BOTB presenter gave the couple the keys.
"Unbelievable chetta (brother), Shibu quipped". On being asked how he will spend it Shibu said:"I am sure I am not able to afford to drive this car as maintaining it is itself costs much. The organisers have suggested that I can take money instead. Not yet decided yet. But can assure that we will use the money wisely for our future by probably buying a house as we are renting at present. I may continue driving my Toyoto Yaris", Shibu told this website.
Linnet has been working in Cambridge before moving to Nottingham's City Hospital.
Shibu Paul is from Elanji in Piravom and Linnet is from Kottayam in Kerala.
Linnet Joseph's words summed up the love and understanding between the couple. "We do not usually play this and we never expected to win. He is still searching for jobs and for the last two months he was really sad that I was going to work and he could not help me out".
CLICK TO FOLLOW UKMALAYALEE.COM