Stranded Keralites in UK left frustrated as they dont make it to Kochi flight in spite of confirmation from London High Commission
Tuesday 19 May 2020 10:23 AM UTC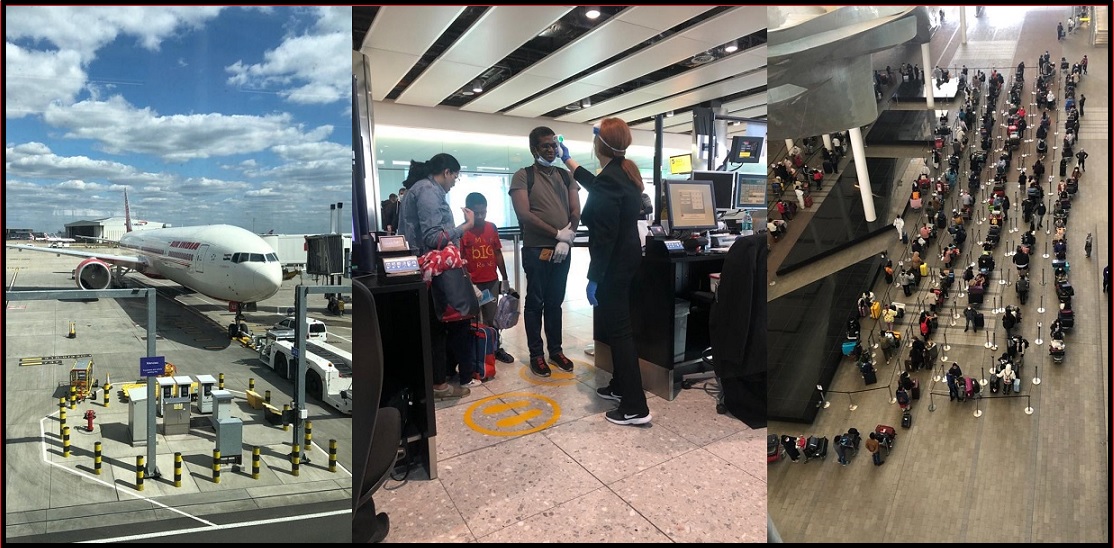 Image from Twitter of the India's Vande Bharat Mission from London
By A Staff Reporter
LONDON May 19: Several stranded Indians and Keralites, those who were not able to make it to the Kochi flight scheduled for 19th May 2020 at 13:15, have now taken out their frustration by getting onto social media and also by contacting government authorities in the UK and India.
The stranded Indians and Keralites had created a Watsapp Group to share any updates with each other. When some made it for the flight which is scheduled to leave today, many are left without any calls from either the High Commission or Air India.
There are several who got the call from the High Commission but never received a call from Air India as promised.
Speaking to this website Visakh says:" I got the email from High Commission of India on the 17th May which I replied to. On 18th May they called me to confirm it again. All they asked was if I was flying and whether I was flying alone. I was expecting the call from Air India but nothing came so I tried contacting High Commission of India again on their new phone numbers where they said "If HCI confirmed, then Air India will definitely call. They're running really busy but will definitely call".
High Commission had informed their priority clients to ensure that they kept the phone free as Air India may contact them anytime and if they missed the call then Air India may move onto the next call.
In the case of Visakh he said: "I had my phone glued to my hand these last two days waiting for that call".
Vipin too received a call but there wasn't any calls from Air India. According to Vipin: "I got an email from High Commission of India on 17th May stating I am considered for travel. I replied to that saying "Yes with family" and gave all our details in the format they asked along with the email. (I am with wife and 2 kids). Then got a call on the same day from HCI asking my willingness to travel. I said yes. Confirmed that they have got all my family as well. They confirmed. And said Air India will contact me. After that no calls from Air India or HCI. No emails and no missed calls on my phone".
Reports pouring in from different sources give a wide range of possibilities which may take place following this flight taking off. This website also spoke to the NORKA representative in the UK.
One report states that the list prioritised by the Indian High Commission will be given due consideration so that those who were not able to make it to the scheduled flight for 19th May will be able to travel in the next flight made available. News on the next flight is likely to be made public tomorrow as per unconfirmed reports.
The fact that it was called the Vijayawada/Kochi flight was itself misleading to several as the Air India flight from London is direct to Mumbai and then passengers will be sent by different flights to Vijayawada and Kochi.
A Watsapp group created by those stranded Indians titled " Malayalees Stranded in UK" have decided to escalate this further and they would like a thorough investigation carried out by authorities in India on why such poor mismanagement happened when dealing with several vulnerable people, those who included elderly and heavily pregnant women.
Interestingly at the airport there is also a separate queue formed for those who had an email from the Indian High Commission but never had confirmation from Air India. These are those who are trying their luck to get through to the Mumbai flight through which some will travel to Vijayawada and some to Kochi on separate flight.
The Watsapp group member has also started a Ferendum poll to find out how many people still have not got selected for travelling to Kerala. If you wish to enter your details please click on the link https://www.ferendum.com/en/PID410380PSD406409430
Those who still have not registered with the Indian High Commission please register by using the link below which is the first step to get back to India as part of the repatriation
https://docs.google.com/forms/d/e/1FAIpQLSf4e0EuAymBzVlouFBB7e0bmJ1S_tvZV7jSL2Nb6l8IC-wHGw/viewform?fbclid=IwAR2FzHoG8obkN_Vs12Vy4MJdeygwA0lX0MlQcYP2qPmy4pJjglCnzAEx15M
This website has approached the Indian High Commission for comments and we will keep updated as and when we have received.
In the meantime if you feel to share your issues then please do not hesitate to email editor@ukmalayalee.com
CLICK TO FOLLOW UKMALAYALEE.COM