Keralite in London honoured by Queen with British Empire Medal on World Homeless Day for helping rough sleepers
Saturday 10 October 2020 6:27 AM UTC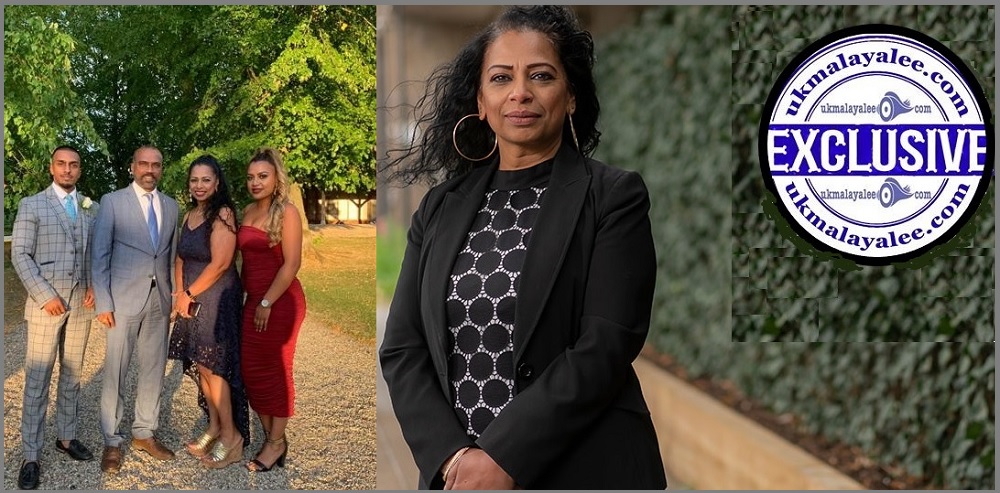 Ajitha Sajeev with family
By A Staff Reporter
LONDON Oct 10: Ajitha Sajeev, a Keralite working in London, was awarded British Empire Medal in Queen's birthday honours for services to Rough Sleepers. Ajitha Sajeev, 52, who is the Newham Council's Street Population Manager, has received the British Empire Medal for her work supporting rough sleepers away from the streets, and onto a path to permanent housing.

Ajitha, who is a very proud mother of two, was born in Singapore then moved from India aged seven with her family to set up home in East Ham. She began working with Newham Council at the suggestion of her mother, aged 22 and has stayed ever since, working in translation services, housing and finally the street homeless team.
Ajitha's parents are from Varkala in Thiruvananthapuram district and her husband Sajeev Sadanandan is from Kollam. The couple has two children Amy and Ashley. The family is settled in Redbridge in London.
Reacting to the award Ajitha said: "I am so proud and deeply humbled by this honour, but this work is all about the team and treating people with the dignity, respect, care and compassion they deserve when they are at their most vulnerable. This has never been truer than now with the extra health risks, and anxieties and fear that Covid-19 has brought.
"During the pandemic I have been proud to co-ordinate an amazing effort across various Council services and the faith, charity and voluntary sectors, to reach, and support hundreds of people into safer accommodation'.
"Before the Pandemic hit we had already done a great deal of work through the Mayor's Rough Sleeping Task Force, to get people off the streets and out of tents. When Covid-19 came the problems became more acute with the closure of Stratford Mall for public health reasons, with many rough sleepers displaced. Today I am proud to say we have no more tents, and no-one beds down in the Mall.
"It makes me very proud, and quite emotional when I see some of the people we have helped, some of whom have been sleeping rough for years resisting efforts to get them off the streets. We've genuinely seen lives turned around."
The honour is in particular for Ajitha Sajeev's work during the time of the Coronavirus pandemic within Newham Council. During this time Ajitha helped bring more than 200 homeless people into safe accommodation at the start of the coronavirus lockdown.
Ajitha helped 191 people off the streets and 40 people out of shared accommodation including night shelters to keep them safe from Covid-19. The London council acquired accommodation in four hotels and 40 houses in multiple occupation (HMO) properties to bring its homeless community into safety as quickly as possible.
Newham Council's efforts were part of the Everyone In scheme, when the Government instructed local authorities in England to rapidly bring homeless populations into safe accommodation.
Over two nights at the end of March, Ajitha said her team took more than 50 people who had been rough sleeping in the Stratford shopping centre into emergency accommodation.
Ajitha said she is "proud and deeply humbled" to have been honoured with a British Empire Medal for services to the vulnerable and homeless in Newham during Covid-19.
Ajitha told the PA news agency: "I was pushed to my full capacity both mentally and physically during the Covid-19 pandemic, but believed that I could make a difference. All staff who came out to help at that uncertain time are heroes in my eyes."
So far, there have been no confirmed cases or deaths involving Covid-19 in the rough sleepers helped by the borough. Just over a third of the cohort have now moved into move-on accommodation, with 49 people settled into a permanent home.
"We are preparing for the second wave and I feel ready to do this all over again", Ajitha added.
World World Homeless Day is marked around the world on the 10th of October 2020 by people in many varied ways and change the lives of people experiencing homelessness in their local community. Ajitha is one of eight people to be honoured for their work supporting homeless people during the pandemic from the UK.
Newham Chief Executive Althea Loderick said: "We are very proud of Ajitha, and delighted that her fantastic work has been recognised and rewarded. After 30-years at Newham Council she truly deserves this honour."
CLICK TO FOLLOW UKMALAYALEE.COM