Direct flights from London to Kochi still showing as available on Jan 26, 28, 30 under Vande Bharath Mission Phase 9
Thursday 7 January 2021 9:49 PM UTC
By A Staff Reporter
NEW DELHI Jan 7: India's External Affairs Ministry had said that the Vande Bharat Mission started earlier in 2020 has been suspended in the United Kingdom due to the new strain of COVID-19 that has been detected in the country in December and currently raging havoc.

However, the new list of flights published by India's External Affairs Ministry under Vande Bharat Mission's Phase 9, which was updated on 7th January 2021, shows a list of flights from London to Kochi.
Vande Bharat Mission was started by the Indian government back in May to evacuate Indians stuck in foreign countries due to lockdowns imposed by the local authorities.
Only those Indian nationals and OCI Cardholders with compelling cases and registered with the Embassy/Consulates will be eligible to travel on Vande Bharat Mission special flights to India.
A note which goes alongwith the Phase 9 list says: "This is a dynamic list and is bound to undergo changes based on operational, technical and other considerations. The list should not be considered as final and is only for the purpose of information. This list cannot be quoted for any legal claims. All visitors are advised to counter-check with Air India for confirmation of the flights, timings, dates, destinations and other details".
CLICK TO VIEW PHASE 9 SCHEDULE UNDER VANDE BHARATH MISSION
CLICK TO MAKE BOOKINGS FROM AIR INDIA WEBSITE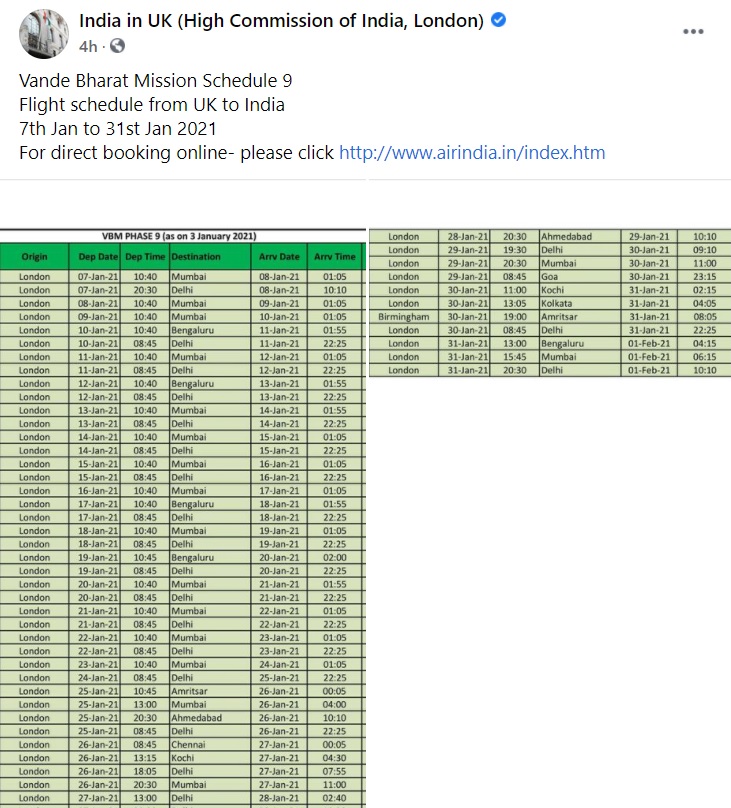 CLICK TO FOLLOW UKMALAYALEE.COM