Air India unlikely to stop direct flights between London and Kochi, say UK based Keralite travel agents
Friday 30 December 2022 10:49 AM UTC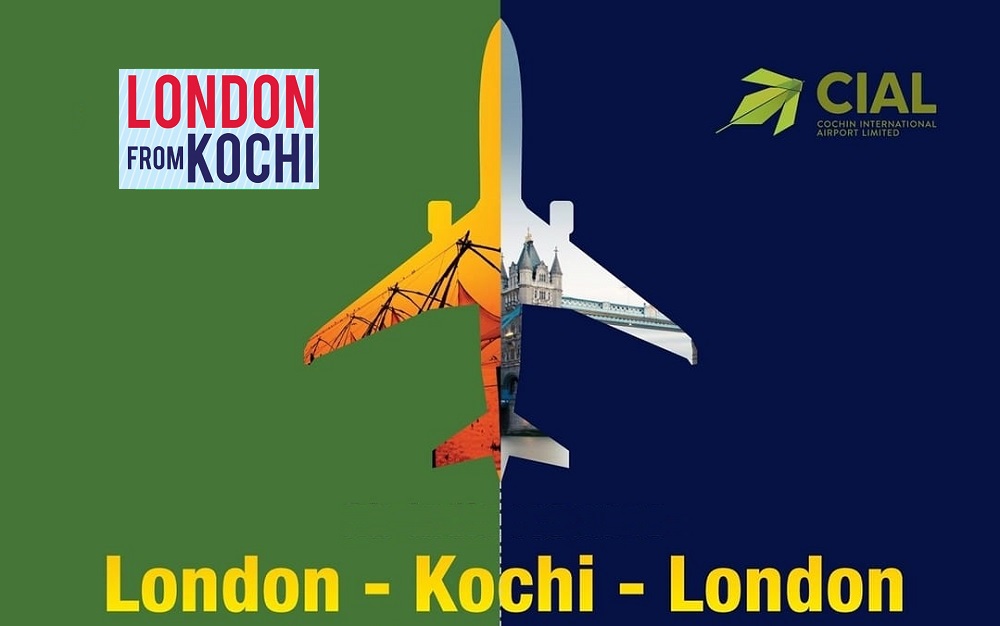 By A Staff Reporter
LONDON Dec 30: Air India bookings for London-Kochi direct flights have been cancelled or rescheduled from 24th March 2023, according to the online booking portal for Air India.

Those who booked after this date have started to receive emails from the booking agents stating that "direct flights between London and Kochi after 24th March have been cancelled as per the airlines now. This is owing to schedule change by airline side in which flight has been cancelled. Therefore, kindly wait for a couple of weeks as we have not yet received any further updates from the airlines on this matter".
Those who have had their tickets cancelled are offered a full refund of the cost or a rescheduled connection flight via Mumbai and Delhi instead of their direct flight to the destination of their choice.
The changes by Air India, without any official announcement has raised alarm bells within the Keralite community in the UK.
Air India is the only airline operating direct flight between Kochi and London and it offers the best option to Keralites. The Kochi-London direct flight from Air India which operates on three days – Wednesdays, Fridays, and Saturdays – will take 10 hours and extends a helping hand to the thousands of migrants in the UK, who can now return to the country with a bit more ease without having to lose days by using the stopover option.
Information received from travel agents in the UK state that Air India has also suspended booking for flights between London and Goa, London and Hyderabad, Ahmedabad and Amritsar from 26th March 2023. "In fact the bookings were stopped since November 2022, but news broke out in the media only in December 2022", said a travel agent.
This website spoke to a few agents in the UK who outrigtly say that Air India is unlikely to cancel these direct flight sector including Kochi as these flights are bringing in huge revenue and as there is no loss it is impossible that Air India may cancel or stop the direct flights between London and Kochi and the other sectors where it has stopped for the interim.
The general consensus within the travel agents in the UK is that Air India, is making some changes for all schedules and also facing issues with slot allocation at Heathrow Airport and once this is resolved then bookings will restart, hopefully by January 2023. However, they warn that there may be changes in days of operation or frequency.
There is also news that some people who booked tickets in July 2023 and August 2023 have already had their flight rescheduled by the airline and that they have received confirmation emails from Air India. However, acceptance of a schedule change have resulted in some losing days in between, especially on return trip. To this one of the suggestions put forward by a travel agent is not to accept the schedule change and keep the booking as it is. "If they accept the schedule change then cant reverse it when the flights have been restarted", said an agent.
One of the travel agents made contacts with Air India UK Sales Department through his wholesale supplier. The Air India UK Sales team were not willing to give anything in writing but over the phone they have given assurance that bookings will restart in January 2023 and also that they do not have any plans to stop the London-Kochi direct flights. "They have more revenue from London-Goa, London-Amritsar, Birmingham-Amritsar routes and these routes are too suspended at present and therefore there is no hidden agenda against Kochi flights," he added.
Similar situation with Air India suspending bookings between London-Kochi has arisen before with no explanations given nor any reasoning behind such moves. In that instance Keralites became proactive in raising it with the relevant authorities for pressure to be exerted on Air India to reinstate the direct flights and it borne fruit either through the exerted pressure or due to Air India's business eye. This time too Keralites in UK have made concerted efforts to raise the matter with the authorities concerned.
During the Loka Kerala Sabha meeting in London, Kerala Chief Minister Pinarayi Vijayan had confirmed that talks are ongoing with Air India to increase the frequency of the present three weekly direct flights between London-Kochi to five days a week. M A Yusuff Ali, director of Cochin International Airport Ltd (CIAL), who was present during the meeting confirmed about this development. Loka Kerala Sabha UK chapter has also now exerted pressure on officials by writing to them to ensure the reinstatement of the direct flights between London and Kochi.
Department of Non Resident Keralite's Affairs (NORKA) has also informed this website that they have written to the chief executive of Air India who replied to them stating that they will look into the request.
The general guidance received from travel agents is do not cancel or reschedule your booking. If you accept an offer of reschedule through stopover then you cannot revert back. However, it would be wise to wait till Air India comes out with an official announcement, hopefully by mid January 2023.
The above article is based on opinions and suggestions sought from travel agents in the UK. Always speak to your travel agent or Air India to make informed decisions about your travel and bookings. This website will not be liable for any costs incurred as a result of any actions you may take as a result of this article as this is only as a general guidance on this matter and the views expressed are that of the agents alone. – Editor
CLICK TO FOLLOW UKMALAYALEE.COM