Air India to continue direct flights between London and Kochi three times a week following previous successes
Sunday 25 October 2020 9:16 AM UTC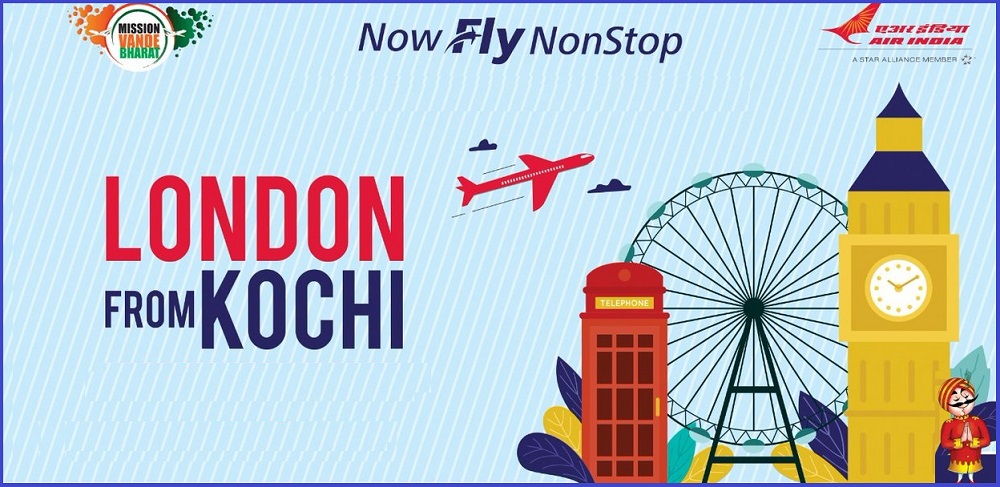 By A Staff Reporter
LONDON October 25: Air India has decided to continue operating direct flights between Kochi and London three times a week, as per the winter schedule published last week.

Air India will fly to London from eight Indian cities, starting January 1. These include Kochi and Goa. Air India had started services from Kochi in August and Goa from mid-October and this is the first time they feature in the carrier's winter schedule. The Kochi service began as part of the Vande Bharat repatriate exercise.
Previously Air India had been operating direct evacuation flights from London to Delhi and Mumbai, later connecting with feeder flights to Kochi. However, these layovers in Delhi/Mumbai airports were creating chances of added exposure to the virus of travelling vulnerable groups.
Thus, the airlines decided to add a direct repatriation flight to Kochi from August this year as part of the Vande Bharat Mission. This was the first time a direct flight was linking Kochi to a major European city. The airlines and airport authorities were looking to optimise the situation for the future.
Following the cashing in and the success of its operations with the direct flight to Kochi, now the national airline wants to dominate the London route, not just from the hubs of Delhi and Mumbai, but also from the smaller cities including Kochi and Goa.
Craig Jenks, President and Founder, Airline/Aircraft Projects, a consultancy based in New York told Money Control: "It is very radical and innovative, in several ways. It illustrates the saying 'never let a serious crisis go to waste".
"For decades, Air India could not / would not do most of these routes. Because their connecting hubs were/are in Mumbai and more recently, much more in Delhi," points out Jenks. The practice was to feed the hubs of Delhi and Mumbai with traffic from smaller cities through domestic flights.
The additional connections will make up for the loss on business travel, especially on the Mumbai-London route, and cater to the pent-up demand from Indian expats. It helps that on October 22, the government further relaxed restrictions on visa, including those for OCI and PIO cardholders.
Jenks said for decades, Air India was serving the rest of India to London by connecting passengers via Mumbai or Delhi. "This was not popular with passengers." But now the airline is looking to serve expats (Ahmedabad and Amritsar) and tourists (Goa and Kochi) by introducing new routes, according to him.
Bookings for the flight scheduled from January 1 to March 27, 2021, have begun. Travelers can book their tickets via the airline's official website, call centers, or booking offices/agents.
Those who wish to book flights can also contact Neil Travels on 020 8548 1210 or visit www.neiltravel.com.
CLICK TO FOLLOW UKMALAYALEE.COM