NHS Everyday Heroes: Listen to Keralite scientist "Mr Covid" in London working towards developing coronavirus vaccine
Sunday 14 June 2020 4:00 AM UTC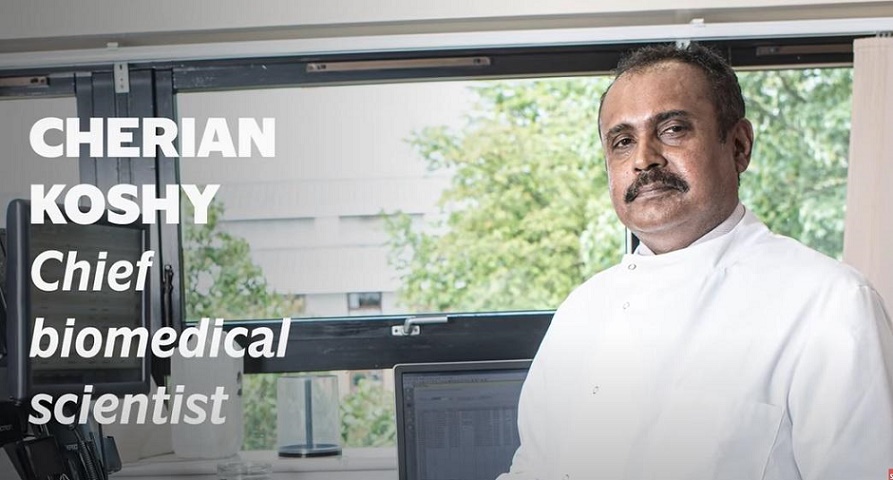 By A Staff Reporter
LONDON June 13: As part of Evening Standard newspaper's Everyday Heroes project they interviewed and photographed seven front line NHS workers involved in the fight against Covid 19.

His colleagues call Cherian Koshy 'Mr. Covid' because of how quickly he has become an expert on the virus. He works in the laboratory, testing tissue samples and fluids to help diagnose and treat diseases, as well as evaluating the effectiveness of treatments.
'It's been very stressful,' he says. 'You are stressed then you look at every single staff member at the hospital and they are all having a hard time. You have to look out for each other.'
'I worried for my colleagues working on the frontline,' he continues. 'My wife doesn't go out because we don't want her to be exposed to the virus.
My mother is 79 and diabetic so she's isolating at home in East London and I take her medication and food. I've seen how devastating this disease can be so I want to protect my family.'
'We are still learning about Covid-19, with scientists from all around the world sharing information with each other. It is likely it could mutate.'
CLICK TO FOLLOW UKMALAYALEE.COM